Artist Linda Carmella Sibio and Bezerk Productions Launching Campaign To Seek Funding For Art Interdisciplinary Project

11/09/2012 12:30PM ● Published by Steve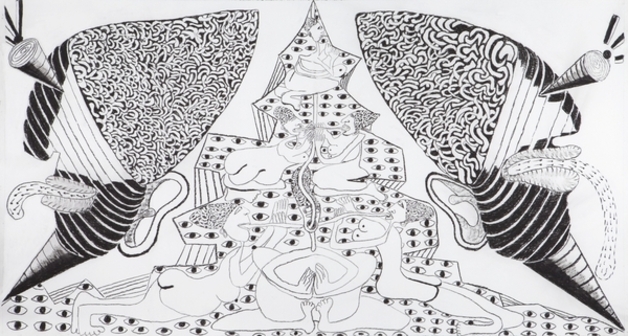 Holy Mountain by Linda Carmella Sibio
Linda Carmella Sibio and Bezerk Productions have teamed up together to start an Indiegogo fundraising campaign that will back the artist's ambitious new body of work called, Economics of Suffering.  This project will be an "explorations into the psychological effects of a world economy that is collapsing and creating a fertile bed for individual pain and suffering."
Economics of Suffering consists of 36 epic paintings, sound, video, performance and installation, all which have been fully conceptualized. The epic paintings are the subjects of genocide, blue-collar workers, starvation and the role of economics. The full-length performance will be her first since 2006.
Linda Sibio's illness had made finances tight, so she is asking supporters and art supporters to help her bring her work into the world. While sick, Linda was unable to stay in the grant circle. She must now seek support from fans, family, friends and other financial help.  With the help of the Bexerk Productions, they have a goal to reach $3,000. The funds will go to the use of buying paint, archival paper, and gold leaf, framing and video productions services.
Donations can be sent to http://www.indiegogo.com/economicsofsuffering through February 3, 2013.
Linda works in performance and visual arts. Sadly, her disability, schizophrenia had affected her work both visually and philosophically. Sibio has an interest in the fringe of society and how it touches cultures as a whole. She had dealt with strong social issues. 
Formally trained in many areas of the arts, she had also founded many several groups that are geared towards mentally disabled artists, including the Cracked Eggs, a performance group for people with mental illness based in the Morongo Basin. Bezerk Productions' commitment is to inform the public on the interdisciplinary art of people with severe mental disabilities and to offer education art opportunity for this disadvantage and underserved populations as well as the general public.
For additional information, images and interviews, please contact Linda Carmella Sibio at 760-362-4071/760-808-5326 or bezerkpro@gmail.com.
Culture
morongo basin
art
performance art
linda sibio
bezerk productions
economics of suffering
installation