Desert Destination: The Palms at Indian Head By Steve Brown

11/09/2012 12:55PM ● Published by Steve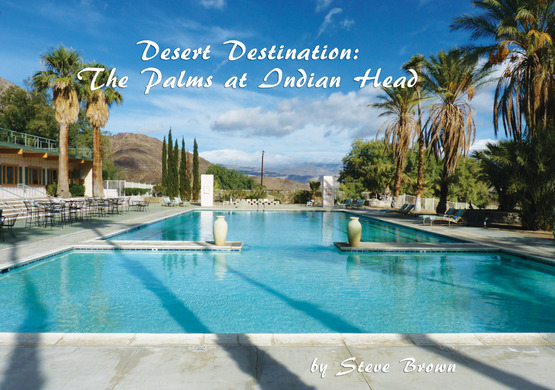 Gallery: The Palms at Indian Head, Borrego Springs [8 Images] Click any image to expand.
By Steve Brown
Imagine relaxing on a lounge chair of a classic desert resort, Marilyn Monroe to your left, Clark Gable and Montgomery Clift on your right. Bing Crosby and Lon Chaney Jr. are dangling their legs in the cool waters of the pool as a breeze rustles the palms and the sun warms the mountains behind you.
You're escaping the crowded, crazy world we've created for ourselves—digital dystopia, the slavish existence where our toys and devices appear more master than tool. Marilyn and company? They're escaping the insanity known as Hollywood. Is this some wild desert fantasy? Yes and no. It's The Palms at Indian Head and at least the spirit.of those stars remains.
Here in Borrego Springs, this magical place, once known as "the fabulous million dollar" Hoberg's Desert Resort, was a special retreat for Hollywood stars. When Palm Springs was simply too public or demanding, a private air strip beckoned and finally, celebrities could get just about far enough away from it all to relax and be themselves (the hotel had a reputation for having "a very wet bar" and it's still a great place to get a drink and seriously relax by the pool).
This has to be one of the best places to be yourself I've ever found. A historic desert resort, this joins the list of the best of the best desert inns—Furnace Creek Inn, the 29 Palms Inn, and a handful of others like La Posada in Winslow, Arizona.
To make a long story short, Hoberg's eventually went through several lesser incarnations and fell into disrepair. The current owners, David Leibert and Cindy Wood, are to not just be commended, but honored for bringing this classic desert resort back to life.
With "spectacular desert views" (that's from Fodors, but I agree wholeheartedly), in Borrego Springs smack dab in the middle of Anza-Borrego Desert State Park (you can hike up Palm Canyon right from the hotel), The Palms is a real treat. It's not perfect—the work of restoring this mid-century modern resort is ongoing, but with the restaurants on site—the casual Red Ocotillo poolside, and the more formal Krazy Coyote, there are delectable meals and drinks throughout the day so you never need to leave (but if you do, don't worry—Borrego Springs is home to some of our very favorite desert restaurants). Tip: Spring for a poolside casita if you want a romantic retreat!
The Palms at Indian Head, 2220 Hoberg Road, Borrego Springs                      
(760)767-7788 
Culture
,
In Print
,
Travel
,
Food+Drink
steve brown
borrego springs
anza-borrego
anza-borrego
palms
hotel
inn
lodging
resort
wildflowers
spa
desert travel issue
palms at indian head
anza-borrego desert state park
borrego
marilyn monroe
clark gable
montgomery clift
bing crosby
lon chaney
hoberg's
hollywood
david leibert
cindy wood