Desert Writers Gather At Oasis Beneath The Full Moon By Steve Brown

11/09/2012 01:13PM ● Published by Steve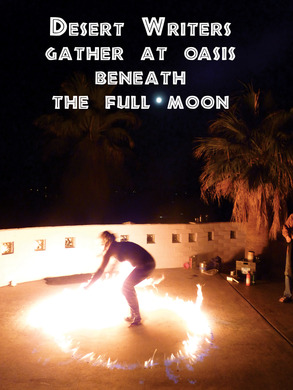 Gallery: Sun Runner Magazine Desert Writers Celebration/100 Thousand Poets for Change 2012 [5 Images] Click any image to expand.
Our Desert Writers Celebration, held under a full moon at the 29 Palms Inn on the Oasis of Mara, was a great evening of writers, poets, books, food (including our favorite Joshua Treets Ice Cream), music, and fire dancing.
James Sulos, president of Edgar Rice Burroughs, Inc., joined author Robin Maxwell during a presentation on Maxwell's new book, JANE: The Woman Who Loved Tarzan; and authors and poets like Naomi Lake from Borrego Springs, read from their work and signed their books. Naomi's work, "Spring Stream," was published in our Desert Writers Issue, and her husband, Don Barrie, is a cover photographer for The Sun Runner.
After the sun set and the full moon rose, Lacey Anderson set the night afire with incredible dance performances. A Tarzan and Jane theme brought folks out in safari gear and animal skins, while Indy and his ice cream wallas served up delicious Joshua Treets Ice Cream throughout the evening. Tarzan (and Jane) would have been proud.
Culture
,
In Print
joshua tree
robin maxwell
borrego springs
desert writers
authors
joshua treets
29 palms inn
jane
tarzan
29 palms
twentynine palms
100 thousand poets for change
desert writers celebration
oasis of mara
naomi lake
desert poets
desert travel issue
desert writers issue
james sulos
lacey anderson
the women who loved tarzan
taran centennial
don barrie
fire dancing
tarzan yell contest
jungle