Desert Theatre By Jack Lyons Sun Runner Theatre Editor

11/09/2012 01:16PM ● Published by Steve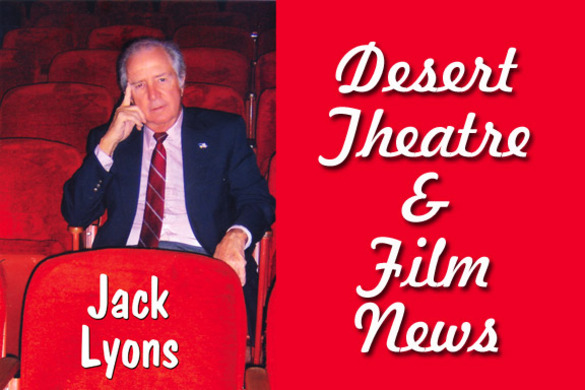 Your intrepid editor is profiling two theatres for this issue—Theatre 29 in Twentynine Palms, and Coyote StageWorks of Palm Springs.I caught up with a busy Gary Daigneault (via telephone), longtime past president of Theatre 29's board of directors and the driving creative force behind the success of the Twentynine Palms community theatre from its inception in 1999. Original founders John (deceased) and Carol Calveri (now living in Colorado) have handed over the reins of operation to Brian and Patti Tabeling, and Daigneault, all of whom are still very much connected with the theatre.
SR: As the area's only year-round, live theatre venue, how difficult has it been to produce and present eight productions a year, plus special events, especially if you factor in hot summer weather and part-time residents?
GD: Theatre under the best of conditions is always a challenge. We always try to offer our patrons and subscribers a balanced season of musicals, comedies, and dramas, so there is something that appeals to everyone. This year, we did nine shows: comedies, dramas, and musicals. It seems to be working, as we're in our 13th season. As for the weather... well
Mother Nature controls that issue.
SR: How does the production selection process work?
GD: We have a production committee that selects our directors and plays, and matches them up. We also have potential directors bring us suggestions of plays they would like to do. There are, however, certain scheduling slots that are pretty firm from year to year.
SR: Like which ones?
GD: We've learned over the years that musicals and "young people or kid" oriented shows work best in the summer, when there is plenty of rehearsal time available. So, the committee schedules accordingly. Dramas or comedies seem to have more appeal in the fall and spring. Of course, the traditional Christmas show very rarely moves from late November into early December.
SR: Does Theatre 29 have any plans for expanding the present building on Sullivan Road?
GD: Yes, we are always exploring ways to improve and expand the building in order to make the theatre experience for our patrons more pleasant and enjoy- able. In addition, there are talks, in the exploratory stage, to see if a new 250 seat, state of the art theatre is feasible for the City of Twentynine Palms.
SR: How would Theatre 29 fit into that scenario?
GD: It's premature to discuss our role in the project at this point in time. However, I can say we would be happy to play some part, perhaps, as the operators of the new theatre once it is completed. But, that's all in the future. Right now our energy is focused on the opening of our next production "Asylum: Halloween Haunt," created by Eric Ross. Come up and see what takes place on Fridays and Saturdays nights beginning October 19. Following the "haunt" make sure you see our Christmas show, "A Don't Hug Me Christmas Carol," directed by Marty Neider from November 16 through December 15.
SR: Thanks for taking time from your busy schedule to talk with us. Good luck with your new season.
Chuck Yates is a co-founder and the Artistic Director of the new Equity theatre company, Coyote StageWorks, of Palm Springs. Now beginning their fourth season in the Coachella Valley, the professional acting company, performs in the beautiful 433-seat Annenberg Theatre. In another telephone interview (these artistic directors are busy people) I had the opportunity to find out what Coyote StageWorks has been up to.
SR: As you begin your fourth season as a professional theatrical producing organization can you tell us how that organization, founded by four Equity performers, landed in Palm Springs?
CY: As a professional working TV writer of sit-coms, it became clear to me, and my co-founders: Steve Carter, Larry Raben, and David Engle that the TV landscaped had changed—meaning that the sit-coms I was working on in Hollywood were being replaced more and more by reality shows with diminishing budgets and production values. That kind of scenario doesn't have a bright future for narrative writers like me, or Steve. Larry and David are live theatre and film performers who travel with shows and are less impacted by the plethora of reality shows now on television.
SR: Meaning it's a case of join the trend or change course altogether.
CY: Something like that. I have a get-away home in Palm Springs. The four of the co-founders talked it over, and we decided that Steve and I would move permanently to Palm Springs and form a new live theatrical venture presenting Equity theatre productions to valley residents.
SR: That would be Coyote Stage-Works, right?
CY: Yes. In the three years we've been presenting plays, we've been very fortunate and very successful. This year, we received 19 Desert Theatre League nominations for excellence in theatre, here in the desert. The award winners will be announced on October 14 in ceremonies held in Indio. So, perhaps, we may have nabbed a few more, at least, we hope so.
SR: Your farce/comedy production of "Boeing, Boeing" of last November, was a sold- out smash hit. So it's natural to expect the same for your upcoming season. What can we expect to see in the new season?
CY: We will be presenting "Souvenir," the real-life story of New York's legendary society eccentric, Florence Foster Jenkins, who believed she was the possessor of a magnificent operatic soprano. In reality, she couldn't sing more than two notes together on key. "Souvenir" plays from November 23 through December 2.
SR: I remember the show starring Judy Kaye as Florence a couple of seasons back. It's very funny stuff.
CY: Following "Souvenir" we are presenting "Suds" by Melissa Gilb and Steve Gunderson, which is a hoot and bills itself as a "60s musical soap opera." "Suds" hits the Annenberg stage February 7 through February 17.
SR: Is there any part for you in any of these productions? After all, you're a past Desert Theatre League winning lead comedy actor for "A Tuna Christmas."
CY: I'm so glad you asked. Yes, indeed, there is a part for me this year. I have been waiting for years to play Truman Capote in the wicked comedy "Tru," based on his own words; adapted by Jay Presson Allen. The play hasn't been per- formed often since Robert Morse created the role in 1989. We are very fortunate to have received the rights from Ms. Allen's estate after she passed away.
For information on Theatre 29, call the box office at (760)366-3777. For information on Coyote StageWorks call (760)325-4490.
Culture
,
In Print
palm springs
twentynine palms
jack lyons
desert travel issue
theatre
coyote stageworks
community theatre