Film Talk By Jack Lyons

11/09/2012 01:19PM ● Published by Steve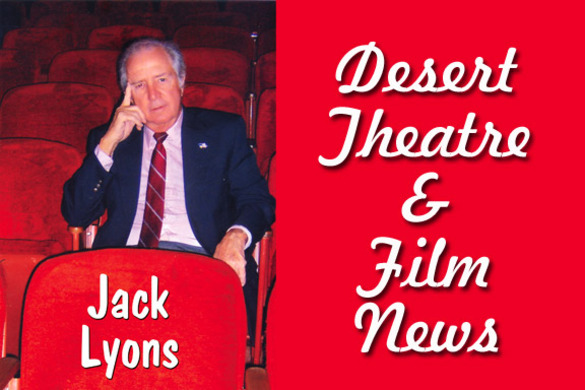 The 13th Annual Big Bear Lake International Film Festival (BBLIFF) presented some of the best feature length, short films, documentaries, and student films in a film festival that MovieMaker magazine said was one of the "Top 25 Festivals worth the entry fee."
One of the reasons industry people say that about BBLIFF is that it is one of the few festivals that feature and honor the work of cinematographers and screenwriters with lifetime achievement awards.
Over the years, the festival has honored a Who's Who of Cinematographers, from John Bailey, ASC, last year's honoree to Caleb Deschanel, ASC, 2010 honoree, and the list continues back to Lazlo Kovacs, and Vilmos Zsigmond, of Hungary, among many others. In the Screenwriters category, past honorees include: David S. Ward (The Sting), and L.D. Goffigan (Germaine's Pride), among others.
This year's festival had three Academy Award winning recipients. First, the late, great, English cinematographer Jack Cardiff posthumously received the prestigious Lifetime Achievement in Cinematography Award. The award was presented by festival co-president Monika Skerbelis to Scottish writer/ director/producer Craig McCall who accepted the honor on behalf of the Cardiff family. McCall's riveting 90-minute feature documentary film entitled "Cam- eraman: The Life & Work of Jack Car- diff," became the basis for the festival's prestigious cinematography honor. Jack was the cameraman for 73 movies, TV series, and documentaries that spanned an unbelievable nine-decade career in the movie business. Cardiff was arguably the greatest color cinematographer ever to peer through a camera lens. He passed away at the age of 94 in 2009.
Second, the Lifetime Achievement Award for Screenwriting was presented by festival co-president and director of the screenwriting competition, Sandy Steers, to Academy Award winner and 2012 honoree, Tom Schulman. Schulman is a most deserving honoree. He became an Academy Award winning screenwriter with his first effort, "Dead Poets Society," starring Robin Williams. He penned "What About Bob," starring Richard Dreyfuss and Bill Murray, and "Honey I Shrunk the Kids," with Rick Moranis, as well as "Medicine Man," "Holy Man," and "Welcome to Mooseport." He is currently writing and producing "The Anatomy of Hope" TV pilot for HBO.
Third, the honoree for the Lifetime Achievement Award in Film Music was presented to Patrick Williams for his incredible canon of work that has shaped the sound of over 65 feature films, 100 television films, and 25 television series. Williams' scores can be heard in the movies of "Breaking Away" (1979), for which he received the Academy Award, to "Best Little Whorehouse in Texas" (1982), "Swing Shift" (1984), "The Grass Harp" (1995), to "That Old Feeling," with Chevy Chase and Goldie Hawn (1997) among his selected movie credits.
In addition to the Lifetime Achievement Award honoree ceremony, the festival screened over 120 films, held Q & A sessions with the filmmakers and the actors in attendance, hosted seminars and panel discussions with Industry professionals, and presented awards to more than 40 hopeful filmmakers who attended the festival.
The quality of the film submissions is improving every year, and this year was no exception. The list of films and winners is too lengthy to mention here, but a few films did stand out. "Missed Connections," directed by Eric Kissack, starring Dorien Davies and Kenny Stevenson, was one. Although, the film carpet-bombed the audience with over a hundred "f-bombs," the comedy man- aged, with style and a clever script and acting, to win the Audience Award for Best Feature Film.
In the short film genre, "Far" is a very technically proficient film written by, and starring, Marion Kerr, and is deftly and creatively directed by Brian Crewe. It's a sweet and tender film of young people looking to connect from near and "far" (pun intended).
"Ripple Effect," written and nicely directed by Velvet Andrews Smith tells the compelling story of how a simple act of kindness between a young Afghan boy and an American soldier makes a power- ful war zone impact. It's very believable, and it's very relevant in today's war-torn world.
The short film "Angela Wright," written by Genevieve Farrell, (who also stars) and Mu Sun, who directed, (Canadian filmmakers—she from Ottawa; he from Toronto), showed promise with a somewhat current and relative subject matter—cheating on tests by young students. Another short film "The Aerial Girl," written by Terri Sissman, and directed by Anna Simone Scott, delves into a young teen's life that has been turned upside down following the death of her father, is well done.The BBLIFF is proving to be a draw for seasoned screenwriters as well as new and emerging writers. The Second Place screenwriting award went to Joan McBeth for her script " The Mother- load." Screenwriter P.H. Welles, attended even though she didn't have a script in the competition. Her screenplay, "My Shanghai" is a work in progress, but she's shooting for it to become a 2013 BBLIFF entry.For a complete list of winning films and awards go www.bigbearfilmfest.com.Check our website at www.thesunrunner.com for photos, more on the films, and the opening night gala parties.
Culture
,
Travel
,
In Print
jack lyons
big bear lake
desert travel issue
international film festival
bbliff