Here Kitty, Kitty... (Bobcat trapping endangers desert wildlife)

12/07/2012 11:20AM ● Published by Steve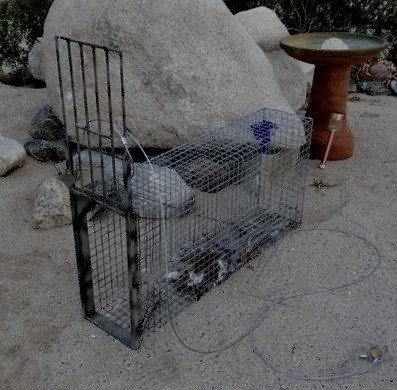 Bobcat trap found on private property in Joshua Tree by Tom O'Key
Here kitty, kitty...
It's not widely known among desert wildlife lovers that they themselves may sometimes be one of the biggest threats to the wildlife they love. That's certainly true in the case of the desert folks who love to post photos of the bobcats coming to visit their homes or drink from the birdbath in their yard.
How does sharing a photo of that charismatic bobcat lapping up water in your backyard put the wildcat in danger? It's a question we recently discussed with a wildlife advocate in the desert who desires to remain anonymous.
It's really this simple: California allows the hunting and trapping of bobcats. An estimated 1,195 bobcats were killed during the 2010-2011 license year. Trappers, according to state data, took 893, sport hunters killed another 238, and the U.S. Department of Agriculture Wildlife Services killed another 64. It was a 57 percent increase from the previous license year statewide, and in southern California, the increase over the previous season was measured at 416 percent more bobcats killed this past season in commercial "harvesting" than the season prior.
There were 45 sucessful bobcat trappers in California reported, with the last reported average price of a bobcat pelt at $78 during the 2008-2009 season. The statewide harvest limit for bobcats annually is 14,400.
So, how do you place your favorite bobcat in danger by sharing how much you look forward to its visits to your home on social media sites like Facebook? You're essentially advertising where to find nice healthy bobcats, and technology allows trappers (there is reportedly at least one team operating out of the Barstow area) to find promising areas for trapping or hunting.
This particular wildlife advocate knows how much attention trappers pay to leads on the whereabouts of bobcats. He was enthused about a family of bobcats that began to visit and told a number of people about it. Not long after, he began finding traps set around his property. The trappers were careful to not place traps on his property, but worked around it to try and catch the bobcats on their way to and from the water source on his land.
Companies like Hunting Trips R Us offer to help hunters be matched to local guides, noting that "the bobcat hunts conducted within California can be in some of the most beautiful surroundings, which only adds to the trip."
According to information from the 2010-2011 Bobcat Harvest Assessment (we're not making the name up, you can download it online), there were 132 bobcats taken by trappers in San Bernardino County in that season, with 150 in Kern County, nine each in San Diego County and Imperial County and 63 in Inyo County. Kern County led the state with total bobcats killed for the season with 175, with San Bernardino County following at 142. Imperial County had a dozen killed, and San Diego County nearly doubled that with 23. Riverside County had only eight bobcats killed total for the season, while Inyo County had a total of 67 kills.
Trapping has been allowed from November 24 through January 31, and hunting from October 15 through February 28. Hunters can kill up to five bobcats per season each, and under a trapping license there is no limit. Dogs may be permitted to pursue bobcats, but only until New Years Day when a new law banning the use of dogs to hunt bobcats and bears takes effect.
Organizations such as the California State Varmint Callers Association (with their motto: Conservation of Wildlife through the taking of Predators by sportsmen), advocate the hunting of bobcats, coyotes, and other natural predators as a way of maintaining the ecological balance of the wild. There are licensed big game guides in and around the desert, including Morongo Valley, Lancaster, Beaumont, Yucca Valley, and Julian.
We certainly are not anti-hunting, we merely want to point out that if you post photos of your favorite bobcat family visiting your home on social media, you may wake up one morning to find that the family has been trapped for their pelts, or stuffed and displayed at that Mexican restaurant in Barstow that looks like a taxidermy museum (but has pretty good food).
We don't have any bobcats dropping by Sun Runner World Headquarters at the moment, but we do love our wildlife that call our grounds their own, and we know our readers who do enjoy visits from wildlife would hate to see them trapped or shot for their pelts or as a trophy.
At least bobcats receive some protection for most of the year. Coyotes are legal to kill all year with no limits. And don't even think about the poor rattlesnake that is right up there with the coyote and, surprisingly, the jackrabbit, on the list of desert animals you can legally blow away all year long.
We enjoy our desert wildlife alive, so the only shooting we'll be doing of any of them—from bighorn sheep to crows and doves—will be with cameras. We've heard of horrible practices, including shooting desert tortoises for fun. What do you think about hunting and trapping in the desert?
Culture
,
News
sun runner
joshua tree
desert
california
wildlife
bobcats
trapping
hunting
trappers
tortoise telegraph
desert road trips issue