Threats of gun violence made against Yucca Valley schools this morning

12/20/2012 08:17AM ● Published by Steve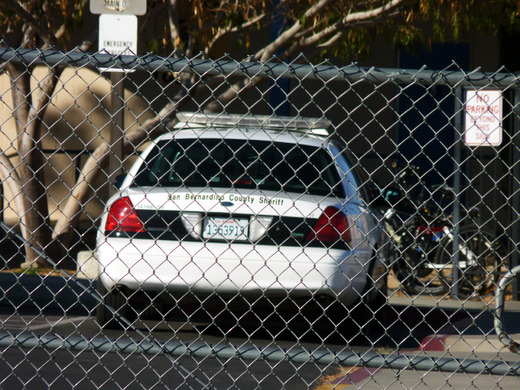 San Bernardino County Sheriff's Department on campus at Yucca Valley High School
Gallery: Yucca Valley School Threat December 13, 2012 [3 Images] Click any image to expand.
By Steve Brown
The San Bernardino County Sheriff's Department is working on violent threats made against Yucca Valley school children.  Police are at schools at this hour.
We are not revealing some details as the investigation is ongoing at this time and the suspect has not been apprehended.  We will have more news soon.
Update at 9:30 a.m.:  There is a police presence at schools we visited in Yucca Valley - Onaga Elementary School and Yucca Valley High School.  Police on site confirmed there had been a threat made but declined to provide details, referring us to the Public Information Officer for the Sheriff's Department.
We have received information that the threat was made by a male on Facebook sometime last night, and we are hearing that schools in Twentynine Palms may be on lockdown.  It appeared extra security measures such as controlled access to school grounds and parking were in place at Yucca Valley High School.
This information is preliminary and we have not yet received a response to our inquiry to Morongo Unified School District for more information. At this point, we should emphasize that there appears to have been a threat made, the police have responded on more levels than we are able to discuss at this point, and there has been no attack reported.
We have received information from a local parent regarding the identity of the child making the threat.  The child's Facebook page includes a photo of what appears to be a young man holding an AR-15 assault rifle.
We have information that this photo may not be of the individual making the threat, and we have included a version of the photo with this story, modified to protect the individual's identity.  The individual in the photo may not have any relationship to the threat whatsoever, or the photo could have been copied without the individual's knowledge, so it is included only to help document the alleged perpetrator of the threat's state of mind.
The Facebook post (which we have not been able to verify as of yet), has been referred to by one local parent as showing "a group of kids with a horrible quote."
Update at 10:45 a.m.:  A spokesman for the San Bernardino County Sheriff's Department based at the Morongo Basin Station in Joshua Tree has confirmed the threat was made on Facebook by a 14 year-old Yucca Valley High School student yesterday.  The threat, he noted, was "specific" and interpreted to target students at that particular school.
The Sheriff's Department served a search warrant last night at the student's home.  Details on the search and threat are not available as the investigation is ongoing.
It was determined that the family had left on a trip and the Sheriff's Department has been attempting to contact the family to speak with them directly about the threat, but have not yet received a response.  The police department at the family's destination has also been contacted regarding the investigation.
The photo on the student's Facebook page of a young man holding what appears to be an AR-15, is not a photo of the student, the Sheriff's Department confirmed.
The spokesman noted that the presence of law enforcement personnel at area schools was to help provide an atmosphere of security in the wake of the Newtown, Connecticut school massacre; to help students understand that making threats such as this is not funny, and to help reassure parents in the district.
The Sheriff's Department has received reports of other threats recently, but this has been the "only one found to be specific in nature."  Other threats were found, according to the spokesman, to be generic in nature, and on the level of rumor and hearsay.
The Sheriff's Department, the spokesman noted, does not have enough local personnel to station deputies at every school in the Morongo Unified School District, but will be rotating deputies throughout the system today.
Reports on social media that there were gunmen at a school campus, that one had been apprehended with a gun, and that two suspects had gotten away but were being sought, were all false according to Sergeant Warfield of the San Bernardino County Sheriff's Department.
We have not yet received a response to our request for information from the Morongo Unified School District yet, but will continue to provide additional information.
News
joshua tree
threats
california
san bernardino county
musd
morongo basin
yucca valley
guns
shooting
sheriffs
morongo unified
school shooting
gun violence
yucca valley high school
yucca
newtown
facebook
yvhs
ct
warfield