Huell Howser dies at age 67

01/07/2013 12:56PM ● Published by Steve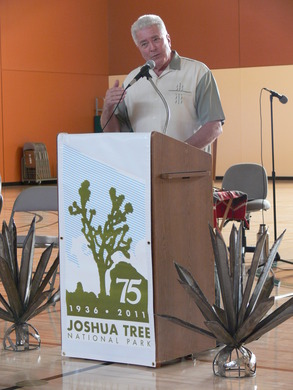 Huell Howser
By Steve Brown
The Sun Runner has learned that longtime California's Gold TV personality, Twentynine Palms resident, and friend of this magazine, Huell Howser, has died at the age of 67.
Huell, who was truly a very giving supporter of community here in the desert, had recently retired.  In fact, during our last conversation, Huell had repeatedly stressed, "I want to retire.  I'm tired."
Perhaps Huell knew something he was not sharing at the time.
Huell had, in his usual giving spirit, offered to narrate a promotional video for The Sun Runner, a project that will now go forward without Huell's distinctive Tennessee drawl.
Huell was a gracious host during our visits to his Twentynine Palms home, and was always good natured, engaging, creative, and sincere.  He was a talented artist as well as TV personality.  Ironically, as we get ready to launch our initial television show on the California deserts, we had hoped to invite Huell to participate if and when he felt up to it.  We'll now not have the chance, but we'll remember Huell on every shoot.
Our condolences go out to Huell's family and friends.  I thank you Huell for some of the best stories I've got to tell from my 8.5 years of running The Sun Runner.  God bless and keep you well.  May your memory be eternal.
We will post more information as it becomes available.
Culture
,
Travel
,
News
sun runner
steve brown
twentynine palms
tv
television
palms
huell howser
huell
californias gold
california gold
kcet
obituary
death