Bad Science, Dead Bobcats

02/11/2013 12:19AM ● Published by Steve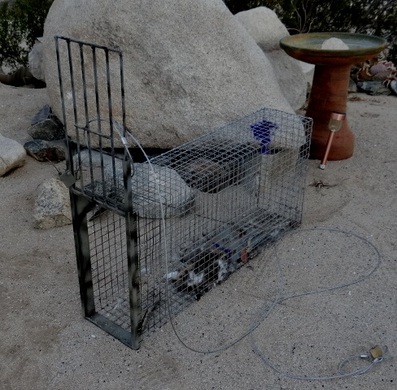 Bobcat trap found on private property in Joshua Tree by Tom O'Key
By Steve Brown
Not long after my story in the December, 2012 issue conveyed a warning about posting photos of your friendly neighborhood bobcat for bobcat hunters and trappers to see, all hell broke loose in and around Joshua Tree when video astronomer and desert renaissance man Tom O'Key found a bobcat trap set on his property.
Facebook's Joshua Tree groups erupted in furor over trappers targeting local bobcats, with one trapper reportedly killing five cats in one night. But in usual Joshua Tree fashion, advocacy was often for taking a vigilante approach on a local basis toward a statewide wildlife management issue that is outdated, desperately needs reform, and isn't scientifically valid. Calls for stealing legally placed traps and posting names and phone numbers of licensed trappers in the area for the purpose of vilifying and harrassing them in an effort to stop trapping were suggested, while the idea of changing the law with arguments supported by facts, seemed less popular.
Even the LA Times jumped into the story, getting their facts wrong when they stated "during the hunting season that ended Jan. 31." Nope. Hunting season for bobcats ends at the end of February. Trapping season ended January 31.
Meanwhile the Center for Biological Diversity, which has ignored every media request this magazine has sent them over the past five years or so while working on behalf of desert wildlife, jumped into the controversy, stridently telling the Times, "We are not going to let this happen again."
Really? Bobcat trapping and hunting has been legal for, oh, just about forever in the state of California. And only now, when it has gotten growing publicity that the CBD could put to use for fundraising are they noticing it's going on? Uh, what was acceptable for generations now is absolutely unacceptable and must immediately be stopped. OK. Thanks for noticing.
Call me jaded, but I find it difficult to believe the CBD wasn't aware of California's trapping and hunting of predators up until now. More and more, large environmental organizations keep seeming as if they're more interested in money than wildlife or the environment.
But before we get the knee-jerk reactions coming our way, let me note that the CBD, despite their shortcomings, could be an ideal partner to work toward what actually needs to be done to update and correct trapping and hunting regulations for bobcats, and quite possibly, other predators in California, if they stick to the need to improve the science of wildlife management.
Without changing the laws or requiring state agencies to manage wildlife more effectively, shutting down hunting clinics, stealing traps, and trying to intimidate trappers is just ad hoc random vigilante action without any long term effect. Plus, a solution to this issue needs implementation statewide, not just in the occasional community that takes issue with it.
According to information from California State Department of Fish and Game, it doesn't appear that any detailed population studies of bobcats across the state, have been done—ever. In a history of bobcat "harvesting" (as if they were ears of corn), studies were conducted on the "un-harvested" populations in Siskiyou, Riverside, and San Diego counties, and a harvested population in San Diego County, during the 1970s, according to the state. But while population estimates have been created for the state since that time, there doesn't appear to be any hard data on bobcat populations regionally or locally across the state, their overall health, or the impacts of development and habitat loss for the bobcats or their prey.
What this means is that while the numbers of trapped or hunted bobcats remains well below the statewide annual quota of 14,400 killed bobcats, there is no control whatsoever over where the bobcats are taken, and virtually no understanding of the impact on local populations. Meanwhile, there has been significant erosion of bobcat habitat across California in the past 40 years, impacting some areas more than others.
So, for instance, in the 2010-2011 Bobcat Harvest Assessment, there were 132 bobcats taken in San Bernardino County. But San Bernardino County comprises an enormous geographic territory. So, let's say many of them were taken from the Joshua Tree National Park area. Would that have a negative impact on the park's wildlife? Could there even be local populations that disappear due to enthusiastic trapping and hunting? How does it impact the species the bobcat preys upon? How would the state know?
There is nothing in place at this point in time to prevent this scenario of decimating particular local populations from happening, or even assess if it may be happening.
With no population studies taking place, local bobcat populations could literally be wiped out and the state would not know it. And with nearly half a dozen cats being killed from one area in one night, it is not inconceivable that entire family groups of bobcats could be eliminated.
I'm not a wildlife biologist, but there has to be better ways to manage predator populations. Even if you completely believe there is a necessity to hunt and/or trap to maintain healthy predator populations, the current blanket approach is too broad and generic to be effective, allowing some areas to become over-saturated with predators, and other areas to be nearly devoid of them. How is that good wildlife management?
Once, wildlife in this country was plentiful. Historical accounts speak of the skies dark with birds, herds of animals numbering in the tens of thousands, and millions of fish. It seemed as if there were so many animals, birds, and fish that they would last forever.
Now, we face a far different world. We don't have the luxury of taking species for granted any more. We need to know what we're doing when it comes to wildlife management and the practices of even 50 years ago don't meet our current requirements if we're going to have any wildlife for the world our grandchildren will occupy.
The International Union for the Conservation of Nature's Red List of Threatened Species includes around 17,000 plants and animals worldwide. The IUCN estimates one-eighth of all birds, a quarter of all mammals, 20 percent of all invertebrates, a third of amphibians, and half of all turtles worldwide, face extinction. About 800 species have been documented as having become extinct over the past 500 years, but the numbers are thought to be much, much higher. Dozens of species in California are listed as vulnerable to endangered on the IUCN's Red List.
Meanwhile, the current extinction rate of species globally is estimated to be between 1,000 and 10,000 times higher than the natural, or background extinction rate, according to wildlife organizations such as the World Wildlife Fund. We are, according to many wildlife organizations, in the midst of the sixth extinction period—the first attributable to the presence of one species on the planet—humans.
Add to this the Food and Agricultural Organization estimate that more than 70 percent of all fish species are fully exploited or depleted, as well as studies showing declines in species from bees and bats to birds and sharks, and it becomes extremely clear that humanity doesn't have any wiggle room any more on issues of wildlife management.
Here in the desert, that means we can't afford to allow local bobcat populations to be decimated; giant solar projects to destroy desert tortoises or kill off local fox populations; birds and bats to be slaughtered by industrial scale wind developments; or water mining like that planned for Cadiz that would leave bighorn sheep and numerous other animals without the seeps and springs they rely on to live.
If we don't invest more in studying our wild lands and their natural inhabitants, and don't do more to protect them (and their integrity, through wildlife corridors and habitat connectivity), we simply will not have wildlife, and somewhere down the line, we won't have food either. The problem will resolve itself, one way or another.
Like to eat? Preserve our wildlife now, or it's Soylent Green for dinner tomorrow.
I don't want to be all gloom and doom, and we need to support positive efforts to improve the situation that don't involve theft or harassment.
A good place to begin, if you're as interested in implementation of better wildlife management around Joshua Tree National Park (the park does well within its borders), is the newly formed Project Bobcat at www.projectbobcat.org.
Support an overhaul of our predator wildlife management practices in California based on thorough studies of bobcat and other predator populations (as well as that of their prey). Let's work to incorporate planning for climate change in how we view the role of these species, and let's support efforts to stop the ecological isolation of our wildlands by creating and maintaining wildlife corridors and preserving habitat.
Our desert is a beautiful, but fragile world. The current approach toward managing it is to try to fix things long after they've been broken, and to ignore the obvious repercussions of current actions. Let's change that approach and be proactive instead of reactive.
That doesn't mean all hunting and trapping has to be banned. In fact, it may mean that they are, to some extent, necessary. But they have to be overseen appropriately or there can be serious consequences.
In some states with predator quotas, it is believed trappers and hunters may be killing more animals than legally allowed, but are then taking them across the border to neighboring states without quotas to declare them there. We have to establish solid regulations to ensure illegitimate hunting and trapping are strongly discouraged and best practices are implemented for managing our state's wildlife.
Chris Clarke's excellent story on bobcat trapping for KCET:
http://www.kcet.org/news/the_back_forty/commentary/the-hidden-desert/why-california-should-ban-bobcat-trapping.html
Project Bobcat's petition to end bobcat trapping around Joshua Tree National Park:
http://projectbobcat.org/action-alert-ban-trapping-of-bobcats-in-the-morongo-basin-near-joshua-tree-national-park/
The Center for Biological Diversity's petition to ban bobcat trapping in California:
http://action.biologicaldiversity.org/p/dia/action3/common/public/?action_KEY=12521
Culture
,
In Print
,
News
sun runner
joshua tree
steve brown
california
san bernardino county
wildlife
center for biological diversity
joshua tree national park
trapping
hunting
bobcat
tom okey
project bobcat
hunters
fish and game
desert wildlife
iucn
international union for the conservation of nature
red list
threatened species
endangered species
extinction
predators