It's Official - the Marines Plan to Take Most of Johnson Valley Off-Highway Vehicle Area

02/13/2013 09:55AM ● Published by Steve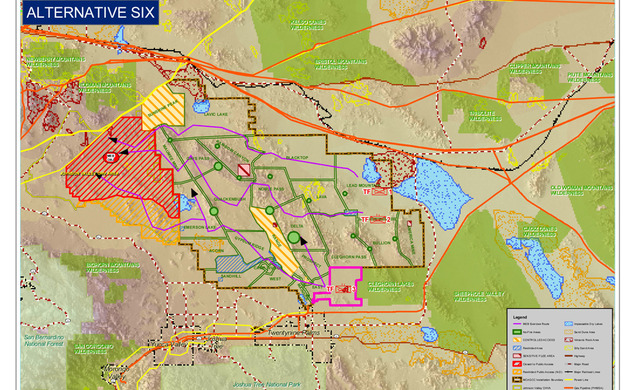 Marine Base Expansion Alternative 6
This just in from the Marine Corps Air Ground Combat Center, Twentynine Palms:
(February 13, 2013) - In accordance with the National Environmental Policy Act (NEPA) of 1969, the Department of the Navy, on behalf of the Marine Corps and in cooperation with the Bureau of Land Management (BLM) and the Federal Aviation Administration, has signed a Record of Decision (ROD) on establishing a large-scale Marine Air Ground Task Force training area, to include the expansion of the training range and establishment of associated airspace, at the Marine Corps Air Ground Combat Center ("Combat Center") in Twentynine Palms, Calif.
The Navy ROD selects the Marine Corps' Preferred Alternative, Alternative 6 with additional mitigation, which includes the acquisition through withdrawal and purchase of approximately 167,971 acres of land west and south of the existing Combat Center. Alternative 6 is the optimal alternative when considering both the operational factors and environmental impacts. Congress will consider the withdrawal application and may include it in the Fiscal Year 2014 National Defense Authorization Act.
If approved by Congress and to accommodate required Marine Expeditionary Brigade (MEB) training activities, the Navy, acting through the Combat Center, will:
. Acquire additional land adjacent to the Combat Center . Pursue through the Federal Aviation Administration the establishment and modification of military Special Use Airspace for the proposed MEB-sized training range
. Conduct the specified MEB training
. Enter into a written agreement with BLM to implement the management and control of the Shared Use Area
The Marine Corps held three public scoping meetings from Dec. 3-5, 2008, and three public meetings on the Draft EIS from April 12-14, 2011. A total of 1,314 people attended the meetings, and more than 40,000 public comments were received. Based on the feedback received, the preferred alternative was initially developed and further revised to reduce impacts and increase the land available to the public. Public meetings were not required for the Final Environmental Impact Statement (EIS).
The Navy's Record of Decision (ROD) includes the public comments received on the Final EIS and the Navy's responses. The Final EIS, released on July 27, 2012, includes the oral and written comments received on the Draft EIS, and the Navy's responses to those comments. A copy of the Final EIS and ROD will be available tomorrow morning at www.29palms.marines.mil/staff/G4InstallationsandLogistics/LandAcquisition.aspx  and can be viewed at these libraries:
. Barstow Branch Library, 304 E. Buena Vista St., Barstow, CA 92311
. Joshua Tree Library, 6465 Park Blvd., Joshua Tree, CA 92252
. Lucerne Valley Janice Horst Branch Library, 33103 Old Woman Springs Road, Lucerne Valley, CA 92356
. Needles Branch Library, 1111 Bailey Ave., Needles, CA 92363
. Newton T. Bass Apple Valley Branch Library, 14901 Dale Evans Parkway, Apple Valley, CA 92307
. Ovitt Family Community Library, 215 E. C St., Ontario, CA 91764
. Sacramento Public Library Central Branch, 828 I St., Sacramento, CA 95814
. San Bernardino County Library, 104 W. Fourth St., San Bernardino, CA 92415
. Twentynine Palms Library, 6078 Adobe Road, Twentynine Palms, CA 92277
. Victorville City Library, 15011 Circle Drive, Victorville, CA 92395
. Yucca Valley Branch Library, 57098 29 Palms Highway, Yucca Valley, CA 92284
Visit the project website at www.29palms.marines.mil/Staff/G4InstallationsandLogistics/LandAcquisition.aspx  for more information and complete documentation on the EIS process related to this project.
To request a printed copy of the ROD, please write to: Naval Facilities Engineering Command Southwest Attention: 29Palms EIS Project Manager 1220 Pacific Highway San Diego, CA 92132-5190.
By Steve Brown
According to the USMC Land Acquisition information on Alternative 6, there will be 167,971 acres acquired, with 38,137 acres with restricted public access in the Johnson Valley Off-Highway Vehicle Recreation Area.  All of the land to be taken by the Marines will be removing recreational lands from the Johnson Valley area, a move that has been strongly opposed by off-road enthusiasts and by many in the Lucerne Valley area who expect to be negatively economically impacted by this loss of recreational lands.
The Sun Runner has officially opposed this base expansion move as there is a need to preserve off-road vehicle recreational lands, and we believe that by removing most of the BLM's Johnson Valley area from recreational use, there will be a negative economic impact on not only the Lucerne Valley area, but the entire hi-desert, and there will be an increased likelihood of off-road vehicle use and destruction of other desert wild lands as off-roaders are pushed out of this popular recreational destination.
News
sun runner
joshua tree
steve brown
marines
usmc
mcagcc
twentynine palms
blm
johnson valley
offroading
recreation
ohv
offroad
palms
lucerne
base expansion
off roading
marine corps
faa
yucca
off highway
hammers
atv
acquisition
nepa
rod
combat center