An Unwanted Imposition: Dollar General

02/15/2013 12:11PM ● Published by Steve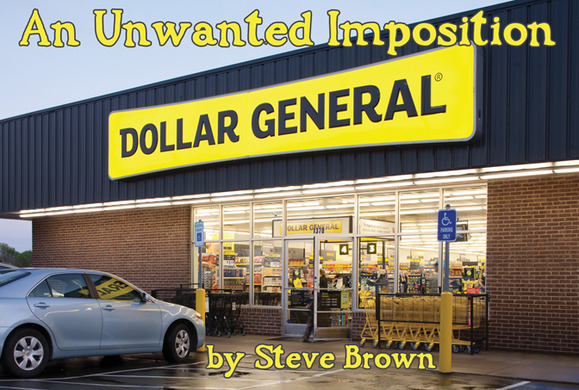 An Unwanted Imposition: Dollar General
By Steve Brown
From the February/March 2013 Desert Treasures Issue
"The primary purpose of the Joshua Tree Community Plan is to guide the future use and development of land within the Joshua Tree Community Plan area in a manner that preserves the character and independent identity of the community."
– Joshua Tree Community Plan
"The Project, as proposed, is consistent with the goals and policies of the Joshua Tree Community Plan. Specifically, the Project meets the following goals: GoalJT/LU 2: 'Support development of the existing downtown commercial area of Joshua Tree as a focal point and core activity center within the community.' Goal JT/LU 3: 'Enhance commercial development within the plan area that is compatible in type and scale with the rural desert character, is located appropriately, and meets the needs of local residents and visitors.' The Project is a standard retail store compatible in size and character with the development found within the community... based on the underserved commercial designations in the area, it is anticipated that the project will support future development of the existing downtown in line with Goal JT/LU of the Joshua Tree Community Plan. Further, the proposed architecture is compatible 'in type and scale with the rural desert character.'"
– San Bernardino Land Use Services Department Planning Division Planning Commission Staff Report for Dynamic Development, LLC Dollar General store application, prepared by Gus Romo
Building a corporate chain store in the midst of a community that wants to preserve its rural and independent character is consistent with those goals?
Says who?
The Land Use Services Department that refused to provide us with information we requested regarding this decision?
 Gus Romo, the county planner who obviously either knows absolutely nothing about the area for which he is making decisions, or is purposefully choosing to ignore the area's own plan?
County Public Information Officer David Wert who did not get back to us with the specific information we requested?
The Planning Commission hearing about this proposal on January 17 saw dozens of Joshua Tree area residents speaking out in strong opposition to this project due to its blatant inconsistency with the Joshua Tree Community Plan. Our own district's planning commissioner, Theresa Kwappenberg of Redlands, was AWOL from the meeting. Kwappenberg who had previously served as planning commissioner for the Third District, was appointed by former Supervisor Neil Derry. Kwappenberg not only had served previously as planning commissioner, but also ran for District 3 Supervisor in the 1990s.
One glaring problem with the county's planning process that is never addressed is the fact that planning commissioners are supposed to make decisions for enormous geographic areas they may not be familiar with, leaving them more likely to rely on poorly prepared staff recommendations, such as Romo's Dollar General report. Anyone who is familiar with Joshua Tree knows that there is a significant effort to preserve the community as an independent, small business-oriented, inspired and independent creative gateway to the national park. Anyone in planning should understand that a corporate box store (no, it's not "big" box, it's just a 9,000'+ box) does not fit with the vision the community has for its own future.
So, we've got people who don't know or understand the community of Joshua Tree making decisions for the community based on the recommendation of someone else who doesn't know or understand the community and who did not bother to learn.
Someone tell me that's an appropriate process for quality governing. I need a good laugh.
There are several alternatives as to how Romo's staff report and recommendation of approval for this project could have occurred.
First, Romo didn't actually read the Joshua Tree Community Plan and only scanned it for isolated quotes he could pull to justify his recommendation to the planning commissioners who had not read the community plan.
Second, he did read the Joshua Tree Community Plan and cherry picked quotes he could take out of context to support his recommendation to the planning commissioners who had not read the community plan.
Or third, he knew damned well the Joshua Tree Community Plan did not support a recommendation for a project of this sort, but chose to purposefully ignore the plan's intent in order to get the planning commission to approve the project.
We've heard accusations of Romo and/or the commissioners being paid off or given incentives to look the other way, and with San Bernardino County's historical record of corruption, that possibility cannot be ignored, but there is no evidence of it at this point in time. Couple that with the county not providing us with requested information regarding this decision, and whatever conclusions you may draw, they probably are not very complimentary.
And it's not like the Joshua Tree Community Plan isn't specific on this form of development: "Discourage regional commercial facilities within Joshua Tree." The plan goes on to note it wasnts to avoid "big box" commercial developments that don't match the character of the rural community, and to restrict the size and scale of retail buildings. While a 9,000'+ corporate chain store doesn't comprise a big box unit, it does, however dwarf every other Joshua Tree retailer, and it would become the largest retail store in the community, something Romo's staff recommendation doesn't note (it erroneously notes that it would be compatible in size with other businesses in the community).
Or how about this one—"Avoid strip commercial development." A corporate chain store catering to low end shopping is a magnet for similar development that could infill and permanently alter the character of Joshua Tree from being a rural community filled with independent small businesses to another perpetual strip mall along the highway similar to how Yucca Valley has developed over the years. While Dollar General stores are stand-alone boxes, they scream strip mall, and are highly likely to encourage that form of development—precisely what Joshua Tree is attempting to prevent.
Another portion of the community plan stresses the need to ensure sites are compatible with the desert character of the community and contribute to a unifying theme, as well as being complementary to existing development. Building a low end corporate box store across the highway from a high end boutique lodging business is in no way complementary. Had any of the commissioners or staff known anything about Joshua Tree, they would have noticed this contradiction.
Romo inserts himself into the staff recommendation, noting that based on his experience and research, "no evidence exists otherwise to suggest that the development will have a negative economic impact on the community. Rather, based on the underserved commercial designations in the area, it is anticipated that the project will support future development of the existing downtown..."
In a manner of speaking, Romo is correct. This blatantly out of place project in Joshua Tree will have the effect of encouraging more out of place projects to follow suit. There is much evidence to support there will be a negative economic impact on the community if this project is allowed to happen.
First, existing small retailers who have been conducting business in Joshua Tree, paying taxes, and supporting their community for decades will be economically harmed. While the county should be supporting its existing locally owned small businesses, it instead is robbing from them to cater to national corporations based elsewhere. Every economic study shows that locally owned and operated businesses contribute far more to their communities in virtually every way than do chain stores headquartered out of state. The fact that Romo is apparently not even aware of the basic economics of development means he is unqualified to make the statements he has made in his staff report.
Second, Joshua Tree is a gateway community to a major national park that receives nearly 1.5 million annual visitors. Locating a low end corporate chain box store in Joshua Tree devalues the tourism appeal for the town, negatively impacting all other businesses in the community and their years of work to develop a unique identity for the town that has appeal for tourists. How do I know? I work with destination marketing for tourism purposes both with the magazine and as president of the California Deserts Visitors Association, which has been promoting the desert region for tourism for more than six years now. Inserting a low end corporate chain store into the midst of independent retailers, independent restauranteurs, art galleries, and organizations related to wild lands and the park devalues the Joshua Tree community with regard to tourism.
An appeal has been made regarding this decision. However, even requiring the concerned citizens of Joshua Tree to have to pay to appeal a grossly incompetent (or corrupt) decision of this sort, is another transgression of justice.
Supervisor James Ramos should work to halt this decision, based on a poorly made staff report, from going forward. A new staff report that incorporates the letter and spirit of the Joshua Tree Community Plan, with input from the community, should be required before the proposal is returned to the Planning Commission to begin the approval process again. The Planning Commission needs to be sent on a familiarization trip to Joshua Tree where they can also meet with those who drafted the community plan prior to making any decision. The money used to file the appeal should be immediately refunded, and this decision needs to be reconsidered prior to San Bernardino County endorsing development that will create irreparable harm to the community of Joshua Tree.
Finally, the county needs to take media requests for information seriously. Our overall experience with San Bernardino County and requests for public information has been dismal. Taxpayer money is spent on personnel who are utterly unreceptive to requests for public information. That is unacceptable.
In Print
,
Today
,
News
sun runner
joshua tree
steve brown
national park
dollar general
san bernardino county
supervisor
board of supervisors
community plan
planning commission
land use services
gus romo
dynamic development
theresa kwappenberg
james ramos
appeal