From a Hole in the Ground

05/01/2013 09:14AM ● Published by Brian O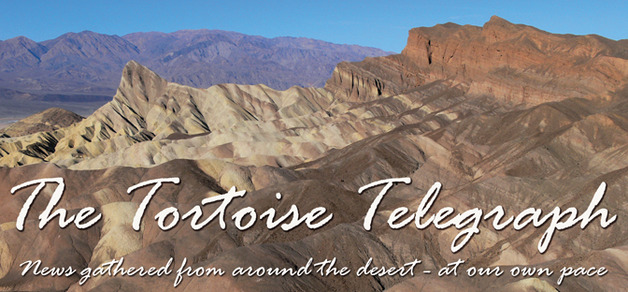 From a Hole in the Ground
By Steve Brown
That's the last half of a phrase many of us are familiar with, and unfortunately, it appears to apply rather well to the folks of the County of San Bernardino Economic Development Agency when it comes to the topic of tourism.
Despite a 2011 "fam" tour where staff from the EDA's "tourism division" (They have a tourism division?) visited the desert; despite correct updated information sent to the county by the City of Twentynine Palms back in 2011; despite writing about their incorrect information online before in this magazine; and despite a personal meeting by myself with Supervisor James Ramos and Chief of Staff Phil Paule about two weeks after Ramos was sworn in where we discussed this topic and I volunteered to assist in bringing the agency up to date, the EDA still doesn't know desert tourism from a hole in the ground.
And I'm being kind.
In reality, the shoddy job the EDA has done on behalf of tourism county-wide on its website www.sbcountyadvantage.com's "tourism destination" page actually damages tourism for the desert and county by its incorrect listings (some of which are out of date by nearly 20 years), the random inclusion and exclusion of attractions, parks, and businesses, and their neglect in bringing information up to date even when it is pointed out.
In short: If there is a tourism division for the EDA, whoever is in it doesn't belong there. If an economic development agency isn't going to drive new revenue to the county and do a solid job of supporting existing sources of revenue—our county's hospitality industry—then perhaps we should just get rid of it and save taxpayers the money that pays for that agency.
But it isn't just the EDA's fault. Why did two successive Third District supervisors know about this problem and yet didn't take action to correct it?
Damned good question. Tourism is the one "industry" that can be immediately put to use as an economic development tool to help both businesses and the county's revenue stream without long periods of preparation and expensive infrastructure investments. You can begin to help save businesses and jobs and generate tax revenues almost right away.
But instead, it's been frequently ignored.
Let's take a look at some of the examples of the inexcuseably out of date and erroneous information on the EDA's tourism attractions web page. During a recent visit, the EDA listed "some of our premier destinations" as: Auto Club Speedway, Big Bear Lake Resorts Association, Calico Ghost Town Regional Park, Citizens Business Bank Arena, Colorado River, Crestline/Lake Gregory Chamber of Commerce, Death Valley National Monument, East Mojave Scenic Area... wait a minute. Those last two changed their status—and names—in 1994.
Oh, and there is the Providence Mountains State Recreation Area, the park where Mitchell Caverns are located. They were a great tourist attraction, located within the boundaries of the East Mojave Scenic Area, errrr..... Mojave National Preserve, up until they were closed in 2011 and extensively vandalized. Never mind though—the link the EDA lists takes you to the California State Parks home page anyway, so you'd have to dig around there to find out that you can't actually go to that state park any more—it's just another hole in the ground now.
But you have to wonder about the choices of attractions listed on this governmental tourism site. The "Scenic Drives USA" link under attractions takes you to a useful, if disorganized, listing of back country roads across California, produced by Roundabout Publications. There are a couple of problems with this in that the drives are not identifiable so one could find only those in San Bernardino County, and this is a business. Does the county endorse this business? How is a six-page listing of roads all across the state help tourism within our county? I love the site, but usually you would include information targeting the attractions of the county you represent, not general information for the entire state. A less lazy approach would have been to gather the information on these roads across the county and create a county back roads page with a map. At the very least, EDA staff could have asked permission to use appropriate information from that site on the county's website.
Yeah, I know—that's nitpicky, right? Well, not really. Destination marketing is about directing potential visitors to YOUR destinations, not someone else's. But how about this—the link to the county's own park, Calico Ghost Town, takes potential tourists to a dead site that the county dumped when it also dumped all its marketing staff a couple years ago. The county can't even send you to the county's own web page.
And it doesn't end there. The link for the Colorado River takes you to the City of Needles website. I love Needles, but it isn't the entire Colorado River. Predictably, the link for Death Valley National Monument is dead, and the link for the East Mojave Scenic Area confusingly takes users to the home page for the National Park Service. The links for Glen Helen and Yucaipa regional parks lead to an online camping reservations page for all of the county's regional parks—including over half a dozen not listed at all on the county's own tourism website (the county's Regional Parks division does have a decent website that includes all the parks, but it is not directly linked from the EDA's tourism page).
The link for Lake Havasu takes you to Havasu Landing Resort and Casino. That's a legitimate attraction, but it hardly provides information for all the recreational opportunities around the lake. And why that casino isn't listed as such, while the San Manuel is, remains another unanswered question.
The shopping links should raise some ire from retailers around the county. Keep in mind the EDA provides no information about any listings, just bare links. So, while the EDA links to the extinct site of the failed Barstow Outlet Mall, it doesn't let visitors know that across the street there's the successful Tanger outlet mall still very much open for business. Oddly enough, Barstow's California Welcome Center—what some may consider a tourist resource—has been located in the Tanger mall for years (none of the county's California Welcome Centers are listed on the EDA's tourism web page).
Somehow Bass Pro Shops get a link, but the mall in Victorville doesn't, while independent retailers and shopping districts like Old Town Yucca Valley, downtown Joshua Tree, and Twentynine Palms are utterly ignored. Think art galleries get listed? Think again. A number of museums from Goffs and Needles to Twentynine Palms are left out as well.
There are other pages under the "Live & Play Here" tab on the EDA's website. On the Recreation page, they pose the question "Ready for an Adventure?" They invite the visitor to explore our "regional parks and national forests, parks and reserves." Then, they list the county's own regional parks, providing absolutely no individual links to the parks' own pages. The Mojave National Preserve is listed correctly this time, along with Joshua Tree National Park, but Death Valley has vanished. General links are in an awkward sidebar.
It isn't just the website that is indicative of the county's gross ignorance of desert tourism, however.
The State of California is legislatively divided into regions to promote tourism. There is an Inland Empire region, where the City of San Bernardino is located, and a Desert Region that covers most everything in the county east of the Inland Empire. But while folks, including myself, have been volunteering with the California Deserts Visitors Association to promote the Desert Region at travel shows, for roughly half a dozen years now, San Bernardino County has ignored the CDVA, while requiring desert organizations such as the Joshua Tree Chamber of Commerce, to join Discover IE, the Inland Empire's regional tourism agency, in order to receive county funding.
I have personally spoken with the staff of two successive county supervisors and one supervisor personally about the CDVA and the requirement for a desert-based organization to join a tourism agency that cannot represent it properly, with absolutely no response (I should note that Neil Derry's office did enthusiastically support the effort to craft a visitors guide for the Joshua Tree Gateway Communities). The Desert Region has lost out on matching marketing funds from the state level due to this kind of ignorance and neglect.
I believe the taxpayers and business people of San Bernardino County deserve a more professional and competent approach toward tourism and destination marketing than they are receiving from county government. I can't see any excuse for this amateurish approach to representing our county's attractions and it should not be allowed to continue. Our taxpayers, including our hospitality industry, deserve better. – SB
Travel
,
In Print
,
Today
,
News
sun runner
joshua tree
death valley
mojave
steve brown
national park
tourism
san bernardino county
needles
neil derry
county supervisors
desert travel
california travel
desert tourism
james ramos
eda
economic development
desert visitors
california tourism
calico
desert region
cdva