Wildfire Season Arrives Early in the Desert

05/02/2013 08:27AM ● Published by Steve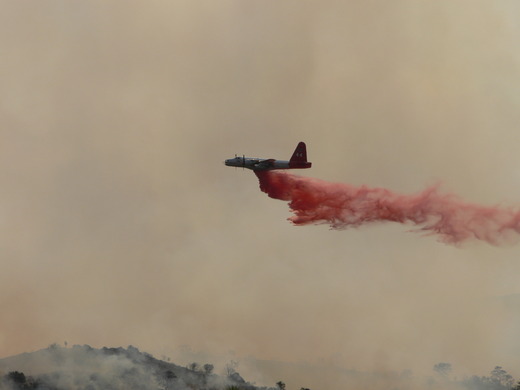 The first of May brought the first desert wildfire to California. The Summit Fire began shortly after noon on May 1 in the Banning Pass, sending up a large plume of smoke west of Palm Springs and the Coachella Valley.
As of this morning (May 2), the Summit Fire has burned approximately 3,000 acres and is considered 40 percent contained. One structure has been confirmed destroyed, and two injuries have been reported, according to CalFire. All evacuations have been lifted as of this morning, but winds continue to impact the ability of firefighters to contain thefire. A Red Flag Warning and high wind warning are still in effect.
According to CalFire, there are 671 firefighters working on the fire, with 79 engines, 16 fire crews, six air tankers, six helicopters, and a dozen buldozers working to contain the fire. Winds on the fire line are from the east at 28 miles per hour, with gusts up to 40 mph. Relative humidity is low at 10 percent.
Residents of the pass area are urged to exercise caution when driving through the fire area, yielding to firefighters and equipment, and obeying any road closure barriers in place.
Additional wildfires are burning across California in Tehama, Glenn, Butte, Sonoma, and Napa counties. Much of Southern California and the Bay Area remain under a Red Flag Warning for high fire danger due to strong winds and low humidity. This may be a bad fire year with CalFire responding to over 60 percent more wildfires than average already this year. The state agency began its transition into fire season weeks earlier than normal and had already begun training many seasonal firefighters and inmate firefighters. The agency also staffed many of its airtankers more than a month earlier than normal.
CalFire is asking residents to prepare for wildfires and to maintain 100 feet of defensible space, having an evacuation plan, and to be ready to leave if a wildfire approaches your home. For more preparedness information visit www.readyforwildfire.org.
For CalFire reports on the Summit Fire visit http://cdfdata.fire.ca.gov/incidents/incidents_details_info?incident_id=778
What do you think? Is this going to be a bad year for desert and mountain wildfires? What are conditions like where you live across the Southwest? How prepared is your community?
News
palm springs
california
wildfire
fire
cabazon
fire danger
beaumont
red flag warning
wild fire
banning
interstate 10
i-10
calfire
banning pass
summit fire
winds
fire crews
white whater
snow creek
desert news