FURGO & FRIENDS at Ma Rouge Coffee House

05/10/2013 08:17AM ● Published by Robin Linn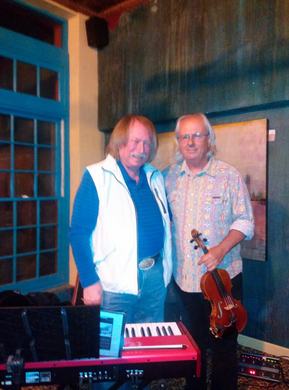 Last Tuesday, May 7th, local artist  Bobby Furgo performed at Ma Rouge Coffe House in Yucca Valley as part of his special music series, "FURGO & FRIENDS", running the first Tuesday of every month. This month, Furgo's friends were jazz/rock keyboard legend, Don Randi and guitarist John DePatie, another great talent in his own right. The trio performed 2 sets of amazing music. The first set was made up of several songs from Don & John's upcoming CD, which were very intricate and showed the depth of Don's legendary  skills as a composer and performer. The second set included one of the best renditions of Thelonius Monk's "Friday the 13th" I have ever heard.
There were many highlights that evening, but one of the things that made it so special was the intimate nature with which Don shared stories and took questions from the audience. Having performed with almost everyone of importance in the Sixties and Seventies as one of the "Wrecking Crew", (a group of highly sought after studio musicians who are on countless recordings, you have heard his work whether or you realize it or not) he has many fantastic stories.  several of which he shared that night. His humble and giving nature as a performer made me feel like I was in his living room. His playing was brilliant and  drew several standing ovations from the crowd. Each story was a personal account right out of rock and roll history. He told of a fishing trip with Neil Young that was one of the best fish stories I have ever heard. It will be among many stories in his upcoming book, "You've Heard These Hands". 
John DePatie digging into Thelonius Monk's Fiday the 13th.
I felt privileged to have been a member of the audience. I would have been heart sick had I missed it. Bobby Fugo will continue this series, "FURGO & FRIENDS" throughout the summer,  and I will keep you posted as to who his friends will be.  Music is getting a whole lot better in the high desert!
Culture
ma rouge
furgo & friends
don randi
john depatie