Highlights from the 6th Annual Concert For Autism

05/13/2013 07:09PM ● Published by Robin Linn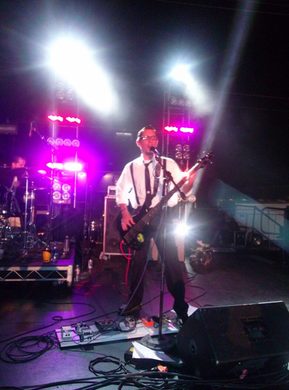 The Agents, Charlie "Count Chukula" performed after a 12 year hiatus!
Autism is an epidemic in our country. One in 50 children are diagnosed with Autism every day. And those numbers are increasing constantly. On Sunday, May 11th at The Hood in Palm Desert, over 15 musical acts performed at the 6th Annual Concert For Autism. The event raises money each year for research and services of this epidemic disability. Many of the bands that performed that day have children with Autism. My boyfriend, Bobby Nichols (founding member of The Bobby Nichols Band, who performed at the benefit) has a 21-year old son, Sean who we care for and who suffers from severe Autism. I can tell you from personal experience that the journey to help Sean is a difficult one. Meeting so many other parents of Autistic children, many of them much younger than Bobby and I, was amazing to me. At least two mothers I met that day had multiple children with Autism. It was the first encounter of this nature I have had with other parents of Autistic children and it was a very meaningful day to both Bobby and I.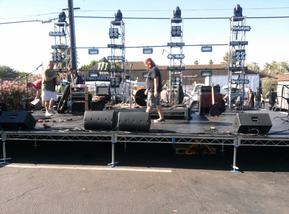 The Bobby Nichols Band kicked the event off brilliantly!
The day was blistering hot....111 degrees and at 5:PM, The Bobby Nichols Band took the stage. With only a few fans in attendance, they still wowed those working hard outside in the hot sun to put this amazing show together. Joined by bassist Jamie Hafler, they gave it their all despite hot temperatures. And, it was a GREAT way to start the day off. As they day cooled into night, people began filing in and by dark there was a great crowd on site to share in the festivities. 

BLASTING ECHO delivered an energetic set to enthusiastic crowds.
Josh Heinz who performed later that evening told me he had worked so hard and just couldn't wait to do what he loves the most.....PLAY. And, play he did. Blasting Echo performed a highly energetic set. Josh is an exciting performer to watch and the band sounded great. Bassist, 
Laramie Eve (formerly of Jekkel), and drummer Armando Flores provided a dynamic rhythm section and they quickly won my affections.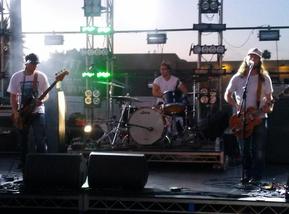 WAXY..........So much fun!
One of my local faves, Waxy, gave a powerful performance and played several songs off their new CD, Without Any Explanation Why. Robbie Waldman's vocals and vibey guitar sounds combined with Damian Lautiero's deep sonic bass lines  created some bottom heavy and intense mood altering music!  
The Agents blew everyone away after a 12 year hiatus with their unique contrast of suave stage presence and punk sensibility  Charlie "Count Chukula" has long been under my radar with both of his bands, The Agents and Mighty Jack,  who performed later inside The Hood as the evening's headliners. Both sets were a lot of fun to watch!



Brandon Ray Henderson (left), Mike Riley (right) of Parosella....

Parosella brought 2 of my favorite local performers to one stage with Brandon Ray Henderson on bass and Mike Riley on guitar. The band had the audience jumping inside The Hood!

A whole lot of work went into the event. Our thanks to The Hood, all of the bands who gave their best out there in the hot sun, Josh Heinz and the dozens of people who gave so much of themselves and their talents to make this important event happen. It's not too late to donate. Just visit the event page on Facebook to help out!


Culture
the hood
bobby nichols band
blasting echo
waxy
the agents
mighty jack
parosella
josh heinz
may th
th annual concert for autism