This Saturday at THE HARRISON HOUSE

05/24/2013 12:40PM ● Published by Robin Linn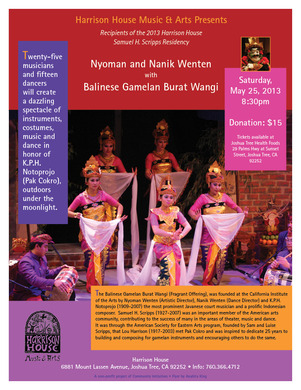 NYOMAN & NANIK WENTEN with THE CAL ARTS GAMELAN BURAT WANGI
Recipients of the 2013 Samuel H. Scripps Residency 
performing an evening of Balinese Music & Dance in tribute to K.P.H. Notoprojo (Pak Cokro)

The CalArts Burat Wangi Gamelan, with 25 musicians and 15 dancers directed by Nyoman & Nanik Wenten, will grace the new outdoor performance space at Harrison House with a spectacle of instruments, costumes, music & dance.
A gamelan is a traditional musical ensemble from Indonesia (typically from the islands of Java and Bali) featuring a variety of tuned percussion instruments such as metallophones, xylophones, kendang (drums) and gongs, performing complex interlocking rhythms.
The Balinese Gamelan Burat Wangi (Fragrant Offering) was founded at the California Institute of the Arts by Nyoman Wenten (Artistic Director), Nanik Wenten (Dance Director) and K.P.H. Notoprojo (1909-2007) the most prominent Javanese court musician and a prolific Indonesian composer. Samuel H. Scripps (1927-2007) was an important member of the American arts community, contributing to the success of many in the areas of theater, music and dance.
It was through the American Society for Eastern Arts program, founded by Sam and Luise Scripps, that Lou Harrison (1917-2003) met Pak Cokro and was inspired to dedicate 25 years to building and composing for gamelan instruments and encouraging others to do the same.
Advance tickets available at Joshua Tree Health Foods. Tickets for this event will also be sold at the door.
Culture
the harrison house
nyoman and nanik wenten
balinese gamelan burat wangi
saturday
may 25th