2013 Memorial Day Observance Celebration at The Joshua Tree Memorial Park....

05/27/2013 06:50PM ● Published by Steve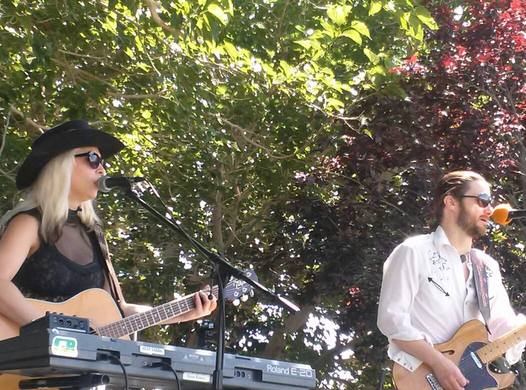 Today's Memorial Day event at the Joshua Tree Memorial Park hosted by Shawn Mafia was a wonderful success. For me, it was a day of friends, family, music and community. The event was well attended and featured 4 wonderful local bands. When I say LOCAL....don't get the wrong impression. These celebrations happen in every town, USA.....but, entertainment like this......let's just say we are fortunate here in the high desert. The day started out with the bluegrass stylings of THE SHADOW MOUNTAIN BAND featuring, the Lesters, Damian, Steve and Darlene, and Gar on Mandolin (he plays beautifully). After that it was Shawn Mafia and The Ten Cent Thrills, quirky, edgy, and those lyrics....you have to love them!  Rabbit & Rutherford were great! I am dying to see the full band, Gram Rabbit (something I will rectify a.s.a.p.)! Jesika sang a song she wrote about the closing of a local restaurant, Din Ho that I bonded with. Her vocal approach is so unique. She is a space cowgirl with a definite Joshua Tree vibe. Ted Quinn's band followed....and they are always a whole lot of fun. The day ended with Two-Lane Blacktop who got the worst of the sunshine today. By the time they got up there it was warming up and water was scarce. They are beloved part of the music community and they have played this event for as many years as I have been attending it.
Indie Amos.....our own Ice Cream aficionado had a booth out there today where our friend Kim Mayhew was serving up his Joshua Treets.....Salted Caramel people.....Yummy! Teddy Quinn,  and Michael Roark and Radio Free Joshua Tree DJ Molly Katelbach were out providing live streaming coverage of today's music on their online radio show
www.RadioFreeJT.com
. Bobby Nichols spoke to listeners from the event and they played his song, Chicken Bone off of his Jumolhari CD between sets. THERE'S BOB PRODUCTIONS was out shooting video of today's festivities. It was so great to see all of the various music media folks out there supporting the artists and this community event which donated money from raffle tickets and other sales to the kill free animal shelter in Joshua Tree as well as the Hospice of Morongo Basin. 
I would like to end this post with a mention of the kind and important people at The Hospice of The Morongo Basin, who also had a booth out there today. I would also like to pay tribute to my Grandma Eva who passed away at 3:30 AM today. She lived in Jackson,  CA. She died a slow and painful death....at home....only Hospice to help her and my grandfather (age 89) through it all. Here at home, Morongo Basin Hospice, who helps the grandparents of many, die with dignity all the time, has suffered major financial cutbacks. They really need all of us to remember how important they are before we need them someday. I urge you to go to their website and donate today.....
www.hospiceofmorongobasin.org
- Robin Linn
Culture
joshua tree
ted quinn
shawn mafia
gram rabbit
robin linn
indie amos
kim mayhew
radio free joshua tree
michael roark
the shadow mountain band
memorial day observance
rabbit rutherford
twolane blacktop
cemetery
concert
memorial park