BOBBY NICHOLS JAMMIN' SUMMER SESSIONS

05/29/2013 02:14PM ● Published by Robin Linn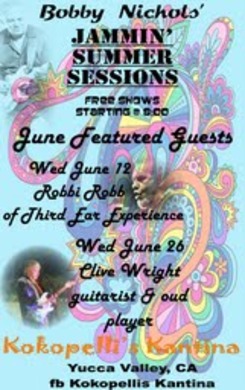 Here in the high desert music community, we are all beaming with excitement. The reason for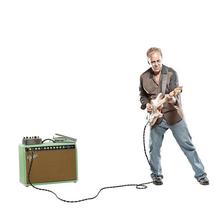 this joy is that on Wednesday, June 12th at 8PM, 2 beloved guitarists and songwriters will be joining up for a live jam at Kokopelli's Kantina in Yucca Valley. Bobby Nichols and Robbi Robb of the Third Ear Experience will join forces and create some exotic, hypnotic, esoteric improvisational grooves for us all to melt into. This is the first in a new summer series of shows at Kokopelli's scheduled every other Wednesday all summer long......BOBBY NICHOLS' JAMMIN' SUMMER SESSIONS will feature a different guest artist each show to create something completely fresh and original.  Robbi Robb and his band, Third Ear Experience are fresh of the festival stage after just appearing at this year's Joshua Tree Music Festival. He and Bobby  have gotten together before in this capacity and it is something music lovers don't want to miss. The shows are always free and Kokopelli's manager, Roberto Absolar is as kind to the artists as he is to the guests. He opens up his venue and allows it to be our own personal jam space. Please come out and support this amazing night of music.........it's going to be a really fun summer of music up here in the high desert!
Visit the band's website at:
http://www.robbirobb.com/peacockblack/
Listen to the band's music at: 
http://3rd-ear-experience.soundawesome.com/
Robbi Robb and the members of THIRD EAR EXPERIENCE have an enlightened attitude about music that is present in all they play. The following quote is from the band's bassist, Doug Pinnick (Kings-X) and I think it really sheds light on the beautiful place they come from when they create:
The monsoons hung heavy over the Mojave Desert thick with lightning and ten thousand thunders. The band entered the little studio in the highlands of Joshua Tree and started jamming; delicate guitars took us on journeys that gave way to thundering climaxes reflecting the monsoon storm that crashed down on the desert landscape. Strangely by midnight the skies had cleared and the stars rained down hard and bright – said Trent Moss our percussionist "man I'm tripping on this space – I'm never going home". The conversations wandered around the possibilities of UFO's, and aliens and perhaps how an alien visitation could bring unity to people of the earth. We journeyed on the energy of these sort of conversations till in the wee hours of dawn we looked back at earth and sadly pondered the disharmony and suffering human beings endure. The thunder, the lightning, the milky way, the desert landscapes, the rocks and Joshua Trees all pressed into our minds like a magical mist, spilling out into a week long of free form jams. 

_Doug Pinnick
For more on this summer music series visit Kokopelli's Kantina on Facebook at:
https://www.facebook.com/santarosamg?fref=ts
Culture
kokopellis kantina
bobby nichols
robbi rob
third ear experience
jammin summer sessions