Radio Free Joshua Tree announces it's new home - the Radio Free Joshua Tree Listening Lounge!

06/04/2013 05:43PM ● Published by Robin Linn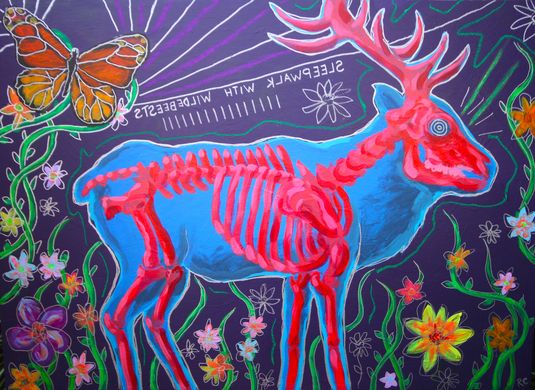 Sleepwalk With Wildebeests by Rany Conner
Today, RFJT announces it's next giant step, bringing it all back home to the location which formerly housed Red Arrow Gallery and the world-renown Beatnik Cafe, at 61597 Twentynine Palms Highway in Joshua Tree.  Internet-only, 24/7, Radio Free Joshua Tree continues with the incredible momentum of it's first 6 months, increasing listenership, sponsorship and community involvement, successfully streaming 'live' from Joshua Tree Music Festival and the annual Memorial Day Concert in Joshua Tree.
With a new logo, designed by internationally acclaimed local painter, Diane Best, Radio Free Joshua Tree is proud to present it's Grand Opening gala, on Saturday June 8th at 5pm - and it's first gallery show in the Listening Lounge - when RFJT presents an exhibition of new paintings by Randy Conner, entitled "You Are Now Offline."
Randy Conner is a self-taught artist who currently resides in San Diego, California. His work is bold, bright, and cryptic. Containing many hidden themes and messages, as well as bizarre imagery, Conner's paintings demand much more than a quick glance. Working primarily in acrylic paint and oil pastels, Conner strives to create images that are difficult to forget. He says, "I want the viewer to feel drawn in, confused, excited, and energized."Conner's paintings hang in San Diego, Los Angeles, New York City, Denver, Chicago, Japan, and Switzerland.
Hoodoo Scott Wexton aka Voodoo Organist - host of RFJT's popular 'Tiki Time' radio show - will spin the wildest in exotica and electronica to enhance the atmosphere.
Do the Gallery Crawl through Joshua Tree,then come back afterwards for a special event at RFJT Listening Lounge; 'Songs for Annamaria' will begin at 9pm.
Annamaria Loza is the young woman who was struck and killed while crossing the highway last year. A regular the Beatnik Cafe, Anna will be honored with songs,  performed 'open mic' style by a selection of young musicians, her contemporaries, to help raise needed funds for her family and animals in the aftermath of this tragedy. RFJT creative director and former Beatnik Cafe open mic host Ted Quinn will kick off the festivities. If you can't afford to contribute money, please bring a can of dog or cat food for her animals.
WHAT: Radio Free Joshua Tree Listening Lounge presents "You Are Now Offline," paintings by Randy Conner
WHERE: RFJT Listening Lounge 61597 29 Palms Hwy, Joshua Tree, CA 92252
WHEN: Saturday, June 8th at 5pm
Culture
radio free joshua tree
randy conner
rfjt
listening lounge. songs for annamaria