New Digital Edition of The Desert Music Issue Adds 33 Page Bonus Section

06/16/2013 03:44PM ● Published by Steve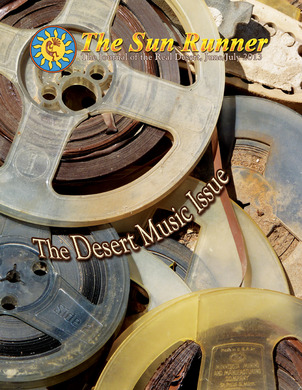 The Sun Runner's
Desert Music Issue (June/July 2013), is filled with incredible stories by Robin Linn, Hal Hiner, Mario Lalli, and German filmmaker Joerg Steineck, as well as interviews with WAXY, The Pedestrians, and features on Rushingwind & Mucklow, the Voodoo Organist, David Bray, Hurricane David Jesse McChesney, and more. But if that wasn't enough, we've added a 33-page bonus section to our enhanced digital edition, filled with photos from
The Sun Runner's
music archives, that you won't see in our print edition.
The bonus section includes colorful and sometimes  rare photos of Dandy Brown, Shawn Mafia, Patti Hood, Eric Burdon (at his 70th birthday party), surf guitar king Dick Dale, There Be Pirates!, Wooden Nickel, the Barking Pupfish, Judy Wishart, Daniel Lanois, Clive Wright, Michael Callan, Jessika Rabbit, Randy Green, Bira, Kitty Cash, Marta Becket, Judy Van Ruggles, Richard Grainger, Brent Lewis, Victoria Williams, the Zuni Pueblo Band, the USMC Marching Band Twentynine Palms, the Sibleys, Tommy Paul, Tim Easton, Gram Parsons memorial at Cap Rock, Bobby Furgo, Really Shooo,, Debora Iyall, Carole Anne, Robyn Celia, Michelle Shocked, Linda Krantz, Rojer Arnold, Harriet, Glenn Patrik, Rita Coolidge, Holdstock & MacLeod, Juke Logan, Kristina Quigley, Nancy Karl, Steve Rushingwind and Gary Sinise.
It's all packed into a 77-page digital edition filled with links to some of our favorite desert music videos!
You can subscribe or purchase single issues through Magzter.com for tablets, iPhones, Androids, and computers.  Just look for
The Sun Runner
in the Travel section and take advantage of special subscription pricing for a limited time!
http://www.magzter.com/magazines/Travel
Culture
,
In Print
,
News
sun runner
joshua tree
steve brown
pioneertown
palm springs
salton sea
marta becket
29 palms inn
dick dale
eric burdon
billy makuta
amargosa opera house
gram parsons
marines
usmc
twentynine palms
tim easton
there be pirates
coachella valley
ted quinn
shawn mafia
clive wright
pappy and harriets
gram rabbit
desert music
yucca valley
david mcchesney
rushingwind
mucklow
pappys
bobcats
integratron
magzter
waxy
bobby furgo
robin linn
hal hiner
mario lalli
joerg steineck
david bray
voodoo organist
hoodoo
old town yucca valley
pedestrians
patti hood
daniel lanois
brent lewis
cap rock
really shooo
rojer arnold
sibleys
rita coolidge
juke logan
kristina quigley
nancy karl
gary sinise
debora iyall
zuni
bira
dandy brown
desert rock
fatso jetson
kyuss
beatnik cafe
hard candy
charles carroll
mud volcanoes
mike smiley