MUSIC WITHOUT A SAFETY NET..........

06/18/2013 05:10PM ● Published by Robin Linn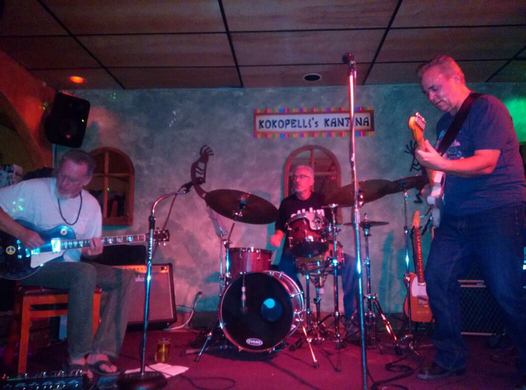 Robbi Robb, Dennis McDade with Bobby Nichols, Jammin' Summer Session!
 BOBBY NICHOLS JAMMIN' SUMMER SESSIONS
had it's debut in Yucca Valley last Wednesday, June 12th with guest artist, ROBBI ROBB. The show was just that.....a total live show experience taking all of us in attendance deep into grooves while these two epic guitarists created.....right in front of us......music magic! Not a person was sitting by the time set two began......and bassist Damian Lester (SHADOW MOUNTAIN BAND), with drummer Dennis McDade were the common thread that held it all together while we danced the night away. Robbi and Bobby played way past the ego into some highly charged and spiritually uplifting places and I feel for those who missed the night. Robbi's own project, THIRD EAR EXPERIENCE is doing quite well having just performed at JT Music Fest,  late night and backstage....where only the hip survive! He has long been one of my favorite high desert guitarists and I had been dying to see what these two innovative thinkers might do if ever they took the stage together. It was nothing short of what I might have experienced back stage, late night, music festival anywhere, USA (are you kidding me????? Europe would have revelled in their glory). The night ended with a surprise invite to have a private screening of Led Zeppelin's Song Remains The Same.....rock star style....at Bobby Furst World. It is a night that will live in my memories forever. Robbi Robb's THIRD EAR EXPERIENCE has a brand new release availabe at
http://www.cdbaby.com/cd/3rdearexperience
, BLACK PEACOCK.
http://youtu.be/Pne9X83xLEk
WHY YOU DON'T WANT TO MISS WEDNESDAY JUNE 26TH AT KOKOPELLI'S KANTINA
This isn't just some trumped up music promotion we are attempting at Kokopelli's Kantina. And, when I say "we".....I mean Bobby and I. We are fans of so many wonderful players up here and when world class players get together....it's like water....it just flows. So, why not invite them to join him onstage at our friendly neighborhood mexican food kantina? They have lights, a stage, and, they take good care of the artists. This is our hope for bringing music lovers...such as myself....an opportunity to experience special one-time live music experiences. "Music without a safety net", we love to call it 'round here. 
On Wednesday, June 26th, 8PM, special guest, CLIVE WRIGHT, will join Bobby Nichols for his Jammin Summer Sessions at Kokopelli's Kantina in Yucca Valley for some truly inspirational  improvisational music. Clive will bring along his Oud, a beautiful Middle-Eastern stringed instrument that lends exotic flavors and expanded dimension to the already other-wordly sounds these two gentlemen are well known for creating. They will be supported by bassist Damian Lester and drummer  Dennis McDade for a free show that will no doubt bring out music enthusiasts and purists alike. This is the 2nd show in this special summer music series at Kokopelli's that is receiving critical acclaim from local press and music lovers. The audience at these shows really get involved, making it a highly interactive musical experience.  Plenty of dancing and celebrating life to music can be expected by all. For the summer music series dates, times and special guest artists info visit Kokopelli's Kantina on Facebook at: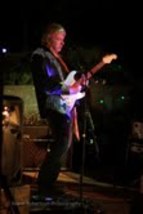 SOUNDSCAPE ARTIST, GUITARIST AND OUD PLAYER, CLIVE WRIGHT
Clive Wright is an English born musician residing near the beautiful Joshua Tree National Park,  in the magical rocky landscapes that make up this beautiful part of the desert region of California.   From his beginnings as lead guitarist with the platinum selling eighties pop  band 'Cock Robin', he has become a respected artist in the broadly categorized  music genre of ambient music. He has arisen to the forefront in the wake of his beautiful collaborations with Harold Budd, whom has long been regarded as the master of this genre. Harold Budd became a pioneer of ambient music in the 1970's along with Brian Eno, together they had made albums the 'The Plateau of Mirror' and 'The Pearl' which are regarded as classics.
Since his 3 albums with Harold 'A Song For Lost Blossoms' in 2008, "Candylion" in 2009 and "Little Windows" in 2010, Clive has produced 3 live ambient albums "Taqsim to Antlia" which was recorded in August 2010 at an astronomy presentation at the famed Integratron in Landers,California. "Live Ambient 2, Starjams, Le Nuages De Paris" which was again, performed to a Live Astronomy presentation in Joshua Tree, and "Deluge Live Ambient 3" recorded live before New York film maker, Jonathan Bermans cameras in March 2011. Clives highly acclaimed latest release "Spoke" is a studio recording ,and is often regarded as his best work to date. Clive has also recorded and written tracks with "The Black Eyed Peas" and Montel Jordan, and has also won awards for his music scores for commercials and film. 
Most recently Clive has been performing with Native South African singer/songwriter John Zulu.  Zulluu, the band,  presents tribal-infused grooves that heavily feature Clive's sizzling guitar stylings, all designed to whip a crowd into a dancing frenzy & celebration of life.
Culture
music without a safety net
robin linns desert rhythms