"Bobschwitz": Fans of Bobcat Slaughter Prove to be Own Worst Enemies

07/03/2013 08:01PM ● Published by Steve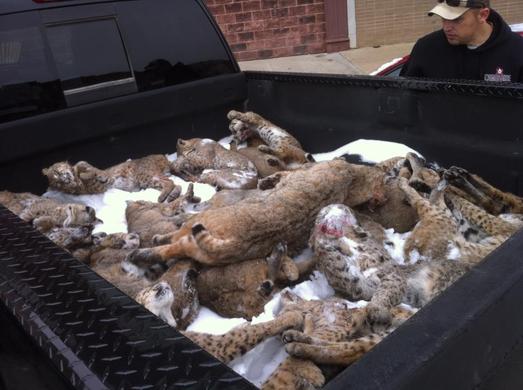 By Steve Brown
"Yall [sic] ever seen a truck full of bobcats?  Well now you have."  That's what a team member of the site
www.AR15.com
 posted along with a couple of photos of a pickup truck bed filled with the carcasses of dead bobcats.  The posting, dating back to December 27, 2012, elicits responses that may shock some readers for their attempts at humor.
"That's alot [sic] of pussy!" commented wicketsurplus, another AR15.com team member, going for the cheap shot junior high school humor, followed by, "See, we told you every time you masturbate God kills a kitten.  You didn't want to believe us." posted by CBags04.
"Looks like Bobschwitz," posted RarestRX.
Nothing like testosterone and dead animals to elicit a good laugh.
It's hard to believe people find a photo of the corpses of bobcats laying on snow inside a pickup truck bed all that humorous.  It's even more difficult to believe a reference to Auschwitz is grounds for a joke about the frozen-looking dead bodies lying in the snow, but if anyone wanted to label commercial hunters and trappers of bobcats as sexist, racist, and ignorant, they wouldn't have to make up anything - they could just look online.  All the material they could want has been posted voluntarily by folks who think it's funny to say things like, "Why, they're just huddling for warmth in the snow," as Dumpster_Baby did, following the comment with a smiley face.  How cute.
That's not to say the ones doing the commenting are bobcat hunters or trappers themselves.  The Internet does tend to draw out inane comments no matter the topic.  In a forum on a site for hunters and trappers discussing the California Bobcat Protection Act of 2013 (AB 1213), authored by Representative Richard Bloom (D-Santa Monica) which recently passed the Assembly and should be voted upon soon in the California State Senate, the dislike for the legislation was evident, but the discourse didn't devolve into Auschwitz jokes.  About the worst it got was referring to the Center for Biological Diversity as "the centers for bio-illogical diversity" and referring to the organization as "a bunch of nut jobs from Tucson."
With prices running as high as $1,500 at a March fur auction in Kingman, Arizona, it's easier to understand the economic motivations of some who commercially trap bobcats.  Still, comments made in trapping forums indicate a lot of trappers may not know much about what they're doing, and as a result, bobcats with little commercial value - or perhaps none - are being killed by trappers who don't know a valuable pelt from one that's worthless.
"A lot of guys thought they had a lot of really high dollar cats and in reality, they didn't," noted DesertGhost on a
www.predatortalk.com
 forum.  "I don't know what or where this comes from.  There were A LOT of small cats at the sale, and WAY too many females."
One Joshua Tree resident, Karen Tracy, who recently traveled to Sacramento to urge state senate support for AB 1213, was displeased with the Joshua Tree area's senator, Jean Fuller.  She had written about her displeasure today.
"What do you call a pick-up bed full of dead bobcats?," Tracy asked.  "Bobschwitz.  So says a Trapper [sic] online-bulletin-board under a picture of a truck bed layered with snow and bobcat carcasses, all frozen in grimaces and bloody shrieks.
"And, of course, you've heard the one about 'God kills a kitty every time you masturbate.' There's the proof in that truck photo, right there."
"This is the constituency that our Senator, Jean Fuller, supports in her speeches and with her votes," Tracy noted.  "I was there. I saw it happen. She acknowledged hearing about lots of phone calls in support of AB 1213 to ban bobcat trapping. With a wave of her hand, dismissing us, she explained that the trappers were carrying more weight. Their voices must be not just heard but must be considered more important."
The Sun Runner
 appreciates the lobbying effort by Tracy and others, and endorses AB 1213, the Bobcat Protection Act, as it establishes trap-free buffer zones around national and state parks, national monuments, preserves, and wildlife refuges.  Those wishing to comment on AB 1213 to Senator Fuller may reach her at:
Jean Fuller 
State Capitol, Room 3063
Sacramento, CA 95814
Phone: (916) 651-4018
Fax: (916) 322-3304.
When you call, maybe you can share a funny bobcat joke with the senator.
Photo from www.AR15.com used for news purposes only.  Do not copy or share.
Today
,
News
sun runner
joshua tree
steve brown
senator
center for biological diversity
bobcats
trapping
hunting
richard bloom
assembly
sacramento
bobcat trapping
ab 1213
bobcat protection act
jean fuller
karen tracy
bobschwitz
ban
pelts