Capturing the LO SOUND DESERT

07/19/2013 10:50AM ● Published by Steve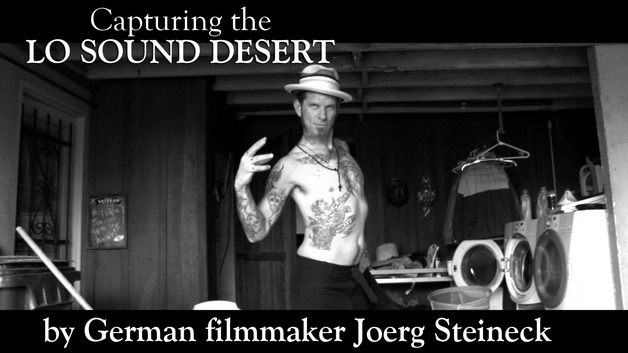 Gallery: Lo Sound Desert [10 Images] Click any image to expand.
By Joerg Steineck
I'm a German filmmaker. I don't see myself primarily as a documentary film maker. I've made various weird, experimental short films and some documentaries. My storytelling is more subjective than that of other documentary film makers, I suppose.
I grew up in the suburbs surrounded by a huge green forest and industrial parks. For the past 10 years I've lived in urban places constantly bustling with people. I do that because I expect to make a living there. But often people who are driven the same way share the desire to break out of this loop of speed and noise. And although it's often not possible to make a bigger step beyond the next office door to the doorstep of a natural surrounding, the chance is still imaginable.
It might sound lame to people who are actually from the desert, but like most people I know who are aware of the desert music scene I discovered a band called Kyuss when I was around 13. I think they had just released Blues For The Red Sun. Their sound seemed to be something that wasn't really comparable to other bands that came up during that time. The additional tag that they came from a place in which most of the people in Europe probably couldn't imagine living constantly made it even more interesting to listen to them. The desert is often connected with terms like danger, life hostility, spirituality and freedom, and even though I had never been there at that time, it seemed to sound organic to this area and burned a strong picture into my mind. Even today listening to Kyuss still evokes the same timeless, eternal feeling in me that you get when actually standing in the middle of nowhere.
Then the whole grunge thing went on and after Cobain's suicide and the ridiculously annoying commercialization things went down the drain. There was such a heavy overdose of grunge in the everyday life of my generation and there needed to be a distance to all that. To this day Bleach is the only Nirvana album that I can still listen to in its entirety without zonking out.
So I started experiencing a lot of different music back then, and I basically forgot about Kyuss until my early twenties when Queens Of The Stone Age broke through. That was like a reminder. Later I found out that Kyuss had become some kind of cult in the underground rock scene—and I guess mostly to people like myself who never had the chance to see them playing live and felt betrayed by a pop culture that had injected post punk into teenage ears. Sometimes you represent the whole image on which you've just drawn a few lines.
Kyuss were a great band when they played big international stages but became even more appreciated after they'd broken up on their climax of success. Like the desert itself, their music doesn't seem to age, and their achievements and their origin paint such a strong picture into people's minds that they became a kind of cult phenomenon. Thereby they opened doors for other desert bands as well. And no matter what was achieved by them or by others within this scene, they've put the Coachella music scene on the map.
There's a misunderstanding in perspective of what the term 'desert rock' actually means. People from Europe have a different definition than people from the desert themselves of course.
If you ask someone who grew up in the desert scene, he or she will tell you that rock music in general that comes from the desert is "desert rock." The special thing about the desert rock scene is the variety of musical styles, even though most of the bands are heavily punk influenced.
But the insider view of that term will encompass all these varieties. Four years ago, if you asked a general European rock fan familiar with desert rock, probably just one band came up instantly: Kyuss. And still to this day diehard desert rock fans in Europe don't know about bands like Across The River, Zao or Unsound. How could they? They know about Queens Of The Stone Age, about Kyuss, a few know about Unida or Slo Burn, Brant Bjork and the Bros—because these bands involve members of Kyuss, and there are some Fatso Jetson and Yawning Man fans as well.
When they talk "desert rock" they mean a specific sound that paints a picture of the surrounding but isn't necessarily made in the surrounding itself. There are even more Swedish bands nowadays which have a closer approach to what people from here would call desert rock even though it is played by a few guys who grew up in the woods. And when you compare the different streams of rock nowadays you'll realize that in fact desert rock is still completely underground. And it's one of many underground streams we have in Europe.
There's no other band like Kyuss from the desert, but people here assume the desert scene has always been a mingle-mangle of bands that sound the same. And naturally they will dig everything that sounds closest to what they already know and love.
On the one hand it's basically a good thing that attention was drawn to it, on the other hand it's sad for the potential and the energy of the scene to mark it as one brand. I don't even think bands like Fatso Jetson or Yawning Man are really appreciated by the majority of people here in Europe for what they are but rather for their reputation as being 'desert bands.' In fact it's a little bit of that grunge hype thing on a very, very small scale.
I first visited the desert in 2005 with a friend of mine. We both had only vague ideas about the desert music scene, and the nature was more our incentive for this trip. Like probably everyone else who visits for the first time we camped out in Joshua Tree National Park and felt overwhelmed by that strange beauty of the surroundings. Since I was studying film in San Diego at that time I figured it wouldn't be too far off to combine the beauty of the Californian desert with my film projects. I asked one of the bands on MySpace if they'd be interested in doing a music video. It was more or less a random pick on House Of Broken Promises, formerly Unida.
So a few weeks later after my first trip I drove back to the desert to shoot a music video and some interviews with these guys. But based on my mediocre knowledge about the whole context these didn't go very deep. For three or four weeks I drove around, mostly on my own, to experience nature and collect footage for the video. A few months later, I was already back in Germany, the video was finished.
Unfortunately it so happened that the band separated from the singer and they didn't want the old singer to appear in the video, so it was never released. That was the first time I was introduced to a desert specific thing—the 'rotating musicians'—everyone playing with everyone and as fast as you can get into a band as fast you can get out of it.
I collected all the footage I had and basically edited it to a small documentary of 15 minutes length. But I figured it'd be much too one-sided telling the story of a whole scene through the eyes of just one band. And their musical background was quite different to the background of the general bulk of bands.
From there I started arranging interviews with various desert musicians who were touring through Europe at that time. I released a first trailer of the film on the Internet and realized that there's actually a real desire for a documentary like this. For me as a young filmmaker who never reached that much attention before it basically meant pure pressure because I realized the whole expanse of this topic. The film I was working on up to that point was nearly finished and had gained a length of 60 minutes, but couldn't provide all the details that were important in telling the whole story. It was more or less a 60 minute music video with people talking in between, and a lot of artificial knickknack that would probably represent more my personal view as a video artist and a Kyuss listener than the actual happenings that went on back then.
So over the following years I did my research more professionally, meeting more touring desert musicians and learning about the scene itself. Most importantly I met Mario, one of the most respected people from the scene and a door and mind-opener. I realized the Californian desert rock scene had much more to tell than what I had ever expected and that I definitely shouldn't enforce an image that is based upon a one-sided imagination and itchy feet romance. about the film.
The film will include the musical history from the late 70s on with a definite focus on the 80s punk scene, the general meaning of success or recognition by an international audience, and it will also provide a view on the approaches of younger generations. I hope we'll be able to show an early preview of the film at the Dali's Llama anniversary party this year. It's meant to be a test screening before I can go deeper into creative details and clearing music rights.
The progress depends on my working abilities though, I have my day jobs and am doing most of the work on the film on my own. Like with every independent project, a huge problem is the money factor. I have already put a lot of effort and money into this film and I am not able to fund more costs by myself. So to finally release it there is no other way than to hope for external support.
By support I don't mean just the monetary thing, but also providing more original footage, like photos or videos of the scene back then etc. If you think you've got some fine desert jewels locked away in your closet, please drop me a line to rs@rocksquad.de.
Generally if you want to help, please register with your email address for the newsletter on the official website www.losounddesert.com and get updates about how you can support the film effectively. I, myself, and everyone else involved in this project would really appreciate it. And supporting this film means supporting your scene.
Subscribe to The Sun Runner's enhanced digital editions, including the Desert Music issue with 33 additional pages of music photos and news, for only 99 cents for a limited time during our Summer Sale. Just go to: http://www.magzter.com/magazines/Travel and click on The Sun Runner. Have a friend you'd like to share it with? Gift them a subscription for only 99 cents. Works on tablets, smart phones, and computers.
Culture
,
In Print
,
Today
joshua tree
coachella
film
documentary
robin linn
joerg steineck
desert rock
fatso jetson
kyuss
lo sound desert
german
queens of the stone age
across the river
unsound
zao
unida
slo burn
brant bjork
yawning man
house of broken promises
grunge
mario lallli
dalis llama