The strange births of Desert Rock

07/19/2013 01:33PM ● Published by Steve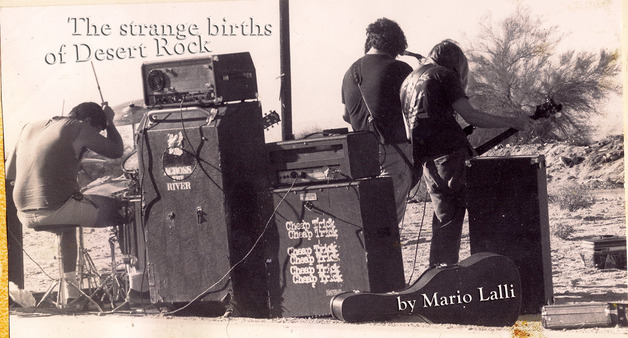 Gallery: The strange births of Desert Rock [6 Images] Click any image to expand.
This exclusive story is told from the eyes of Coachella Valley rock icon, Mario Lalli. Mario is recognized as the father of the desert rock scene that gave birth to some of the most significant bands to receive national & international recognition, such as Kyuss, Queens of The Stone Age, Mario's three bands Sort of Quartet/Fatso Jetson/ Yawning Man, Eagles of Death Rock, The Pedestrians, and many, many more.
I first met Mario when I ran an independent tabloid, Desert Rhythms, the Coachella Valley's only all-original music publication, in the mid-to-late nineties. I attended some of Mario's generator parties—one at the Iron Gate, and one at Edom Hill. The father of my grandchildren, Kevin Smith, played in Family Butcher and in Willful Failure with the man who photographed most of the gorgeous live music photos featured in Desert Rhythms. The photographer, Brian Maurer, took pictures of many of these bands and made rock-stars out of them on the pages of Desert Rhythms. So many great players are mentioned in this beautiful and nostalgic look at the ealiest beginnings of one of the most exciting music scenes since Seattle. Desert rock has attracted the attention of the world. The bands featured in Desert Rhythms, with Lalli at the heart of the scene, still have huge cult followings and tour all over America and Europe. My love and respect for Mario and all of these people who commited themselves to their art....their music....and who went on to achieve success and experience music....on their own terms, knows no limits. I will always be a fan, a friend and I feel honored to have the following story a part of The Sun Runner's Desert Music Issue!
– Robin Linn
BACK TO THE BEGINNING
by Mario Lalli
"I know this fat kid in Palm Desert that plays guitar, he has an amp and we can play in his garage." That's probably what John Summers said to who ever he had convinced to give him a ride to my cousin's house (where all the older rockers and skaters had discovered the skateboard ramp we had built in his backyard)to investigate the potential new guitar player for his hard core punk band Poison Society, which then became Poison Metropolis, which then became Johnny Blood streak and the Rags, which then became Willful Failure, which then became Circle K, Pig Pen, Family Butcher....I could go on and on....
But meeting John at Indio High School in 1980 was a very important day in my life. You see I was a skateboarder that learned punk rock trough the skating scene and in 1980 there were not a whole lot of kids discovering this music, so to meet him one day after school waiting for the bus really changed the course of my life—for better or worse I'll never know, but it changed for sure. I remember seeing him in his army trench coat, shaved head with bright red hair and his biker boots tucked in his jeans. I thought to myself, wow there is a another guy who probably digs the same music I am discovering with my friends Gary Arce and Gary Burns as well as my cousin, Larry Lalli.
He approached me probably because of my goofy punk rock regalia and haircut and asked me what bands I liked and seeing my skateboard he told me that he and his bro and some other guys where building a half pipe in the back yard of his bros house and I should come check it out. When I told him about my cousin's ramp and that I was playing guitar and hoping to start a band, we bonded instantly and planned to hang again. That same day, John told me about a girl he knows who has a drum set we could use to jam. That girl would end up being my wife Illiana and we are still married after 23years, but we met through the desert punk scene through John over 30 years ago.....
Anyway, the point of all this is the connection we all have in the desert is not unique. Every city has its story of where and when things started and ended and began again and I think that's a natural way for underground culture to exist. The art of the desert music scene was that it bloomed from boredom and mediocrity. Like skating, you had to create somewhere to do your thing ......this was the days before cities built skate parks and not to keep referring to the skating community (it's a really great parallel), build a ramp, bail the abandoned pool, find that spot where you could do your thing and the process created a community of people with the same goal....fun with a purpose.
Through the skating community I would meet most of the musicians that comprised the core of the desert punk scene: Sean Wheeler, Joe Dillon, Zack Husky, John Summers, Herb Lineau, Scot Reeder, Alex Myerhoff, Brian Maloney, Alfredo Hernandez, Mike Bates, Sophia Poseidon, Randy Janson, Laurel Stern—it goes on and on. Laurel brought in and worked with bands such as Interpol, The Decemberists, Shout Out Louds, Fischerspooner, Red Fang, Sparklehorse, and LCD Soundsystem.
In 1970, my family moved to Palm Springs to open a restaurant at the old famous Chi Chi Club on Palm Canyon. I went to elementary school with many of these people before moving to Palm Desert in 1977. Attending Palm Desert Middle School, I met my bandmate and one of my best friends for almost 30 years—Gary Arce. Our love for heavy rock and roll, bonding over Black Sabbath and Rainbow, soon gave way to obsessive digging into the bowels of punk rock scenes from L.A. to Washington, D.C, to the more extreme metal influenced punk coming from the UK...we loved it all, collecting records by The Germs, Black Flag, Circle Jerks, Gun Club, Fear, Devo, Minor Threat, Government Issue, Bad Brains, SSD, Dead Kennedys, on and on. It was like we had discovered a secret world exploding outside the complacent fairways and gated communities of the Coachella Valley.
Around this time I had begun playing with John Summers in my parent's garage and was soon meeting Scott Reeder and Alex Myerhoff to become the first incarnation of Dead Issue. This was a big connection for me because I didn't know many musicians in Palm Desert, although Gary Arce and our friend Gary Burns had many garage explorations that never really played out. Meeting Scott and Alex would be the first band that actually set up some shows and began to build on the scene.
The punk scene was truly the core of the underground music community in the desert. There was a true sense of purpose and organization that created a structure for playing shows and inspiring others to do the same and it was really quite exciting and vital.....I know all involved directly or just from a level of attending the parties or warehouse shows reflects on those days as being very special.
The idea to take this scene out of the backyards and warehouses, and there were a few venues in those days that would do all ages shows—Adrian's in Palm Springs and Club Z plus a couple others, came from again the skating scene. The further you are from the authorities, the better. The idea of bringing a generator to some remote party spots came when after a brief year in Los Angeles after high school, I had met my still very close friend and partner in music endeavors, Dave Travis. We would take his small Honda generator up Mullholland Drive just to blast away and drink some beers...be outdoors...but when I took my first trip to the nudist colony to skate the pool there, the idea was instant genius ....live bands....skating....beer ....heaven on earth.
And so it was for many years.
We had several spots that we would set up our outdoor shows at all over the valley. The Nudist Colony ( Desert Hot Springs on the way to Yucca Valley), The Iron Door (Indio Hills), Shot Gun Flats (Sky Valley), Mecca Banks (Mecca Drainage Ditch), Edom Hill (the big scooped out dune off the 10 freeway) ...there were others short lived because of rained out roads or police seeing the lights of cars heading into the hills off the 10.
The music was evolving during these years as well my close goup of bros were playing outside so much that just playing a "set " of songs seemed not worth all the effort to get out there and set up and make camp so to speak. So jamming became a big part of the motivation to go out to the desert beyond the lights and homes and just be free to wail. This started changing our music and in this we discovered a new approach to waiting and it be came less influenced by what others were doing and more the results of the jamming....kind of a way of peeling away layers and exploring your instrument. The music we started listening to changed as well—more jazz and free music, more experimental ....but it always had a core of rock and punk a thread that kept it together.
I think there was a period of alienation from some of the other bands in the desert that were loyal to the punk rock or metal sound and style of playing but it seemed to eventually creep its way in to some of the other desert musicians. Josh Homme, Brant Bjork, Sean Wheeler, the Pedestrians are great examples of desert musicians that continue to grow artistically and maybe it was some of the free thinking open approach to explore music that inspired that in them. The desert, both LO and HI, has never been a more exciting place poised to be a mecca of artistic freedom, whether it's rock and roll, visual art, film, architecture, lifestyle...whatever......Id like to think all that skate boarding and punk rock had something to do with it.
Mario Lalli has three bands everyone should check out: Fatso Jetson, Yawning Man, and Sort of Quartet.
Subscribe to The Sun Runner's enhanced digital editions, including the Desert Music issue with 33 additional pages of music photos and news, for only 99 cents for a limited time during our Summer Sale. Just go to: http://www.magzter.com/magazines/Travel and click on The Sun Runner. Have a friend you'd like to share it with? Gift them a subscription for only 99 cents. Works on tablets, smart phones, and computers.
Fatso Jetson at dunajam 2012
Yawning Man - Underwater Noise
Yawning Man - Bet I'll Six
Yawning Man - Desertfest 2013
Culture
,
In Print
,
Today
sun runner
palm springs
palm desert
coachella
coachella valley
indio
desert hot springs
robin linn
mario lalli
pedestrians
fatso jetson
kyuss
queens of the stone age
brant bjork
yawning man
sort of quartet
eagles of death rock
desert rhythms
generator parties
iron gate
edom hill
john summers
poison society
poison metropolis
johnny blood streak and the rags
willful failure
circle k
pig pen
family butcher
gary arce
gary burns
larry lalli
illiana
sean wheeler
alex myerhoff
alfredo hernandez
laurel stern
sophia poseidon
randy janson
brian maloney
mike bates
zack husky
joe dillon
herb lineau
chi chi club
dead issue
adrians
nudist colony
iron door
indio hills
shot gun flats
sky valley
mecca banks
josh homme