Best of the Southwest: The Sun Runner Launches Southwest Travel Issues

08/06/2013 08:39AM ● Published by Steve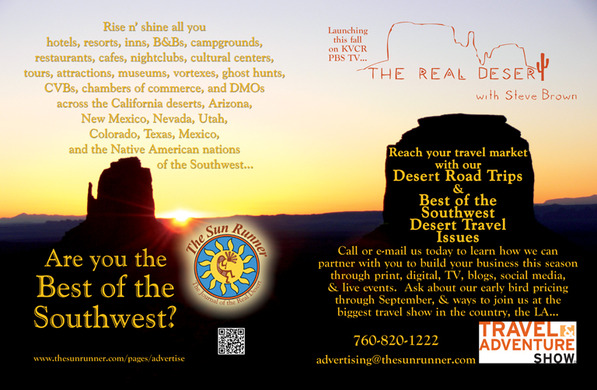 As
The Sun Runner
prepares for its 20th year in publishing, we're excited to be expanding our horizons to cover the great
American Southwest
in support of our new
PBS TV show
,
The Real Desert with Steve Brown
.
We begin the 2013-14 Season with
The Desert Arts Issue
(October), and follow it with our
two BIG travel issues
:
The Desert Road Trips Issue
(December) and
The Best of the Southwest: 2014 Desert Travel Issue
(February, 2014). Both of these travel issues will be coming with us to the
LA Travel & Adventure Show
and will be heavily distributed at our booth at the country's biggest travel show.
We offer many ways to partner to promote businesses and destinations across the Southwest to an audience of
100,000+ readers
and the nearly 30,000 paying travelers who pack the
Long Beach Convention Center
for the travel show (it will be our 7th year there promoting the desert).
We have created excellent print/digital edition ad packages for both travel issues, along with an
Early Bird Special
: 10% off your complete ad buy if paid by September 30. Digital opportunities - including banner advertising, online advertorials, featured calendar events, newsletter advertising, and sponsor opportunities for
The (your name here) Best Desert Road Trips Contest
and
The (your name here) best of the Southwest Contest
. We're looking for name sponsors, presenting sponsors, and prize sponsors (all sponsors should provide a prize to reinforce their visibility with participants).
In addition, you can now partner with
The Real Desert with Steve Brown
,
launching on KVCR PBS TV, 7:30 p.m., Monday, September 16
, by becoming a sponsor or sponsoring a presentation of
The Real Desert
at the
LA Travel & Adventure Show
.
There are many ways to partner with
The Sun Runner Magazine
and
The Real Desert with Steve Brown
to help promote your business or destination to travelers. Please view the presentation below or visit our
Advertise
page on this website for all the options, pricing, and how to take up to six months to pay - interest-free.
http://www.thesunrunner.com/pages/advertise
Call (760)820-1222 or e-mail advertising@thesunrunner.com for more information.
Partner with The Sun Runner Magazine to build your travel business!
Culture
,
Travel
,
In Print
,
Food+Drink
,
News
sun runner
joshua tree
mojave
desert
ridgecrest
palm springs
borrego springs
california
colorado river
nevada
coachella valley
kvcr
route 66
arizona
las vegas
southwest
desert travel
travel
la travel and adventure show
advertising
long beach
hotels
real desert
zuni
sw
travel shows
2014
magazine advertising
tv advertising
new mexico
colorado
utah
texas
mexico
baja
navajo
hopi
apache
sonoran
great basin
phoenix
best of southwest
best of sw
travel and adventure show
southwest travel
resorts
albuquerque
tucson
moab
sedona
gallup
santa fe
mexicali
amarillo