Get ready to run with the dead

08/12/2013 04:30PM ● Published by Steve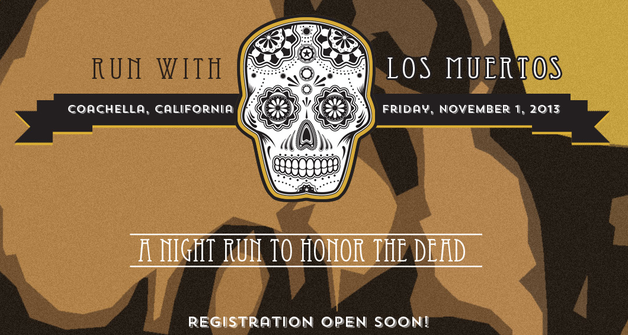 By Carissa Cascio
It might be hard to think about the holidays when you accumulate beads of sweat on the back of your neck just walking to the mailbox, but speaking of the holidays, they always bring the same thing: Food, and lots of it. Fortunately there is an event in the near future you can gear up for now that will help you shed some of those unwanted pounds, or give you some extra wiggle room before all the potlucks.
The inaugural Run with Los Muertos is a 5K run the City of Coachella is hosting on November 1 as a way to honor the dead. It is a celebration taking place in the evening on a secured path through Coachella with participants wearing glow-in-the-dark accessories provided by the city, as well as DJs, beer gardens, art, and giveaways. Participants can run by themselves, or form teams in honor of your muerto or passed loved one, and all runners over the age of 21 will receive a special post-run beverage.
A 5K run is 3.1 miles and can sound intimidating to the average person who is not an avid runner or has not trained. Luckily, there are about 10 weeks until November 1, which means there is ample time to prepare. There are numerous websites that offer a 10-week breakdown to running a 5K, one of which is www.competitor.com/5kblaster. It suggests the best way to get ready for a 5K, and helpful tips to avoid injury. Everyone is encouraged to participate and enjoy the festivities no matter the skill level.
This is a great way to celebrate a cultural tradition and encourage wellness within the Coachella Valley. Even if you do not normally celebrate El Dia de los Muertos, or The Day of the Dead, this event can offer a glimpse into a long-held tradition, as well as an exciting 5K event that the valley does not too often host. El Dia de los Muertos is a widely-celebrated holiday in Hispanic culture to honor and bring gifts to loved ones who have passed on, why not honor them and your health all on the same night. More information will become available on www.thesunrunner.com as well as the website, www.runwithlosmuertos.com.
Culture
sun runner
coachella
coachella valley
el dia de los muertos
city of coachella
day of the dead
5k run
carissa cascio
run with los muertos