SOUTH AFRICA MEETS SWEDEN IN THE PERFECT DESERT ROCK STORM

09/02/2013 01:08AM ● Published by Robin Linn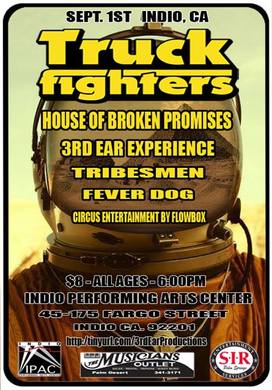 SPECIAL SCREENING OF JOERG STEINECK'S TRUCKFIGHTERS FUZZOMENTARY TODAY AT 5PM!
BRIDGING THE GAP BETWEEN 2 COUNTRIES AND 2 MUSIC SCENES
..........On Friday, August 30th fans of the desert rock scene gathered round 4 amazing bands at The Hood Bar & Grill in Palm Desert for what was the perfect desert rock storm. It was a wet, drippy, steamy desert night...and fans were drenched in desert sweat as they jumped and thrashed and cheered with excitement to what turned out to be a nearly perfect evening of music. 3rd EAR EXPERIENCE featuring South African guitarist, Robbi Robb were joined by UK vocalist Greg Griffin (Proud Mary) for a couple of songs as they kicked the evening off with a super thick and heavy tribal experience. Jorge Bassman is so prolific at his instrument that he was given a sir name to match......his earthy, grounded bass style together with powerhouse Erik Mouness on drums provides the ultra heavy canvas allowing Robbi Robb to soar.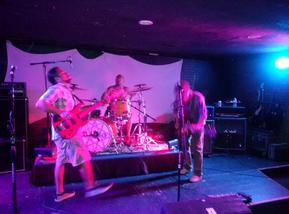 WAXY featuring Robbie Waldman on guitar and vocals, Damian Lautiero on bass and Landerra on drums
performed the second set of the night and the songs that already have meaning for me from listening to their records.......were delivered with a fierce intensity. Their live show is powerful, hypnotic, psychedelic, and exciting to experience. Together Damian and Landerra had Waxy on lockdown and having seen Waxy many times over the years.....they delivered my favorite live set to date! They have developed their material nicely and the songs are beginning to live in my mind with identities all their own. Strong material and great delivery!!!!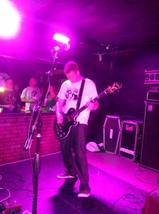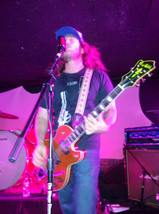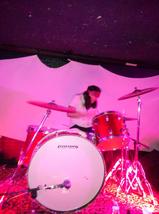 HOUSE OF BROKEN PROMISES featuring Arthur Seay and Mike Cancino brought the house down during set 3! They didn't trim their show down any for a small venue. This band that has toured the 
globe brought the lights, the fog, and the intensity of a big arena show.....right to their hometown fans and local live music pub. Last time I experienced HOBP was at the Tack Room in Indio (2004) and I became an instant fan. Fast forward 9 years later and one thing is clear.....these dudes have played their asses off!!!! Fantastic showmen performing beautifully constructed super heavy desert metal. Mike Cancino and Arthur Seay have been playing together in projects for a couple of decades now and the result is they can feel each other breath. Tightness to perfection and their fans (for which I am one) are clearly in love!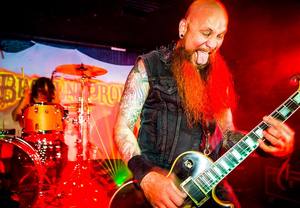 (PHOTO BY IMAGINE IMAGERY)
TRUCKFIGHTERS  put the exclamation point on a perfect night of desert rock. All the way from Sweden,  Dango on guitar, Ozo on bass and vocals, and Poncho on drums.....these supposedly "ordinary" guys turned into "fuzz-monsters" right before our very eyes. Jumping and thrashing about......performing tunes from one of my favorite of their recordings "PHI", and....I finally got my first dose of the band I have been listening to on records over the past year. Truckfighters were everything I imagined they would be live....and more!!!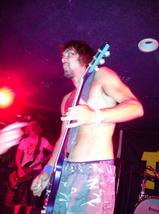 So.....how does a band from Sweden get tagged as a "desert stoner rock band"????? Today at 5PM, those questions will be answered at a special screening of German filmmaker, Joerg Steineck's TRUCKFIGHTERS' FUZZOMENTARY! The film features interviews with Josh Homme, founding member of Queens of the Stone Age who has called Truckfighters one of his favorite bands in recent interviews. Scheduled to screen just before showtime at the Indio Performing Arts Center, I am looking forward to finally seeing the film in it's entirety. 
SECONDS ANYONE?????
If you missed Friday night's epic show at The Hood......all is not lost. You have one more chance this evening to catch TRUCKFIGHTERS before they return to Sweden along with HOUSE OF BROKEN PROMISES, 3RD EAR EXPERIENCE, TRIBESMEN, FEVER DOG and the bonus screening of Joerg Steineck's brilliant rockumentary, TRUCKFIGHTERS' FUZZOMENTARY . Tickets are still available and only $8. Plus, this is an all ages show. 
TRUCKFIGHTERS' FUZZOMENTARY WILL SCREEN TODAY AT THE IPAC AT 5PM. Here is the link to the trailer.........RL
http://www.youtube.com/watch?v=3ZyvY-ithBc
Culture
,
Today
waxy
joerg steineck
house of broken promises
3rd ear experience
truckfighters
tribesmen
fever dog
flow box
truckfighters fuzzomentary
ipac
indio performing arts center
sept 1st