DESERT ROCK EXPLODED INTO AN ABSOLUTE FUZZ-FEST AT THE INDIO PERFORMING ARTS CENTER LABOR DAY WEEKEND! WHAT AN AMAZING SHOW PRESENTED BY 3RD EAR PRODUCTIONS AND WHAT A BEAUTIFUL VENUE THE INDIO PERFORMING ARTS CENTER IS!!!!!!!!

09/03/2013 06:42AM ● Published by Robin Linn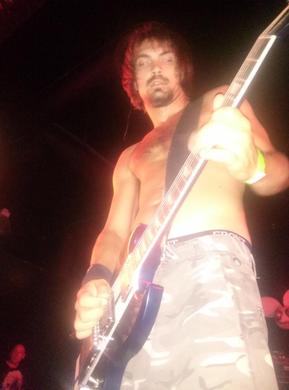 TRUCKFIGHTERS GUITARIST, NIKLAS KALLGREN (DANGO)
A show review by Robin Linn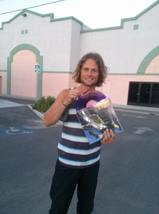 TF bassist and vocalist, Oskar Johansson (Ozo) with his Kyuss birthday vinyl!

The Truckfighters, House of Broken Promises, 3rd Ear Experience, Tribesmen, and Fever Dog turned out some world class desert rock Sunday, September 1st at Indio Performing Arts Center, each with their own flavor and blend of genres. 
The physicality of the way Truckfighters' guitarist, Niklas Kallgren (Dango) thrashes about on stage while keeping perfect rhythm creates a sort of hard rock ballet....and, It's exhilarating to watch! Ozo (Oskar Johansson) has a really great fuzzed out bass tone and complete command of his instrument along with a very appealing singing voice. He has a sort of Chris Cornell thing going on for me.....I can't help it....he just does and I love it!!!! And, for the record, I did take in the FUZZOMENTARY (where all things are fuzzy) and it was just like getting an interview with the band only better. Joerg Steineck's film 
http://www.truckfightersfilm.de
 captured the real story of an up and coming hard rock band oddly influenced by the desert stoner rock to the degree it nearly created a sub-genre....dare I say it? Swedish Desert Stoner Rock? Funny thing is.......they don't smoke weed......vodka and whisky are their weed and they don't perform under the influence. They save themselves for the show and deliver a clean and powerful performance. I learned about their difficulties with a dear friend, their drummer and how after several breakups they finally had to move on to someone who could dedicate themselves to their music. That is what they found in drummer Pancho (Andre Kvarnström). I got a great opportunity to let Dango know that I much approve of the new drummer. I think he makes them sound tight as hell and he brought a lot more shape to the songs. I have plenty of ammunition after chatting with the band and taking in two live shows to write from my heart about Truckfighters......and I will very soon. http://youtu.be/JLMPA4xPFpg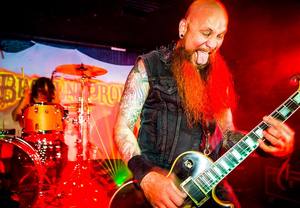 Arthur Seay and Mike Cancino / House of Broken Promises

Arthur Seay of House Of Broken Promises is the most visually exciting performer I have seen in ages....and he plays with such conviction....a true showman and a damned good songwriter. It's all about material and they have a solid set of memorable heavy metal tunes. Their video is great and their live show lives up to one's expectations. I LOVE this band....a lot! I told Arthur he doesn't dare let me miss a show. I felt conflicted and a bit sad as I parted from him on show night knowing I could have gone with him and the HOBP crew to party at Niel's to celebrate a perfect performance. I am shameless at my age.... out partying like a rockstar.....but, I just can't help myself...and, ya only live once I figure! But wait..... holy smoke batman...... what about drummer Mike Cancino? He is quite arguably one of the finest drummers the desert has given birth to. And let's face it......the desert has spawned some AMAZING players! Cancino is a bad-boy......but, with such a positive aura. Always smiling and remaining playful! Yeah....that's one of the things I love about HOBP.....they are absolutely uplifting. I am not at a conjuncture in life that has me longing to go out and experience music that is created solely out of anger and rage.....except Rage Against The Machine and System of a Down.....does that count????? The point here is.....this desert, South Africa, UK, Sweden, Germany......all came together on one stage last night and created one hell of a hard rock show. http://youtu.be/Gedqv55TuL8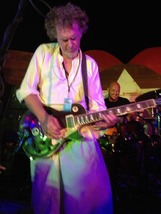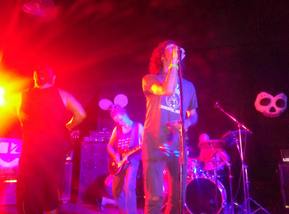 Robbi Robb and 3rd Ear Experience had a special guest,UK vocalist Greg Griffin (Proud Mary)

3rd Ear Experience delivered their open ended, free form, jam band approach to some earthen and tribal compositions and they were joined once again by Greg Griffin on vocals (Proud Mary vocalist visiting us from the UK) and an additional guitarist who added a lot to the live set of South African acid jams. Joerg Bassman on bass moves me every time I experience him. He is the ground....he is the earth......and together with Erik Mouness, they are one bad ass rhythm section. I love the way that sounds....a section of the whole.......nothing is separate! All in all it's a very Joshua Tree inspired sound created by visionary Robbi Robb (Tribe After Tribe) and wife Kripa on synthesizer. The addition of the djembe was the icing on the tribal cake! http://youtu.be/3M9NXzdv5f8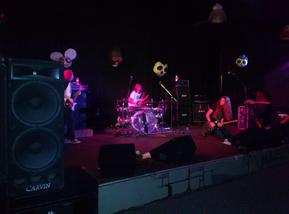 Fever Dog made quite an impression on Truckfighters who told me they really enjoyed the psychedelic vibe of their music!

Both Tribesmen and Fever dog are very young and ultra talented. Honestly these young bands were finely tuned and tightly presented, each impressive in their own unique way. I am pretty sure if my daughter Danielle and my musical soul sister Chelsea had been there....they would have freaked out over these talented fine looking young men. We are breeding super freaky talented young musicians these days. High achievers....unafraid and committed to their art!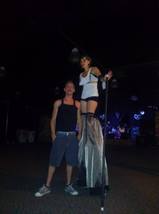 Jenna Lamb (Flow Box) with Sobe Walker at the IPAC Truckfighters show!

And in true performance art.....theater style.....Flow Box girls were amazing, performing cirque de soleil acts during each intermission. Jenna Lamb was balancing herself moving about on a giant blue ball......while juggling.....no kidding! Light dancer girl was fantastic as was hula-hoop girl. They bring the flavor of the high desert festival and the excitement of the circus to every show where they perform.....we are spoiled up here in the high desert by their presence at so many of our music events. You should see them outdoors....with fire!!!! Stunning to witness!

I must say, I felt disappointed more of those from the desert rock community didn't get out to see the show. But, ya know what....at the end of the day...it's not the quantity.....it's the quality baby. We in attendance were happy flippin' campers! I was so happy when my own creative genius, Bobby Nichols showed up after playing for 8 hours.....outside!!!!!! and took in the end of the show with me. This weekend we took in both Truckfighters show and it was fun to introduce Bobby to the music scene I cut my teeth on as music writer over a decade ago.The "Only the hip survive" club was there with bells on, a name I have given a group of sophisticated and enthusiastic music fans that get....IT! Well known assemblage artist and creator of "Furst Wurld", Bobby Furst was in attendance and if you ask me... THAT guy IS a rockstar in the true sense of the words. And that's how it came to be that our beloved Truckfighters are safely nested away up here in Joshua Tree, celebrating Ozo's Bday inside of Furst Wurld. I made sure they were safely handled and delivered with care. And we will return them back to Sweden.....soon......as soon as we are done with them!!!! Robbi and the 3rd Ear crew are caring for them well.....and though I would like to tell you what is happening here in Furst Wurld....we all know...what happens in Furst Wurld.....stay's in Furst Wurld. Thanks to 3rd Ear Productions and the Indio Performing Arts Center 
http://www.indioperformingartscenter.org/
  and all of the amazing talent for an amazing night of live music in the desert! ~RL~
Culture
,
Today
waxy
joerg steineck
house of broken promises
3rd ear experience
truckfighters
tribesmen
fever dog
flow box
truckfighters fuzzomentary
ipac
indio performing arts center
sept 1st