A HISTORICAL LOOK INTO THE EVOLUTION OF YAWNING MAN AN INTERVIEW WITH FOUNDING MEMBER, GARY ARCE

09/07/2013 12:51PM ● Published by Steve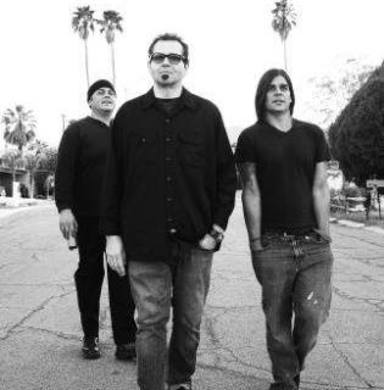 YAWNING MAN
 As part of my series of interviews with those involved in the early desert rock scene.....now often referred to as STONER ROCK......I contacted my long time dear friend Gary Arce who has been playing with some of the most noteworthy desert talent such as  Mario and Larry Lalli and Alfredo Hernandez in projects since he was knee high to a grass hopper. The first time I ever saw guitarist and songwriter, Gary Arce, he was playing with SORT OF QUARTET which featured Mario Lalli on guitar and cousin Larry Lalli on bass. One of the first things that struck me about the sounds Sort Of Quartet was the irreverent and stylistically fresh way Gary Arce approached his instrument. Gary isn't a schooled musician....he plays from his heart and uses his imagination to bring the sounds he hears in his head to life in his music. Years later, probably late nineties, I was over visiting Gary and his beautiful wife Deanna (as close to a sister-in-law as you can get, though I wasn't actually married to her brother....it was dangerously close though) and he had rigged up an amp, added a B-bender to his guitar....a sort of contraption that allows the player to use their knee to push on a bar that bends the hell out of the "B" string creating some other worldly sounds. The songs he played for me that day were to be new material for his project Yawning Man and I loved the sounds I was hearing. Gary always thought way outside the box about music. Vocals were absent from his compositions which were heavy but melodic, more like a piece of music than a typically structured song.....movements that took you out for a good while. That was when I realized that I like music that doesn't need mere words to relate feelings. The music allows the listener to come up with the meaning themselves. Gary's compositions created moods, altered consciousness, and elevated my spirit. I related to his music instantly. Those were the first Yawning Man songs I had experienced. I found it interesting to learn that Yawning Man was an idea visited before Sort Of Quartet was formed......though I hadn't seen them perform. As a matter of fact...I have yet to experience a Yawning Man show. What I have spent lots of time with is the recording, ROCK FORMATIONS.....and, it is so relevant to me. I hear the term desert rock a whole lot these days. I am probably throwing it around more than I should. Yawning Man is the essence of what I would imagine desert rock sounds like had I never experienced so much of it living here all these years. Close your eyes and take it in......and you will discover sounds that conjure up images of enormous boulders in the desert sand, living life on one's own terms in the wild of the desert landscape. It really is a beautiful, heavy, and insightful recording. When I learned Gary was preparing to go back into the studio and breathe new life into YAWNING MAN with a new recording....I thought it a good time to ask some questions, learn some more about Yawning Man, and find out what his aspirations are with this project. Besides reconnecting with a dear old friend, it made me happy to be a part, once more, of supporting the highly imaginative and creative efforts of one of the less conventional, completely unique, and super talented creators of desert rock........Gary Arce. Here is the resulting interview.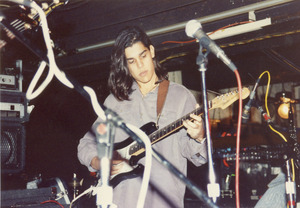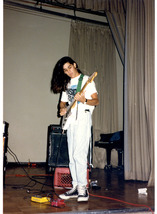 Gary Arce of Yawning Man
Photos by Katrin Saalfrank

RL) Since I have known you I have seen you played in several projects including Yawning Man and The Sort of Quartet. What was the first band you played in and who else was in it?
GA) First band was probably No Talent! It was myself, Mario and Gary Burns. We were just three bored kids playing hardcore punk out of Mario's parent's garage in palm desert. That was probably 1982. I remember on halloween when the kids would knock on the door asking for candy. We would open up the garage door and play a hardcore song for them....then close it. Later would come The Hardcore Mormons and The Breed..other punk bands with myself, Mario, Gary Burns and Alfredo Hernandez.
RL) Is The Sort of Quartet now defunct or do you still write and record with that project too?
GA) No. The Sort of Quartet stopped playing probably mid 90s. We put out three albums on the infamous SST records and one on the German label, Hot Wax Crippled Dick.
RL) Tell me about some of the more exciting shows you have played and where your music has taken you?
GA) We've played some great shows! Some of my fondest memories have been with The Sort of Quartet and playing with such great bands as The Monks of Doom; Eugene Chadborn, The Last of the Juanitas. Getting to tour with Saccharine Trust..that place in time was really the foundation for strong musical bonds and really testing the boundaries of creativity.Those long drives in the van to San Diego and Los Angeles....drinking beer, being with your friends.......just a landmark time for me.Yawning Man is the band that has taken me all over world. I'm really fortunate to have been able to travel playing my guitar, making friends and seeing cool bands like Hypnos 69, Karma to Burn. We've played festivals with Motorhead, Kiss, Slayer, pretty wild for an all instrumental band from the middle of nowhere!
RL) Who was in the original Yawning Man lineup and who is in the band now?
GA) It's the original lineup which includes myself, Alfredo Hernandez, Mario Lalli and Larry Lalli.
RL) How many recordings does Yawning Man have and which is your favorite so far?
GA) We have the original demo tapes....but as far as official releases, we have Rock Formations, Pothead, and Nomadic Pursuits. Plus the most recent which is the split (2 bands / 1 record) with Fatso Jetson. My favorite recordings are probably Pothead and Nomadic Pursuits..its just raw live recordings .they really capture what the band does live.
RL) I know you are about to go into the studio again. Do you have a name for the new recording and who will be recording these new tracks with you?
GA) There's some working titles, but nothing confirmed.....yet! Yawning Man has had such a revolving door the last few years. We've had Bill Stinson on drums, Billy Cordell on bass(he is on the Pothead recording). On this new recording I've had a few roadblocks with peoples personal schedules. I've come to realize that if I waited for the perfect storm..meaning everyones schedules were open simultaneously to record ..this new album would never happen....so I've just stopped trying to please and cater to everyones schedules and do it on my terms. So far its been myself and Mario...I'm laying down tracks and he's coming in and doing his thing on bass. I'm really excited about the way it's sounding. We have a really creative engineer, Harper Hug, who is working with us on the new album too.
RL) What are your plans for this project and what are your creative aspirations as a performer?
GA) My plan is.. NO RULES. That IS the rule..on this album! There might be lap steel and fretless guitars, organs, vocals......lots and lots of experimenting. One cool thing  when you play an instrument is that you can be whomever you want to be......let the guitar, bass, whatever you play(?) represent who you want to be.
RL) Do you plan to play out and support the new recording when it's done?
GA) We are planning some south American dates next year though nothing is confirmed yet!
Gary and Yawning Man's new record is in the works.....and one thing for sure....when it's done......I will be on their butts to give us a desert performance. I highly respect Gary for his creative mind, his innovative approach to making music, and his commitment to the entire creative process. It is important to note that being a family man, working to survive, and staying active as an artist takes a special kind of commitment. These are the players that make the desert them magic place it is to experience music. Even when we don't see or hear them for awhile....their roots run deep and they have influenced generations of new players and bands. Before there was desert rock.....there was a whole bunch of ultra hip desert brats running around on skateboards, in empty swimming pools, playing in the deeply wild and sandy desert with generators. Gary Arce was part of the nucleus that has spawned dozens of great bands, many who have gone on to have great careers. Players like Alfredo Hernandez with his ultra large bass drum (one of the most unique drum rigs I have ever seen) who influenced drummers to the point I now see his exact set up on other bands stages. Alfredo has been featured in Rolling Stone Magazine.....not as part of any one band....but for his own great accomplishments as a drummer. Mario and Larry Lalli not only have made so much music in their various projects that is historical, they have alos inspired an entire genre  and influenced literally hundreds of players all over the globe, Gary Arce is one of the early creators of desert rock that was unencumbered by vocals and the typical verse, chorus, verse structure as is Fatso Jetson. To me you can't say the term Stoner Rock without thinking of these great players and completely inspired musicians. Below are links to Yawning Man recordings and live videos to give you a real taste of the sounds created by Gary Arce and Yawning Man. You can count on me to keep you posted as soon as the new recording is finished and available for listening!  
YAWNING MAN ON FACEBOOK: 
https://www.facebook.com/yawningmanofficial
Yawning Man - Blue Foam
Yawning Man - Stoney Lonesome
Yawning Man - Samba de Primavery
Culture
,
Today
desert music
robin linn
mario lalli
yawning man
gary arce
larry lalli
alfredo hernandez