Family's Home Destroyed in Flash Flood

09/12/2013 05:05PM ● Published by Steve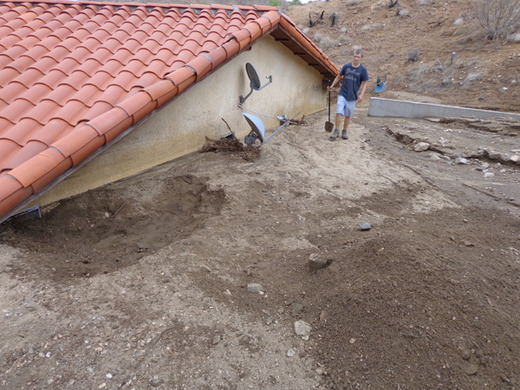 Gallery: Wargo Flash Flood Damage [11 Images] Click any image to expand.
By Steve Brown
"Last week on Saturday, September seventh, there was a major flash flood that passed through - literally through - our home. It managed to break through one of our windows and let mud and water flow in until it covered the entire inside of our home with four feet of mud."
That's how Krista and Tom Wargo's daughter described the flash flood that destroyed their family home in Yucca Valley. The family didn't have flood insurance, and their homeowners insurance doesn't cover the damage caused by a mud flow that, literally, reached - and damaged - the roof of their home.
The family is seeking donations to help them set up house and get back on their feet. For more information on how you can help (and the cool artwork you can get in return - Krista is an artist and an arts teacher for Yucca Valley High School), please visit:
http://www.gofundme.com/Flood
News
flash flood
yucca valley
yvhs
wargo
krista
tom
arts teacher
art teacher
flood damage
disaster