Two Decades of Dali's Llama

09/21/2013 03:38PM ● Published by Steve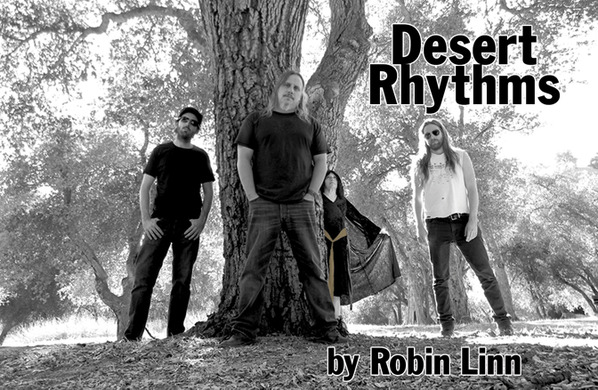 Gallery: Dali's Llama's 20th [2 Images] Click any image to expand.
I discovered Dali's Llama 13 years ago when I was running Desert Rhythms, the Coachella Valley's only music newspaper. At that time, they were just beginning their own label and they had a brand new side project underway, Primordial Blues.
Since that time, Erica and Zach Huskey have not only developed their own sound of desert (stoner) rock with Dali's Llama, they have recorded an entire catalog of work with three different projects all on their own label. To produce such an impressive body of work, musicians have to be more than focused, they have to be passionate about their music.....which both Zach and Erica are.
Their involvement in the music community has been significant and they have surpassed the test of time both as a band, and as a couple. This September will mark 20 years making music as Dali's Llama.
In honor of their anniversary they will be playing here in the hi-desert at The Palms, in Wonder Valley, with a slew of amazing bands. Following all of the performances will be a screening of Joerg Steineck's rockumentary, Lo Sound Desert.
Reconnecting with the Huskeys and Dali's Llama has been both nostalgic and exciting. Their latest videos are powerful, heavy, artistic, and a fine representation of the level of talent that the desert turns out.
The following is an interview with both Erica and Zach Huskey. It is a wonderful look into their music and how much they have accomplished as musicians and artists. It has been an honor and a privilege to watch this band grow and develop into a world class desert rock band.
– Robin Linn
RL) When did Dali's Llama form?
EH) Zach and I started Dali's Llama and our record label Dali's Llama Records in 1993.
RL) Were the two of you always a couple?
EH) It's hard to remember back to when we weren't together. We met and became friends in 1982 when we both started high school. We've been "a couple" for over 25 years. But we didn't get married until 1996. It's funny that you asked about us as a couple. We've gotten some comparisons lately to other couples who are in bands together. A reviewer in Razorcake called us the "Dead Moon of stoner rock". Which is a total compliment.
RL) Back in the nineties I remember having a copy of an entire body of musical work, a concerto if you will, that you were to perform in it's entirety. I don't remember the details except that I sadly missed the performance which must have been amazing. Refresh my memory about that musical work and tell me what inspired you to write it?
ZH) I wrote two pieces of music for bowed electric bass, prepared electric guitars and various weird percussion instruments. They were called Time Consumptions—Parts I and II. We performed them both. Then I wrote a mostly guitars and bass symphony called Ahimsa. I recorded all 14 to 20 parts with my really good friend, and amazing bass player, Mike Jacobson. That was about a 250 page score. We've never released it.
EH) Time Consumptions Part I also included poetry that Zach wrote specifically to be read between each work of the piece. In the booklet we created for our one and only live performance of it, we included the score, Zach's poetry and abstract black and white drawings I created for it. Time Consumptions Part II was a more complicated musical piece that required four musicians. We also only performed that piece once, with the help of my Mom and our long time friend Garth Hoyes on different percussive instruments. Some of which Zach made for it. Unfortunately we didn't record the performance of Part II. And Ahimsa is Zach's most complex work, written for seven guitars (standard and prepared), five electric bass guitars (standard and bowed), and eight percussion instruments. Zach's scores were done in a tablature form, a lot of which he modified from traditional tab. I'm really glad that Zach and Mike recorded it years ago so that I could finally hear how all of the instruments worked together. We've never released it on CD. Maybe I can convince Zach to release it digitally, the music & score for our 20th.
RL) You were on the cover of Desert Rhythms over 12 years ago. Fill in the spaces for us. What has the band been up to and how has the material evolved since I saw you in the late nineties?
ZH) I think last we talked we were playing a lot of improvised stuff and we recorded it on The Color of Apples. Since then Dali's Llama has recorded and put out six albums, mostly heavy dropped tuned music. We've recorded and released two albums with a side project band called Primordial Blues, one with another side project of mine with Trent Ramseyer, Ian Dye, Mike Jacobson, Joe Dillon, and Scott Reeder called OGRESSA and I've released three solo acoustic albums.
EH) The Color of Apples was an extension of Zach's interest in prepared guitar, bowed bass & improvising. With and without specific song structures. That led into our experimental blues side project Primordial Blues, and then into Zach's solo folk Americana stuff. Zach's a really versatile songwriter and likes so many types of music, he can't stick to writing just one style. He has to keep moving forward. When it was time for a new Dali's Llama album, Zach decided he wanted to go "heavy", and has been getting progressively heavier ever since.
RL) It is coming up on your 20 year anniversary as a band. That is something to be proud of. What has playing together this long done for you individually as players and together as a band?
ZH) Twenty years in one band I think has taught me a little about patience. It's also taught me that I can write and play whatever I want to and to not worry so much about what people think. It's our record label so we can do what we want, critics love that, but sometimes your average music fan can get annoyed. For example a lot of our music is very heavy and then all of a sudden a couple year ago we put out an album of 60s garage style songs. It might confuse people but in the long run I think people will look back on our catalog of music and like the diversity. Our current line up is really good. Craig Brown is an incredibly versatile drummer. He's been in the band a few years now and is on our last two cds. He is a bitchin' drummer. Our relatively new guitar player is Joe Wangler. He used to be in the local bands Vega and Dirigible. Joe is on our new CD Autumn Woods. Joe is great on both rhythm and lead guitar. He really makes the band sound super heavy. Scott Reeder is our main producer. We love recording at his studio "The Sanctuary." We've recorded four albums with Scott and let me tell you, Scott knows HEAVY! He's a great friend too.
EH) Over the years we've changed lineups a few times and have had some guest appearances on our CDs. We've had the opportunity to play with a lot of incredible players and some awesome friends on our Dali's Llama CDs. Gotta mention Joe Dillon, Jeff Howe, Robin Clewell, Ian Dye, Eric Overton, Josh Roell, George Rubalcava, Johnny Moreno and of course Sean Wheeler, Mario Lalli and Scott Reeder. As Zach mentioned though, our current lineup with Craig Brown and Joe Wrangler definitely fits and totally adds to Zach's current vision of heavy doomy sludge.
RL) I know there is a show scheduled to commemorate your 20 years together as a band and that you will be screening Joerg Steineck's rockumentary, Lo Sound Desert. How did this happy coincidence take place?
EH) When Joerg was out here two years ago from Germany, Zach spent a lot of time showing him around the old 80s "desert rock" era sites. And looking for rattlesnakes, but that's another story. We all became friends and kept in touch after he went back to Germany. We told him about our 20th anniversary show and we hoped he could be here for it. We asked him if he wanted to show a preview of the movie too. We were so excited when he said yes. We talked to him a couple weeks ago and he is still editing the film. He has so many hours of film he could easily make three films. He now has cut it down to five hours, and wants to get it down to about an hour and a half. Joerg told us this will definitely be a rough cut of the film, definitely not a finished version, so he can see what needs to be fixed, etc. But it will give us desert rats a long awaited peek at the how the film is developing. Joerg has been filming and working on this documentary since late 2005.
RL) Tell us all of the details about the upcoming 20 year anniversary Dali's Llama show?
EH) We decided to have the show up in the hi-desert at a place called The Palms in Wonder Valley. As Zach says "It's the closest anyone could get to a generator party that's legal and has a bar!" It will be Saturday, October 5 starting at 2 pm. The show will be all ages, but 21 and over can go inside to the bar. Bands will play from 2 pm to midnight. The bands playing will be Dali's Llama (of course), The Freeks (featuring ex-members of Fu Manchu/Nebula), Rise of the Willing, Brave Black Sea (ex-members of Kyuss, Queens of the Stone Age & Slo Burn), Hornss (ex-members of Solarfeast), Undead Cuervo, and Hit It! After the show, there will be the midnight pre-screening of Lo Sound Desert (rough cut version).
Also, we really want to thank Terry McGuinness who has been great in helping us set up the show and promoting it. And Radio Free Joshua Tree who are helping us promote the show, and who are going to either stream the bands live or broadcast it the following day at radiofreejoshuatree.com. And thanks to The Palms too of course.
RL) What is next for Dali's Llama?
ZH) Right now we're playing around five new songs that are super heavy dropped tuned songs, like most of our stuff. This is the direction I think the next album will take. The songs are very Electric Wizard / High on Fire influenced. I wrote all of the songs out in the desert. I jeep out into the canyon with my acoustic and pen and paper, smoke cigarettes and that's usually when I write favorite songs. So the future of Dali's Llama = Extra Heavy Doom Noize!
Look for more great music interviews by Robin Linn on our website at www.thesunrunner.com!
Culture
,
Today
desert music
robin linn
dalis llama
desert rhythms
dali's llama
desert rock lo sound desert
erica
zach
huskey