Rocktober is live music month in the high desert!

10/01/2013 01:39PM ● Published by Robin Linn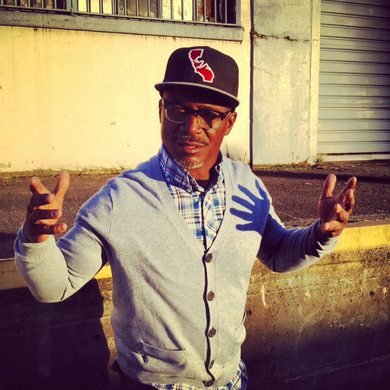 Karl Denson's Tiny Universe will be appearing on the main stage, Saturday, October 12th at the 8th Annual JT Root's Festival
ROCKTOBER IS STARTING OFF WITH A BANG......
Since the day I was put on the earth......(October 6th) there has been an inordinate amount of live music during the month of October. So much so, that as a teen, my favorite LA Rock station, KMET dubbed it the month of "Rocktober"! Every year.....just before "that time", I would begin to plan who I would be celebrating my birthday with. I have recently come to the conclusion....that the desert is not immune to this "rocktober" theory when I noticed how many different live music shows one could take in by week two of this month. I decided  to share some of my favorite upcoming shows with readers and fellow music enthusiasts here in the high desert. This is not intended to guide readers to ALL of the great music happening in and around the Coachella Valley and Morongo Basin all month long.....but rather some of the really special events that have fallen under my radar.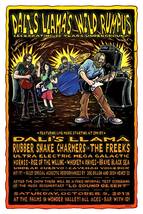 SATURDAY ~ ROCKTOBER 5TH~
DALI'S LAMA WILD RUMPUS - 20 YEARS UNDERGROUND AT THE PALMS IN WONDER VALLEY

My last feature article was on this very band and this very special show......DALI'S LLAMA! Dali's Llama features bassist Erica Huskey and singer, songwriter, guitarist Zach Huskey.....and...no, they aren't brother and sister. These two have been creating music from several different genres on their own label.....Dali's Llama Records for 2 decades now and if a marriage and a relationship lasting that long isn't enough for you.....try keeping an entire band together for that long! To celebrate....and I fully intend to be out there celebrating with them....they are putting on an epic desert rock show out at The Palms in Wonder Valley on Saturday, October 5th along with a list of bands that will please even the most discerning desert rock fans. Bands I am personally looking forward to catching are Mario and son Dino Lalli who will be performing as THE RUBBER SNAKE CHARMERS, a psychedelic-jazz jam band featuring drummer, Tony Tornay. I am also really looking forward to Ultra Mega Galactic featuring former Monster Magnet guitarist, Ed Mundell,  THE FREEKS featuring former members of FU MAN CHU, WHISKEY AND KNIVES  featuring drummer Alfredo Hernandez (Queens of The Stone Age, Kyuss)  with guitarist, John Arnold (Family Butcher), CAVEMAN VOICEBOX, who I have been listening to and enjoying over the past weeks on Youtube, and of course....Dali's Llama who I haven't caught live in over a decade. It's always fun to see where a band's live show evolves to over time. I was a fan then.....and I am sure I will love them 10 years more than I did last time I saw them. DL has a fantastic way of bringing the doom to desert rock. The icing on the event cake will be a special first screening of German filmmaker Joerg Steineck's Lo Sound Desert, a rockumentary covering the evolution of the desert (stoner) rock scene. Don't let the term "desert rock" confuse you. There are a whole lot of different flavors of rock being served up by all of these bands. From the desert doom and ultra heavy, and the improvisational, jazz influenced jam band to an opening acoustic set by Josh Heinz and Joe Dillon. The show starts at 2PM and I don't intend to miss a single set of the event. This is an all ages show...tickets are only $5, there is free overnight camping, a full bar to serve 21 year and over attendees....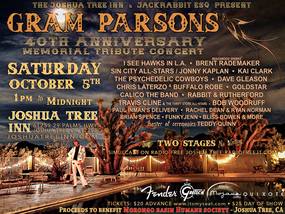 SATURDAY, ROCKTOBER 5TH
THE JOSHUA TREE INN
GRAM PARSONS 40TH ANNIVERSARY MEMORIAL TRIBUTE CONCERT in the intimate setting of The Joshua Tree Inn featuring a host of Americana and psycho-folk bands. For those of you unfamiliar with the Gram Parsons / Joshua Tree connection......Gram spent his final days at the Joshua Tree Inn. The very room he was in when he left the planet is offered to guests for a few bucks more than the other accommodations (I am unsure it shouldn't be the other way around.....I want the ghost to kick down if he intends to share the room with me!!!!). The connection to the legacy and the musical influences of Gram Parsons runs deep here in the high desert. Not only is Gram credited for influencing and shaping new genres....his time spent in the high desert crossed his path with many local legends who still perform here today. Rojer Arnold was telling me just the other day about some of his escapades with Gram....though I don't know that he would appreciate me sharing them....so, I will leave it at that. Proceeds from this event will go to benefit the Morongo Basin Humane Society -A No Kill Shelter. 

Due to the intimate size of the venue tickets will be somewhat limited. All ages 
$25 at the door.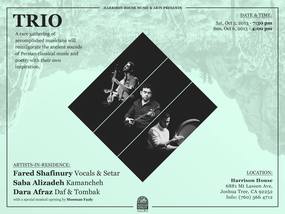 SATURDAY, OCTOBER 5TH AND SUNDAY THE 6TH
THE HARRISON HOUSE IN JOSHUA TREE
CLASSICAL PERSIAN MUSIC WITH A MODERN EDGE........

I would like to encourage world music enthusiasts and patrons of the musical fine arts to attend this performance which will kick off the fall season at the prestigious Harrison House in Joshua Tree. This is part of the Lou Harrison Artist in Residency Program and features Persian music with a modern edge by Fared Shafinury, Saba Alizadeh, and Dara Afraz.  A special opening set of Sufi-inspired compositions will be played by Hooman Fazly. Lou Harrison, Eva Soltes, and The Harrison House will be featured in the upcoming Art Issue of The Sun Runner - The Journal of the Real Desert. Music, dance, art and culture are brought from around the world to our artistic community here in JT each season by Eva Soltes to The Harrison House. With each culturally rich performance, those of us in the desert art treated to rare glimpses into the intense beauty and culture we would otherwise have to travel across the globe to experience. Look for my feature story on The Harrison House in the upcoming Art Issue of The Sun Runner Magazine.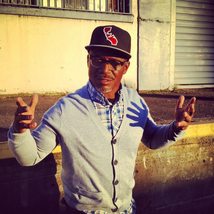 ROCKTOBER 11-13TH
JOSHUA TREE ROOTS FESTIVAL 
MAIN STAGE, OCTOBER 12TH
KARL DENSON'S TINY UNIVERSE

Main stage, Saturday, October 12th
Coming from my hometown of San Diego to this year's 8th annual Roots Fest is  Karl Denson's Tiny Universe.  The Greyboy Allstars were an acid jazz band that focused more on jazz than groove-oriented dance music. Karl Denson, who has toured and recorded with  Lenny Kravitz  got his break when working with Lenny on  "Let Love Rule". He went on to play and tour in support of the next two Kravitz albums. In 1994, he became one of the founders and leaders of San Diego's Greyboy Allstars as saxophonist, flutist, and singer. The band's acid jazz grooves caught the ear of discerning listeners, causing droves of fans to hit the dance-floors at clubs across the country. The band broke up after only 3 years and Karl went on to form Karl Denson's Tiny Universe.....a high energy, groove based dance band who lights up main stages at Festivals across the nation. I can't help but think the birthday gods love me. This will be the 7th birthday I have celebrated to amazing music at JT Roots Fest. Last year, my "gift" was Steve Kimock Band who I had been dying to see for a dozen years. Some birthday wishes really do come true. I am equally excited to finally catch a live Karl Denson show. All you have to do is listen to the 9 plus minute jam on Youtube, Elephants, to understand why I am this enthusiastic! 
http://youtu.be/VNdPVAJA7bc
. 
For a complete list of scheduled acts, visit Joshua Tree Music Festival at:
www.joshuatreemusicfestival.com
I wish music fans everywhere a happy Rocktober!!!!!!! Music Columnist, Robin Linn
Culture
karl denson's tiny universe
jt roots fest
dali's llama wild rumpus
harrison house fall concert
rocktober