Federal Shutdown's First Casualties Are Counted While Rep. Cook Makes Excuses

10/01/2013 08:14PM ● Published by Steve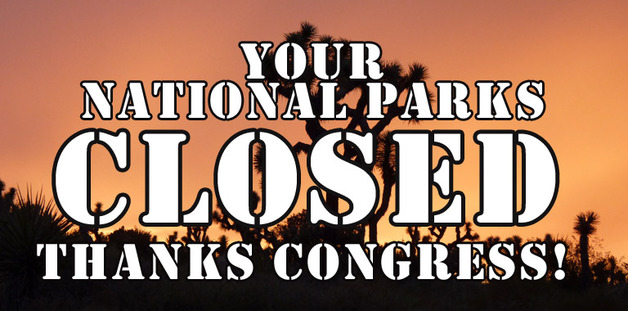 Gallery: Federal Shutdown [2 Images] Click any image to expand.
By Steve Brown
The first casualties of the unnecessary and preventable federal government shutdown that went into effect early this morning are already beginning to appear across the desert. With Republican members of Congress repeatedly attaching conditions regarding delaying or subverting an entirely unrelated law on healthcare for Americans to funding the federal government as a whole, the political game they play has become deadly serious for many federal employees and military contractors working across the desert region.
Joshua Tree National Park, along with 400 other parks, preserves, monuments, and historical sites across the country, has been shut down. Campers in the park have been given until 3 p.m. Thursday to leave the park. Tours and educational programs have been canceled, and 92 National Park Service employees have been furloughed. In addition, 10 concessions employees no longer have jobs.
Nationwide, the shutdown has furloughed more than 20,000 NPS employees, along with about 12,000 park concessions employees who were suddenly left unemployed.
Joshua Tree National park hosts an average of 7,000 visitors daily in October - nearly a quarter of a million for the month.
According to JTNP (now furloughed) Operations Supervisor Education and Visitor Services, Lorna Sue Shuman, the park itself will lose nearly $8,000 of entrance fees each day during the shutdown, with the NPS standing to lose nearly half a million dollars per day in lost entry and activity fees and camping. Gateway communities, such as the Joshua Tree Gateway Communities of Yucca Valley, Joshua Tree, and Twentynine Palms, stand to lose $76 million daily across the country in sales from visitor spending. That number is in addition to economic losses stemming from the furloughed federal employees and contractors who no longer have paychecks to spend in their local communities.
In addition, park closures leave our national treasures open to vandalism and looting along the lines of what happened when the California State Parks closed Mitchell Caverns. Within a brief time after the closure the facilities at Mitchell Caverns were looted and vandalized to the tune of over $100,000 worth of damage, and now as the Caverns prepare to reopen, it has taken reportedly close to half a million dollars to repair and upgrade the facilities to once again accept visitors.
On top of the obvious loss of paychecks for those directly impacted by furloughs, businesses in gateway communities and base communities heavily impacted by the shutdown, businesses that relied on income from visitors, employees, and contractors will also be seriously impacted. With a fragile economy across much of the Southwest, many businesses may not survive a lengthy shutdown.
The shutdown of all units of the national park system means mayhem and losses for tourism operators. As the desert goes into season, there is still plenty to do across the region, but imagine trying to overcome objections of domestic and international tourists who had plans to come to this country to see the Grand Canyon and other national parks. With these major multi-million visitor draws shuttered and no clear concept of when they may reopen, domestic and international tourism is bound to take a hit. And with no confidence in our own government's ability to prevent such stupidity from taking effect repeatedly, it may direct tourists from around the globe to more secure destinations.
News from other desert communities was not any more encouraging. In Ridgecrest, the Naval Air Weapons Station China Lake furloughed approximately 300 employees. A planned shoot for the PBS TV series, The Real Desert, with Steve Brown, was abruptly canceled by base personnel due to the shutdown, as are all petroglyph tours conducted by the Maturango Museum and other organizations. Delays for some services are expected, and some facilities may see adjusted or reduced operating hours on base.
Making it more difficult to get additional information, most public information or public affairs contacts for federal offices have been furloughed, and websites for national parks and other offices have been taken down as part of the shutdown.
Compounding the closures of national park facilities, the Bureau of Land Management (and other federal land management agencies), have greatly decreased the ability of lands they manage to be used for recreational or tourism-related purposes.
BLM services and programs that will cease:
• Recreation areas, including campgrounds, visitor center and concessions
• Businesses operated by outfitters with BLM-issued permits will not be able to operate on BLM-managed public lands that are closed
• Some roads
• Non-emergency Abandoned Mine Land and hazmat mitigation
• Processing of Applications for Permits to drill for oil and gas
• Processing of lease sales, permits and other non-emergency authorizations of onshore oil and gas, coal and other minerals Permits and approvals for renewable energy and other rights of way issuances
• Endangered Species Act and cultural clearances
• Range management restoration
• Wild horse and burro adoptions
• Sand and gravel permits
• Timber sales
• Work on resource management plans, including those driven by court deadlines
• Monitoring of grazing allotments
There was a little good news during the gloom brought about by this shutdown: state and tribal parks and facilities appeared to be unaffected by the federal government's closure. All Navajo parks were reported open.
But there was little light emanating from Republican members of Congress such as our local representative, Paul Cook. Cook, whom we have lauded in past issues of The Sun Runner for his positions on the Marine Corps takeover of the off-road vehicle recreation area in nearby Johnson Valley, as well as his stance on the proposed Cadiz water mining boondoggle, reverted to playing the shutdown purely along party talking point lines with little thought to his constituents. While noting his constituents want government to remain open, he places himself and the Republicans as the victims in the shutdown, conveniently forgetting his party's insistence on including an utterly unrelated law in the government shutdown votes. Cook apparently is doing his best to ratchet up brownie points with the Republican hierarchy while believing his constituents are stupid enough to dupe with his twisted rhetoric.
"Unfortunately, the Senate's obstructionism has been mirrored in the White House where Presidential leadership has been sorely lacking," Cook pointed out in a statement today. "The President demonstrated this weekend that he's willing to negotiate with Iran, a country that's threatened to destroy the US and Israel, but he won't negotiate with Congress. These delays have pushed us over the brink, and now seniors and working families will suffer from the foot-dragging."
Cook is right about the suffering that is bound to ensue from the federal shutdown, but it has little to do with the president or the senate, and everything to do with Republican attempts to derail the Affordable Care Act by holding the government of the American people hostage. The Republican attempts to link the ACA with government funding overall is nothing short of blackmail, and while Cook bloviates, his constituents suffer and endure.
Disclosure: The Sun Runner stands to suffer significantly due to the federal shutdown. With our two biggest revenue-generating travel issues coming up, the rug has been pulled out from under our efforts to attract tourism-related advertisers. With the future of national parks and federal recreational lands uncertain, as well as both the revenue generated by tourism and tax revenues that result from tourism, it is difficult for hospitality industry and tourism businesses and organizations to feel secure in marketing programs. In addition, it makes it more difficult for our PBS TV series, The Real Desert, with Steve Brown, to recruit sponsors for the very same reasons. With the TV series, we have already had our plans to film in one location canceled today due to the shutdown, and we are now unable to obtain film permits for federal lands in general, meaning we cannot shoot shows that involve national park, BLM, or national forest lands.
Having promoted desert tourism for nearly two decades, we understand not only the nature of tourism, but the economic situation of the independent small businesses who make up the vast majority of those found in gateway communities across the Southwest. It is, in my opinion, inexcusable to toy with the jobs of tens of thousands of Americans across the region as Congress has done, and we regret the shortsightedness of our representatives in Washington, D.C. and their amnesia when it comes to how their actions impact the lives of their constituents.
- Steve Brown, Publisher
News
steve brown
national park
closures
tourism
blm
congress
2013
house of representatives
base
travel
layoffs
shutdown
furlough
federal government
closed
unemployment
paul cook
shutdowns
aca
obamacare
affordable care act
eighth congressional district
congressman cook
recession
depression
economic disaster
contractors
paychecks
republicans
casualties
rep cook