Government Shutdown Killing Joshua Tree Gateway Economy

10/09/2013 04:39PM ● Published by Steve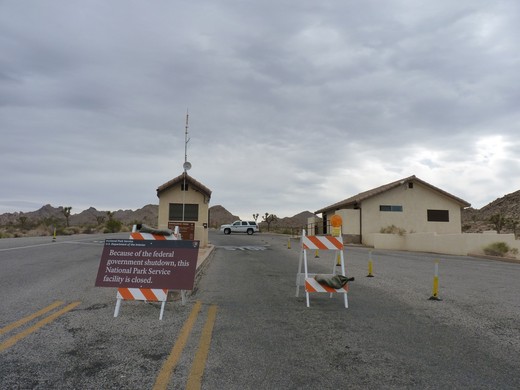 Gallery: Government Shutdown in Joshua Tree [4 Images] Click any image to expand.
By Steve Brown
Under cold gray skies, the west entrance to Joshua Tree National Park saw a steady stream of cars approaching the entrance. As they rounded the corner, I watched time and again the disbelief on the faces of those who couldn't quite believe the barricades that greeted them.
Two women from Quebec got out of their motorhome and walked toward the barricades at the park entrance. One bent down to get a photo of a cholla. There were incredulous that America would shut down its national parks over politics.
I apologized to them for the shortsightedness and flat-out stupidity of our political representatives who, for political gamesmanship, would throw their own constituents out of work and destroy the economies of their own districts. As we talked, more cars arrived at the closed national park entrance. It's as if people intellectually knew the park was closed, but had to go see for themselves that it was, in fact, real.
Down in Joshua Tree, the mood was grim. Tourist season had just begun picking up when House Republicans attached the defunding or other efforts to sabotage the Affordable Care Act (Obamacare) to passing a budget measure to continue funding of parts of the federal government. I heard from one parent of her daughter's layoff at a local eatery, and then spoke with the owner of another larger operation who said business was off 50% and he had already laid off a couple of employees due to the closure.
The news from around the Joshua Tree Gateway Communities so far, has been similar. With the Marine base in Twentynine Palms, and tourism, as the two economic engines for the area, both were vulnerable to the federal shutdown.
Meanwhile, news of additional impacts to local communities was all bad. The Joshua Tree National Park Association's Desert Institute had to cancel classes that were to be held in park facilities or inside the park. JTNPA staff haven't been able to even operate from their offices at park headquarters in Twentynine Palms since the shutdown began.
Field trips for Morongo Unified School District classes to Big Morongo Canyon Preserve (a BLM-related facility) were set to be canceled (the number of cancelations dependent upon the length of the shutdown), while up in Barstow, educational programs were canceled at the BLM's closed Desert Discovery Center.
From all across the Southwest and the country, the shutdown was wreaking havoc. Desperate county officials in Utah where national park visitation drives the local economy worked to find a way for county government to open the national parks. A food bank delivered food to furloughed concessions workers at Grand Canyon National Park. Impromptu protests sprung up, and unpaid rangers trying to protect parks and historic sites were called in to rescue hikers who had ignored the barricades and gotten in trouble, and were berated by the very politicians who created the shutdown fiasco in the first place.
Amidst this ongoing and entirely avoidable disaster, I personally was banned, along with other community leaders, from posting my displeasure over the shutdown on Rep. Paul Cook's Facebook page.
Cook, apparently without a sense of irony, thanked his constituents in the Eight Congressional District (that includes the closed Joshua Tree and Death Valley national parks, the closed Mojave National Preserve, and the impacted military bases in Twentynine Palms, Barstow, and Fort Irwin), for voicing their opinion on the government shutdown.
"I agree with you: Washington needs to do better by all of those being affected by this government shutdown," Cook noted in his October 8 newsletter that also noted the Marine Corps Air Ground Combat Center in Twentynine Palms had furloughed "approximately 1,160 employees."
Cook went on to provide an explanation of the piecemeal legislation he's involved with to bring some people back to work for the military, and how it's all somebody else's fault for the continuing shutdown. Cook's statement seemed woefully inadequate for a district his, and his House colleagues' actions are destroying.
With over 100 personnel either furloughed or working without pay for Joshua Tree National Park, and additional National Park Service employees out of work or working for free around the Southwest, the negative impacts on gateway communities for our parks is both devastating and inexcusable.
How Cook, or any of his colleagues will be able to return to their districts to campaign for re-election without being taken severely to task for their direct role in throwing so many of their constituents out of work, or impacting them negatively in many other ways, remains to be seen. For Cook, his actions in choosing partisan politics over the lives and well being of his constituents may result in the early truncation of his political career. I've met a long list - and one that's growing - of constituents who are ready and willing to ensure his early retirement as the result of this government shutdown.

News
joshua tree
death valley
mojave
national park
jtnpa
29 palms
mcagcc
twentynine palms
california
closures
tourism
nevada
congress
musd
barstow
arizona
desert discovery center
republican
southwest
travel
desert institute
colorado
utah
texas
shutdown
furlough
paul cook
recession
federal shutdown
grand canyon
gateway communities
economy
fort irwin
big morongo canyon preserve
educational programs
schools
morongo unified school district