20 years of desert rock underground....and at the other end of 2 decades.....musical magic that pushes the boundaries!

10/11/2013 01:54PM ● Published by Robin Linn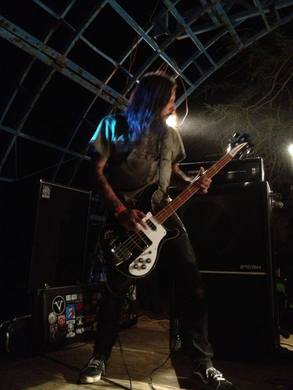 Nick Nava with HORNSS at Dali's Llama's Wild Rumpus! - photo by Herb Lienau
by Robin Linn
This band plays original punk in the tradition of such bands as Circle Jerks and I am sorry I missed their set. They must have played first and I was lost in the desert and growing scared I would never find the venue at this point of my journey. Click the link below to see actual live footage of some of what I missed and to visit the band on Facebook.
Actual live WIld Rumpust footage....S.W.A.M.P by Hit It!
Check out this tune off of the new Undead Cuervo CD I was given for my birthday and which I am very grateful for.
End of a Bully, Angry Soul at Bandcamp. I love the lyrics!
ANGRY SOUL BY UNDEAD CUERVO / END OF A BULLY 
TIRED OF LISTENING TO BULLSHIT 
IT'S TIME FOR A CHANGE 
MANY PEOPLE AND NATIONS FIGHT 
I WANNA FEEL ALRIGHT 
MAYBE YOU SHOULD CHANGE 
YOUR STATE OF MIND 
MY ANGRY SOUL 
CAN'T HOLD ANYMORE 
DIRTY THOUGHTS CAME FROM THEIR MINDS 
I NEED TO STAY AWAKE 
I NEVER WILL LET THEM 
KILL MY ONLY PLACE 
MAYBE YOU SHOULD CHANGE 
YOUR STATE OF MIND 
MY ANGRY SOUL 
CAN'T HOLD ANYMORE
released 05 November 2012 
Music by Kevin Hebbe & Ricardo Carles 
Lyrics by Ricardo Carles
I love the profile names people come up with on Facebook. I made friends with a lot of the musicians I was unfamiliar with on Facebook before the day of the show. One such new FB friend was Caveman Kyle Stratton, frontman and guitarist for RISE OF THE WILLING.  I would have never recognized him anyway when he took the stage with his band. Rise of the Willing (also featuring John Chavarria on drums and Ronnie Snail Wilson on bass) continued to turn up the intensity of the show and as the sun began to set...the music got louder, crazier, and the sky glistened with desert doom. Their record, Dark Desert Tales is filled with dark poetic and often relevant lyrics. Metal meets desert stoner rock.....it is a beautifully recorded first effort produced by Scott Reader.....known for his work with some of the most noteworthy desert rock bands of our time. Check them out and give them a listen. There next show is on November 2nd in Riverside at Kims Bar.
For more detailed information about this band and their history...visit:
When Mario Lalli and Rubber Snake Charmers took the stage.....something went terribly wrong.  I don't know if I caught the flu and it reared it's ugly head right at that moment, but an ill feeling washed over me..... fortunately,  I heard EVERY NOTE from the spot in the desert where I purged for an hour...or more! This is a true story and not a sad one. In between hurling my guts up....I still found it in me to whistle my country girl whistle.....the music was moving me....right through my violent episode. The band line up included: 
Mario Lalli - (Fatso Jetson, Auto Modown, etc...)
Mike Pygmie - (You Know Who, Mondo Generator)
Herb Lineau - (Half Astro, Super Fun Happy Slide)
Mathias "Schneebi" Schneeberger - (Masters of Reality, Sa Fi)
Alfredo Hernandez (Kyuss, Whiskey and Knives)
Sa Fi (Sa Fi)
Music enthusiasts, friends of the arts, film friends who wish to contribute and help get this film out to the public (trust me when I say it is high art and meant to be viewed by music lovers world wide) can contribute financially to this venture. To learn more about Lo Sound Desert, filmmaker Joerg Steineck, or how to contribute, visit this link and sign in with your email address. It will guide you to make a financial contribution. 
Caveman Voicebox on Reverb Nation
http://www.reverbnation.com/cavemanvoicebox
BOMBS AWAY by CAVEMAN VOICEBOX From the New EP "Facial Hair & Harmonies.
http://youtu.be/p63jMNlDpDs
Culture
,
Today
josh heinz
mario lalli
alfredo hernandez
joe dillon
dali's llama wild rumpus
the palms
hornss
whiskey and knives
ultra electric mega galactic
ed mundell
mike desert
rise of the willing
caveman voicebox
hit it
the freeks
rubber snake charmers
undead cuervo
green boars