David Macias and MACHIN'......a sound all his own!

10/15/2013 05:06PM ● Published by Robin Linn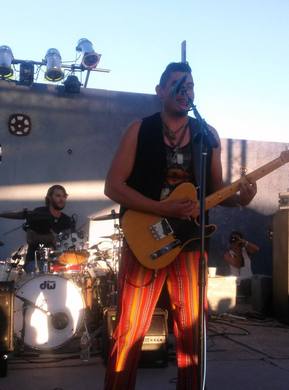 David Macias and MACHIN' at the 8th Annual JT Roots Festival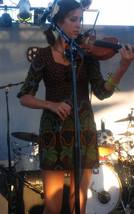 David Macias
has realized a vision with his band Machin'. I have heard   him a few times over the past couple of years with various lineups....and   where he has evolved to as a writer and performer is something to be   proud of. His Latin inspired rhythms are combined with a rock feel and   completely original compositions giving Machin' their own unique sound.   Recent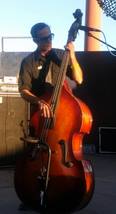 additions to the lineup include Andy Gorrill   on upright bass who lends a lot to the band's sound.   Bri Cherry on violin brings a very melodic element   and an rootsy feel to the songs...and, she looks   great up on the big stage with the group.  Mitchell   Arganda adds percussion and a general feeling of   well being to the lineup and drummer Ian Comstock provides the very rhythmic element that is unmistakably Machin'. I am looking forward to hearing more from this band soon. Speaking to David after the show, he shared with me how he had been to just one festival prior to his set last weekend....and, he vowed he would be back...with his own band....which he was. Congratulations to David and the members of Machin' for a very successful set of live original music. I was really happy when I  arrived to the show to find them on the stage giving it their all. Bands like Machin' make me happy about what I spend my time doing! You can visit Machin' on Facebook at: 
https://www.facebook.com/Machinmilitia
In addition....you can catch them at  Copper Mountain College this Thursday from 12-1pm.And....at Yart Party somewhere in Joshua Tree for the Art Tours on October19th.  Check their Facebook page for event details.
Machin' on Reverb Nation
www.reberbnation.com/machin
Culture
,
Today
david macias
andy gorrill
bri cherry
mitchell arganda
ian comstock
machin'