The Desert's Magic Amp Man: David Bray

10/17/2013 09:23AM ● Published by Steve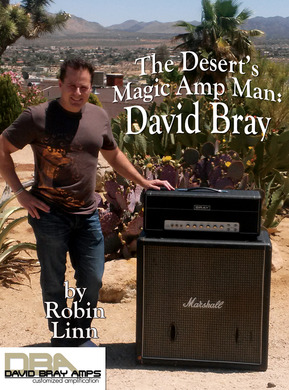 By Robin Linn
David Bray knows tone. Actually, guitarists worldwide pay him thousands of dollars for his tonal recipes. He assembles wires, resistors, capacitors, tubes, power supplies, transformers—and turns them into one of the most sought after Marshall Plexi-based guitar amplifiers in the boutique amplifier market.
My boyfriend, Bobby Nichols, is a gear nut. Many women worry about their guy spending time on the Internet watching porn. Here, it's gear porn....every day! Imagine how excited he became when he learned one of his favorite boutique amp builders lived in Yucca Valley and was practically our neighbor? Days after he discovered this, he made arrangements to pay Bray a visit. When he returned he was brimming with excitement. I knew it wouldn't be long before a Bray Amp would be sitting right here in my living room next to the Bludotone rig.
Recently, we paid another visit to Bray to learn about what led him to a career as an amp builder and what magic he incorporates into those fiery Bray Amp circuits. This is what we learned.
David is a guitar player first. It was as a teenager living in Maryland and wishing to improve his own amp tone that started David on his path. At that time, David was playing a Fender Dual Showman. He wanted to make improvements on his sound and sent the amp out to an amp modification man. His treasured amp bore a sticker on the bottom..."Dragon Soup", the name of the previous owner's band. He waited and waited, to no avail. The man moved to Huntington Beach, taking David's amp along with 10 other people's amps with him. Stolen.
Later, in the eighties, he spent a lot of money and sent his amp out to Jose Arrendondo, a well known amp mod man known for his work for high profile rock players in the LA area. It took a long time for the work to be done, and the amp sounded better...yet, David still wasn't hearing the sounds he was going for. Listening to the guitar tones of players of the day—Van Halen, The Allman Brothers, Richie Blackmore, and others, David began his quest to replicate what he was hearing in earnest. He started taking apart his own amp and studying amplifier circuitry schematics, and embarked on a journey that continues today. The man who looked to others for help in getting his tone from his amplifier was to become the guy many come to for help with their amp tone!
From there, David went on to work for Paul Reed Smith guitars. In 2000 he took a position with PRS in Maryland and began working on their Artist Series and the Private Stock collection guitars, the best guitars they produced. He helped build a guitar for Carlos Santana. He worked all day building guitars, but off the clock he would work on modifying customer's amps, primarily Marshalls and Fenders . He continued performing these dual roles until it became clear to him his passion was the amplifiers. Guitarists loved his work and his reputation as a tone guru was growing.
Bray left PRS to pursue a career building his own amps in 2003. David Bray's high performance amplifiers are a culmination of desire for something better and today his company is off and running. His journey took him to Wyoming, then he relocated to Yucca Valley, where he has lived the past five years. Bray Amplifiers builds and sells amps to customers throughout the U.S. & overseas.
David explains what he goes for when he builds an amp is simplicity. He offers handwired, point-to-point "Plexi" style amps, using top shelf components and transformers, custom-built to the client's tonal desires and needs. A lot of current amp builders are putting several gain stages into their amp designs. The signal goes through six or seven pre-amp tubes to get more distortion and gain. David finds tubes have an organic nature, allowing the beautiful wood resonance of a guitar to resonate from the amp. When too many gain stages are added, it takes away from this natural resonance and produces an almost digital, clinical sound. David stays away from too many gain stages and utilizes existing ones to get as much overdrive out of them as he can. He gets the overdrive all along the circuit board because he finds it cleans up better and allows the experienced player to achieve more nuance in their playing, often lost by an ultra-dirty tone. The result is a fairly high-gain tone with a very musical quality.
Bray Amp's 4550 model is his most popular amplifier. The design is based on a Marshall 50 watt Plexi, a circuit that originally came out in the late 1960s. David took away what he considers the problems of those old Plexi circuits, the woofy bass of the dark channel and the piercing highs of the high channel. He focused on the mid-range where the guitar sounds it's best. Most of his amp designs are born from the modification requests he has fulfilled for others over the years. The results are astounding! What has evolved is a musical, high gain, mid-range sound with elegant cleans and full bodied distortion. His amps create a lot of rich texture and tone, with plenty of punch and distortion without losing the beautiful clean tones savvy players crave. The elusive "brown sound" made popular by Eddie Van Halen is what many guitarists like about a Bray amp. For other guitarists, it's simply an impressive tool for them to explore tonal heaven.
Current production time to fill an order is about eight weeks. David works directly with players to meet their needs, and he has built a solid reputation as a world class boutique guitar amp builder. He loves living in the hi-desert, and has joined those of us who call this home.
For more details on David Bray Amps, visit www.davidbrayamps.com.
Joe Augello with Bray Amps
JP Cervoni playing through Bray Amps
Doug Rappaport playing through Bray Amps
Bobby Nichols playing through Bray Amps
Culture
,
Today
sun runner
joshua tree
hi-desert
desert music
yucca valley
california desert
robin linn
bobby nichols
david bray
david bray amps
marshall
guitar
guitarists
fender
paul reed smith
prs
carlos santana
santana
van halen
amplifiers
custom amps
desert music issue
dave bray