Hwy 62 Art Tours 2013: Day One Photo Gallery

10/19/2013 08:50PM ● Published by Steve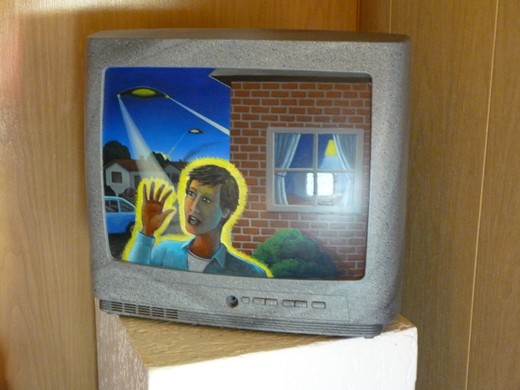 Oh what it must be like in Snake Jagger's world...
Gallery: Hwy 62 Art Tours 2013 [44 Images] Click any image to expand.
By Steve Brown
The 2013 Hwy 62 Art Tours are upon us. We went out to visit artists and take the pulse of this year's tours, and as usual, spent far too much time hanging out with the artists and having far too much fun with them.
The end result was that we didn't get to as many studios as we would have liked, and we were too worn out to go to the One Perfect Moment Aerial Circus at the Big Top with Zircon Aerial Entertainment this evening, which we're sure was incredible fun.
We went by the Yart Party early in the day and it hadn't really gotten underway yet. Gerard was still up on the roof of the Joshua Tree Saloon working out the wiring for everything, and with daylight burning, it was time to go find the artists...
Since we were right in downtown Joshua Tree, first stop was at JTAG, the Joshua Tree Art Gallery. While JTAG isn't an official participant in this year's art tours, it had an excellent sampling of works of artists on the tour including Janis Commentz, Brian Leatart, James O'Keefe, and Steven Rieman. Plus, it's exterior walls host Joshua Tree's newest mural by Jacob Dudley.
Then it was off to the Radio Free Joshua Tree Listening Lounge where Mil-Tree's "The Art of War" show was on exhibit, with some thought provoking and touching works. Outside, we ran into one of our favorite desert artists, Linda Sibio, who shot a Polaroid photo of me as the Mona Lisa - a photo which, if all goes according to plan, will never see the light of day in public.
We set out from downtown Joshua Tree to points west, to check out the photography of Diana Shay Diehl and the painting of Krista Wargo in Yucca Valley. These two talented teachers had a steady flow of visitors and sales today. Krista, whose home was recently devastated by a flash flood mud slide, had some of her paintings on sale heavily discounted due to slight mud damage (to their backing and frames). One visitor asked about a painting she had seen in a photo, only to hear that that particular work of art had been washed out of Krista's home and destroyed. It is a great testament to the community of Yucca Valley and the hi-desert, that not only has more than $10,000 been donated to help Krista and her family relocate and carry on with their lives, but volunteers from Marines to Yucca Valley High School students (the wrestling team, I believe), have been out helping to dig out the heavily damaged home (that didn't have flood insurance). An added plus was running into former Sun Runner cover artist and desert landscape master, Mark Junge and his wife Ruth, out on the tours.
(See our story about the Wargo's home here:
http://thesunrunner.com/2013/09/12/familys-home-destroyed-in-flash-flood
)
From there, we headed down to Cactus Mart's Purple Agave Art Gallery where a number of local artists are attractively displayed, and then we went out to the Roadrunner trailer park where the infamous desert pirate artist (and former Sun Runner cover artist), Snake Jagger, was showing his work alongside that of Tami Wood. These two transformed the inside and outside of Snake's vintage trailer into a garden of beautiful artwork. Inside, Snake showed off his fantastic 3D vase and other creative works that have established him as one of the desert's leading visual artists.
From there, running out of time for today's open studios, we went off to #13 on the tour listings, where Bill Dahl, Deane Locke, and Kathi and Paul Klopfenstein were exhibiting their work. No sooner than I got out of the Sun Runner truck, I got a surprise. Paul's brother Mark and his wife Beverlee Klopfenstein, both musicians from Stone Pounder, were playing. Kathi called out the Stan Rogers' classic song, Barrett's Privateers. Art fans were treated to an impromptu rendition of the song with myself, Paul,  and the additional Klopfenstein's trying to remember all the verses in the correct order. What a fun surprise!
I am pleased to say that the level of all the artists at this stop were up to very high standards. Bill's photography places him, in my opinion, as one of the best in the desert, and, when combined with his wife, Cynthia Anderson's poetry, some beautiful books are created.
Deane's paintings, including one juried into the upcoming Joshua Tree National Park Art Show & Faire, were a delight - her detail and use of color are exceptional, while Paul and Kathi's art, her woven basketry sculptures, and his gourd art, were nothing short of superb.
We had a wonderful day experiencing the art - and artists - of the Joshua Tree Gateway Communities, and making some new friends in the process. Congratulations to the Morongo Basin Cultural Arts Council and all the artists participating. For those we didn't get to today, we apologize, but hope you had many visitors who appreciated - and took home - your art. Thank you for sharing it with all of us!
Culture
snake jagger
steve brown
route 62
desert art
hwy 62 art tours
linda sibio
mbcac
open studio tours
arts council
diana shay diehl
highway 62 art tours
tami wood
paul klopfenstein
kathi klopfenstein
bill dahl
deane locke
stone pounder
krista wargo
cactus mart
frederick fulmer
jtag
joshua tree art gallery
hidesert art
miltree