Share Your Favorite Southwest Road Trip

10/22/2013 10:01AM ● Published by Steve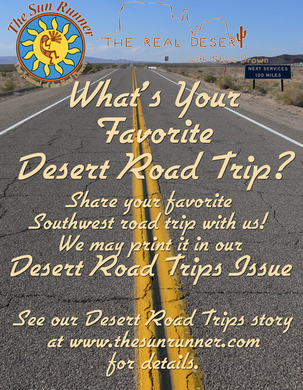 Gallery: Desert Road Trips [47 Images] Click any image to expand.
The Sun Runner
is hitting the road for the last issue of our 19th year with our annual Desert Road Trips Issue. This, along with our first issue of our 20th year, the Best of the Southwest Travel Issue, will be what we take with us when we return to the LA Travel & Adventure Show - the biggest travel show in the country - February 8-9, 2014.
There's probably nothing more "American" than taking a road trip. We love them, and we think the Southwest is the best region in the country for road tripping!
We want to hear from all of you about your favorite road trips around the Southwest - where you go, what you do, special places along the way, when to go, what you eat, where you stay, and most importantly - why is it your favorite.
From now through Thanksgiving weekend, send us your favorite road trip, along with some photos of you enjoying it (if you have them), and tell us why it's your favorite, and we'll post it on our website and share it on our Facebook page. We may even put it in our Desert Road Trips Issue that comes out in December!
Send your road trip to us at publisher@thesunrunner.com, with "My Road Trip" in the subject line. Make sure to include your name and contact information, and a photo of yourself. If you have questions, just zap us a note.
We'll be rounding up prizes to give out, and some folks who enter may wind up joining us on our new PBS TV series, The Real Desert, with Steve Brown, when we're in your area.
Oh, and we welcome all of our readers in print and online to participate - CVBs, chambers, and travelers and desert lovers all!
Watch this story for news of prizes, sponsors, and winners, and visit the Travel section of our site for road trip ideas around the Southwest from readers like you.
Thanks for joining us on the road!
PS: If you run a CVB or chamber that acts as the DMO (Destination Marketing Organization) for your area, or you have a business that is involved with tourism anywhere in the Southwest, you may want to take a look at the variety of opportunities The Sun Runner offers to reach not only our regular readers, but the travelers at the LA Travel & Adventure Show. Booking a booth at the show is expensive ($3,000+), and a full page ad in the show program runs $7,000. That's $10,000 - plus electricity, a backdrop, collateral, staffing, travel, lodging, meals, and more.
For literally as little as $198, you can reach the travel show audience (a superb demographic for Southwest destinations). Please visit our Advertising page for our Travel Pack specials:
http://www.thesunrunner.com/pages/advertise
Travel
sun runner
mojave
steve brown
california
tourism
national parks
nevada
route 66
arizona
southwest
desert travel
travel
la travel and adventure show
travel show
desert road trips
contest
desert tourism
road trip
real desert
zuni
new mexico
colorado
utah
texas
mexico
baja
navajo
hopi
sonoran
great basin
southwest travel
magazine
oregon
southwest road trip
favorite road trip
southwest tourism
cvb
chamber
dmo
pueblo
american