The Bighorn Sheep of Nolina Peak

11/03/2013 11:41AM ● Published by Steve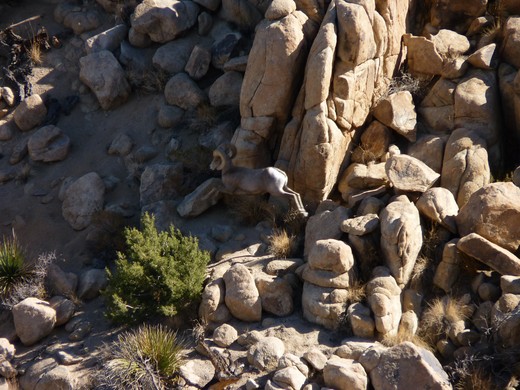 Gallery: Nolina Peak Bighorn Sheep, JTNP [22 Images] Click any image to expand.
By Steve Brown
A Sunday morning hike up Nolina Peak in Joshua Tree National Park, provided a rare treat - a glimpse of Desert Bighorn Sheep.
Wanting to take a peek into the canyon west of Nolina Peak's communications towers proved interesting when the Sunday morning silence was broken by a rock set in motion by the ram. Watching the ram and ewe move across the canyon was a wonderful treat for a hike in the national park, and yet one more reason why we love living in a part of the desert where we have a national park in our backyard!
We should note that this part of Joshua Tree National Park was purchased and donated to the national park by the Mojave Desert Land Trust, an organization that does great work in support of our parks and wild lands.
Visit the MDLT at:
http://www.mojavedesertlandtrust.org
.
Three herds of Desert Bighorn Sheep are known to inhabit Joshua Tree National Park, according to the National Park Service. The largest herd of approximately 120 sheep live in the Eagle Mountains on the far eastern borders of the park. A herd of around 100 sheep range through the Little San Bernardino Mountains, and a small herd of about 30 sheep can be found in the Wonderland of Rocks area.
For more information on the Desert Bighorn Sheep of Joshua Tree National Park:
http://www.nps.gov/jotr/naturescience/bighorn.htm
.
Photos by Steve Brown.
Culture
,
Travel
,
Today
sun runner
joshua tree
mojave
steve brown
bighorn
wildlife
mojave desert land trust
bighorn sheep
joshua tree national park
hiking
desert wildlife
desert bighorn
nolina peak