Bobby Furst's Wurld....A Step Beyond!

11/05/2013 03:54PM ● Published by Robin Linn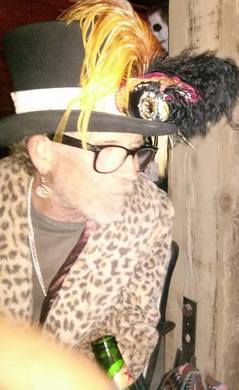 Assemblage artist and creator of Furst Wuld Theater, Bobby Furst
A STAR STUDDED JAM CELEBRATING THE CLOSING OF THIS YEARS HWY 62 ART TOURS!

For two consecutive weekends every October, artists all over the  Morongo Basin come together and open their studios to the public as part of the Hwy 62 Art Tours. Dozens of parties and celebrations take place all over the high desert, from artist receptions to full blown community events, such as this year's closing celebration  held at Bobby Furst's "Furst Wurld" Theater. This year was the 7th closing party for the Art Tours hosted by Bobby Furst at what has now grown into Furst Wurld. Performances at this year's event included Gojiro Island, 3rd Ear Experience, the Ted Quinn Band, and a host of locally and nationally celebrated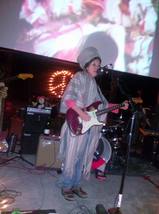 musicians including Dino Archon, Bobby Nichols, Clive Wright, and Ikeke Robertson, in what turned into a super jam. Musicians traded places often throughout the evening  and guests were treated to original, innovative energy-charged jams. A special set of Lou Reed's music performed by the Ted Quinn Band with Robbi Robb honoring the recent passing of a beloved legendary rock icon was both beautiful & appropriate. 3rd Ear Experience blended with the Ted Quinn Band and also performed one of my favorite Tribe After Tribe numbers.  Then there was "THE 3",   made up of various combinations of Bobby Nichols, Clive Wright, and Robbi Robb, three of the desert's finest guitarists, all known for taking jams out into deep space with wild abandon. Dino Archon performed a set of fiery original rock along with Bobby Nichols and it was a dynamic combination. Dino is a powerful performer and  fantastic vocalist and bassist, though on this evening he played rhythm guitar.  All in all... It was a stunning event and the music took us all places we couldn't have anticipated.....but, that's just what happens when you see live music at Furst Wurld. Even the musicians cannot anticipate exactly where things might go. I will say this....the music is always sweeter and the players always at their finest at Furst Wurld. It just has that sort of effect on you.
FURST WURLD.....WHERE ART, FILM, AND MUSIC COLLIDE WITH THE DESERT!
What Disneyland was to me as a kid....Furst Wurld is for me now as a music loving adult! And, I use the word (adult) loosely. It's sort of the last thing you feel like when you are in Furst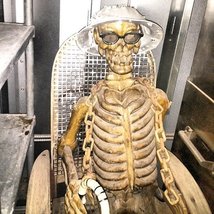 Wurld.....like an adult. We all know musicians and artists are incurable children anyway.....which is probably why we are all so in love with the environment created by visionary Bobby Furst. Hailing from the hills of Laurel Canyon,  artist Bobby Furst has assembled a whole lot more than pieces of art here at his home and studio in Joshua Tree....he has built an entire world! Nestled against the gorgeous rocky wild desert terrain at the foot of the National Park......is the very liberating and exclusive Furst Wurld.... a special place where art, film and live music collide and become part of the magical desert landscape. What started out as a quonset style hut to be an art studio for his own artistic creations,  grew into two buildings, and then a third. The first, the largest of all, is a two-story super structure where the magic happens! The indoor theater features huge automatic roll up doors, sky lights, a giant film screen,  two floors of theater style seating, a bar, a stage area for live music, and so much visual art that you really can't take it all in at once.    It is one of the most inspiring places imaginable to experience the arts.....especially live music and film.  I notice a dozen new things every time I visit there. Skeletons hanging, sitting, leaning....positioned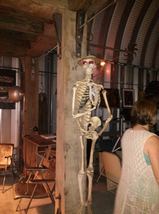 around the venue along with hundreds, if not thousands of assembled art pieces....all part of the creative genius that is Bobby Furst. . It is an inviting place filled with magic, desert allure and an endless supply of creative inspiration.   Artists and musicians from all over the world who visit  always leave feeling blessed for having had the chance to perform there.  Who wouldn't want to experience the creative process in this hypnotic setting?  To settle into this exotic, peaceful destination for a weekend and write one's music, possibly record it, and then at the end of the stay,  perform  before 75-100 people, all in the same creative, inspired mood....all dancing and hopping about the place, celebrating life, and they are all there to experience the music...some of it being performed for the very first time.... to be treated to an instant audience at the end of a creative and rejuvenating stay...and it's an illustrious, savvy, hip, ready to rock-till-the-sun-comes-up  kinda crowd......what artist or band wouldn't want to do that? To hang out in the wild of the desert, surrounded by Bobby's visionary and soulful art, breathing in the clean fresh desert air, amongst a zillion stars.....it's a rock stars dream vacation!   Why do we all love it there so much????   Because there is nowhere else on the planet to experience original live music quite like Furst Wurld. It's more than an artists retreat.... it's like Disneyland for musicians!
THE GODS ARE PLEASED!
When you arrive to an evening event at Bobby Furst's Wurld....it is always beneath a star infested sky....the stars appear so close that you feel you can reach up and pluck one out of the sky for keeps. An enormous two-story structure...or quonset style hut to be exact.....is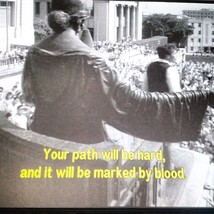 surrounded by artifacts, assembled art pieces, organized piles and sorted out hardware.....lots of metal and glass and old goodies that make you feel nostalgic, nestled around in groupings that keep your eyes and your mind busy forever. The smaller structures are like museums,  housing artwork ranging from large scale statues made of salvaged metals, to skeletons dressed and ready to party!  Iron baby dolls, piles of old eyeglasses in bins next to drawers full of buttons and Barbie dolls.....and what could look like a heap of junk becomes organized art that tells the story of times gone by. Items used back when, but no longer, and you might never have seen them again in this lifetime. Yet here they are, well preserved and encapsulated forever inside this unique and inviting studio, which is more like a gallery to me.  Bobby Furst creates order out of chaos. He makes social and political statements with provocative thought-provoking pieces created from odds and ends, bits and pieces, metal and memorabilia, wooden letters of various sizes.....his imagination knows no bounds. A group of air-stream trailers surround the property, each artistically designed to comfortably house guest artists who stay there. Though I haven't seen it....I understand there is also a large above ground pool....probably made out of an old water tank knowing Bobby!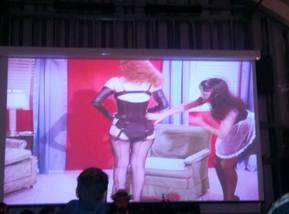 Upstairs there is more seating and an intimate view of the giant movie screen. There is video equipment, and a  well dressed bed. The sound is amazing no matter where you are in the building....and, you can see  the images of the performing artists on the big screen from nearly everywhere.Or, you might experience an early 1960's propaganda film about Cuba shot by a brilliant Russian filmmaker silently while a band from South Africa performs entrancing, electrifying music. Or, you might view a screening of an activist "Save Our Bobcat" film, or a rockumentary, such as Led Zeppelin's The Song Remain's The Same....but, whatever you do......you leave feeling like you just had the ultimate rock-star experience. Bobby Furst has paid attention to the desert environment and utilized every bit of the natural beauty, the exclusivity, the lush desert landscape, while inviting  the ultra-hip musicians and artists that make up our Joshua Tree and high desert community, to take part in the experience. 
The surrounding Hi & Lo desert artist communities  that frequent Furst Wurld are all part of what supports Furst Wurld,  and  makes it so special .  With all of these people coming together as they do, I think it has the very real  potential of becoming a real artist-in-residency program. At this year's Art Tours event, Radio Free Joshua Tree was there providing  live streaming coverage, Copper Mountain College film foundation was there conducting 
an advanced video class documenting the event. The images they were capturing were beautiful. Another CMC student was manning the video camera,  adding effects and working hard to create visual art out of the live music show we were all experiencing. To see such amazing music being created, some of it right on the spot, by these beautiful performers, I could see the historical value of capturing every minute. It is such a visually beautiful setting to see any presentation, whether it be music, poetry, a fashion show, or a film screening. I think the gods must be pleased with the art being created at Furst Wurld.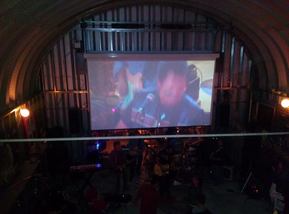 In the past several years, I have watched from a distance as Bobby has turned his property into an artistic destination, a national treasure in it's own right. To me, when someone creates a space where art and music can expand and happen organically, they are pretty special. What Bobby has  made available to fine artists who work hard at their music, films, environmental efforts, and artistic endeavors is nothing short of awesome. The way he brings everyone together for the love of it all.......is something pretty spiritual. I have had to pinch myself while dancing to the likes of the Paul Chesne Band till the wee hours of the morning....while stars were raining from the sky! I have gathered with neighbors and friends and watched the most beautiful documentary, "Save Our Bobcats", that made me weep....it was a beautiful and heart wrenching documentary about real life issues that meant a lot to all of us here in the high desert, our wild cats. I have watched some of my favorite guitar players in the world perform together til the sun came up while they played music so beautiful I traveled to the heavens. I have sat with musicians I am in awe of ,and watched Led Zeppelin's Song Remain's The Same and thought I was born again. I have listened to 3rd Ear Experience which features my favorite South African guitarist, Robbi Robb. I have listened to  Amritakripa and her graceful soft presence, surrounded by the dazzling guitar work of her Robbi Robb and  Bobby Nichols. I have seen the young Evaros with one of my favorite drummers, Ben Kennedy. I have seen Clive Wright in a purple wig wailing alone on his guitar sending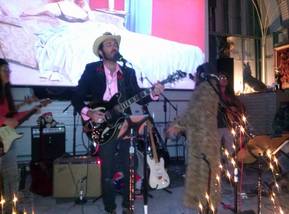 gorgeous sonic offerings  into the dark eerie desert night. I have heard living legend Victoria Williams, Paul Chesne, Juniper's Drum, Chris Unck, the list goes on and on.  I have  listened to Shawn Mafia tell tales of elephants in his great theatrical manner, I have watched the circus freaks, the acrobats, the crazy the weird and the wonderful....Flow Box! I have seen dozens of other musicians, many who remain nameless....though I can vividly hear their music in my mind.....and, it is always something special. And, then there is all I have missed. I love the sparkle in Bobby's eyes as he  recalls an early Gram Rabbit performance that made him realize he had to add more to meet the needs of performing musicians. I wonder what Jessika Von Rabbit thinks of Furst's place now?  He beams as he remembers an earlier event featuring Bambino & his Tuareg band, on an American tour far away from their home in Mali, Africa. . He recalls purple robes, scarves covering their faces, and a giant American flag hanging behind them. If you think of the social implication.....Tuareg musicians in African attire, playing in front of an American flag to Joshua Tree music lovers.......you can't help but love it!   Music, the great equalizer.....it breaks down barriers, crosses borders, and knows no bounds. 

IF YOU BUILD IT.....THEY WILL COME!
Bobby Furst is the son of Peter T. Furst, a well known documentary filmmaker whose work took him to remote countries and far-off places. He made beautiful documentaries of  indigenous peoples and their exotic surroundings, often bringing young Bobby to travel with him and even appear in his films. Bobby recalls that the life experiences he took for granted as a young person were actually extraordinary life experiences that shaped him into the man he is today. He and his father, now 91 years old, have a very close relationship.  No doubt, his growing up in and around the arts planted a seed  within him. He works tirelessly making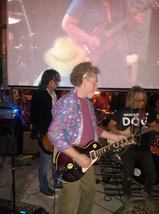 additions, improvements, preparing for events, and working on his own art pieces. One such work is a poem written by vietnam veterans, retold in large wooden letters, framed and surrounded by dozens of bullet casings. As he reads the poem to me and another friend, he tears up...as do I....the heartbreaking sentiments of a soldier whose spirit has been ravaged by a senseless war. There are dozens of framed  wooden letters laid out on tables inside his art studio as he continues to spell out the poem, frame by frame, and surround the letters with bullets. Powerful, emotional words that become an artistic message to us all about the terror of war. Large stainless steel baking trays are filled with these wooden letters and stacked into rolling shelves around the studio just like in a bakery. Only instead of choosing a treat...you choose your letters, and then your words....wisely!  I don't think that Bobby Furst set out to become a venue....it just happened. As his friends and fans came to his wurld, they fell in love with it.....as I have. Events just started happening there....and they keep coming. Some of the first performers who played there and inspired Bobby into making the venue into what it is today are: Gram Rabbit, Victoria Williams, 3rd Ear Experience, and Clive Wright.  Now, dozens of world class artists visit and perform at Furst Wurld..... musicians who roll in from Europe, Sweden, Tennessee, or neighboring artists from right here at home....all want to have a Furst Wurld experience. Over the months and years to come, things will only grow and become more exciting at Furst Wurld. He is hoping to incorporate an artist-in-residency program that would allow him to host these events, provide artistic sanctuary to participating artists, and maintain the intimate setting of a private venue.
 I would urge investors in the arts to visit Furst Wurld, check out the unique and inspiring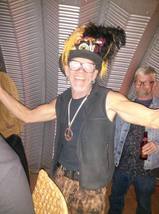 setting, learn why we artists and musicians are dying to get a chance to visit, perform, and experience film, art, and music there. This is a rare and magical place that deserves not only support, but nurturing and assistance to grow to the next level. What the Harrison House does for fine art and world music, Furst Wurld does for original film and live popular music. As I close this story...I want to add that a huge part of what makes music exciting in Joshua Tree are the visionary people that create spaces to allow music and art to take shape and find an audience. Between Furst Wurld, Harrison House, and the 2 annual music festivals as well as one of the most exciting road houses in the nation, Pappy and Harriet's, (who brings national acts here on a weekly basis)...Joshua Tree is a real stop on the music circuit. These are the reasons an internet radio station has been launched (Radio Free Joshua Tree,
www.radiofreejt.com
), film makers are showing up in droves, and publications like The Sun Runner are honing in on all that is happening here. This a culturally rich area of the nation with a tightly knit artist community surrounding it, protecting it, and nourishing it's very fabric. This is an exciting time to be an artist of any kind in this area.  One thing has become clear.....I won't be running out of things to write about anytime soon.
Culture
,
Today
hwy 62 art tours
bobby furst
furst wurld