Join The Sun Runner and The Real Desert for an Unforgettable Tour of Little Petroglyph Canyon

12/12/2013 07:31PM ● Published by Steve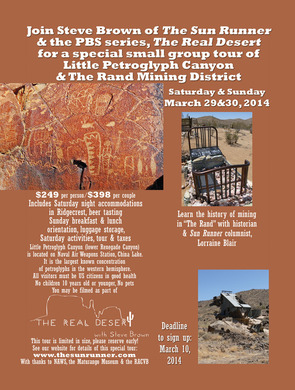 Gallery: 2014 Petroglyph Tours [1 Image] Click any image to expand.
This spring, join Steve Brown, publisher of The Sun Runner and host of The Real Desert, with Steve Brown, for an unforgettable tour of Little Petroglyph Canyon, the largest concentration of Native American petroglyphs in the western hemisphere.
Located in the Coso Range on the Naval Air Weapons Station, China Lake, near the city of Ridgecrest in the northern Mojave Desert, Little Petroglyph Canyon is an awe inspiring cultural - and sacred - site few get to visit. In addition, a visit to historic Randsburg with historian and Sun Runner columnist Lorraine Blair, a beer tasting at the Indian Wells Brewing Co., and more is planned for the weekend of March 29-30, 2014.
The tour, The Sun Runner's fourth to Little Petroglyph Canyon, will be led by Brown, and will be filmed for an episode of The Real Desert which is currently shown on KVCR PBS TV to 5.7 million households across southern California, and which is going on the national PBS programming feed in early 2014, in addition to going national on DISH Network's on demand service to an another seven million households in early 2014. This tour offers participants the opportunity to become part of the PBS show, as well as to enjoy some special guests and events.
Tour size is limited and it will be promoted in both the Desert Road Trips Issue, as well as the Best of the Southwest: 2014 Desert Travel Issue, and at the LA Travel & Adventure Show. Reservations may be made below, and please watch this page for additional information and details. Please direct questions to publisher@thesunrunner.com.

Reserve your spot on the Spring 2014 Little Petroglyph Canyon Tour.
Culture
,
Travel
,
News
sun runner
joshua tree
steve brown
ridgecrest
petroglyphs
randsburg
Native American
racvb
china lake
tv
pbs
kvcr
little petroglyph canyon
naws
rock art
indian
la travel and adventure show
indian wells
lorraine blair
pictographs
real desert
2014
american indian
petroglyph tour
rand mining district
historical tour
sacred site