The Real Desert now offers DVDs

02/03/2014 07:29PM ● Published by Steve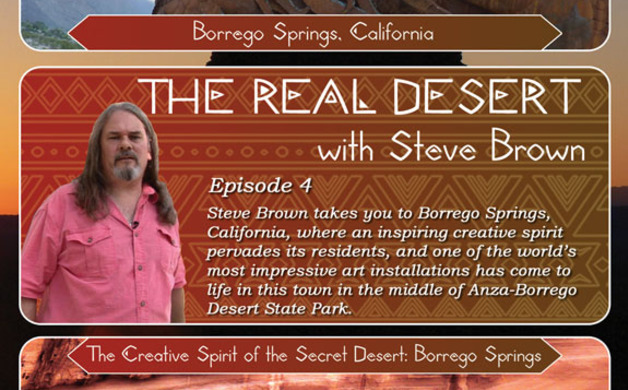 Gallery: The Real Desert, with Steve Brown: DVDs [5 Images] Click any image to expand.
The Real Desert, with Steve Brown, the new CV Studios Entertainment PBS television series hosted and written by Sun Runner publisher, Steve Brown, is now offered on DVD. The first four episodes: The Oasis of Mara in Twentynine Palms, the Agua Caliente - the original inhabitants of Palm Springs, Borrego Springs, and Lake Havasu, are available now. New episodes are in post-production and will be available on DVD shortly after airing on PBS.
The DVDs are engineered to be able to screen on all DVD players internationally. Wholesale orders are available. Please contact publisher@thesunrunner.com for wholesale inquiries.
To order: http://Kunaki.com/MSales.asp?PublisherId=137442
Watch The Real Desert, with Steve Brown, Monday nights at 7:30 and Sunday nights at 5, on KVCR PBS TV across southern California.

Join The Real Desert on Facebook at http://www.facebook.com/realdesert.
Visit with Steve Brown at the 2014 LA Travel & Adventure Show, February 8 & 9, at the Long Beach Convention Center, at The Sun Runner/Real Desert booth (#348), and "Mr. Route 66," Jim Conkle. Get discounted tickets at http://www.latravelshow.com and enter PromoCode: SunRun.

Be part of the show! Join Steve Brown, The Sun Runner, and The Real Desert for a tour of Little Petroglyph Canyon near Ridgecrest, California, in the northern Mojave Desert, March 29 & 30, 2014. For information: http://www.thesunrunner.com/2013/12/12/join-the-sun-runner-and-the-real-desert-for-an-unforgettable-...
Culture
,
Travel
,
Food+Drink
,
Today
,
News
steve brown
palm springs
borrego springs
anza-borrego
ricardo breceda
indian canyons
agua caliente
carlees
29 palms inn
29 palms
twentynine palms
california
chemehuevi
tv
pbs
kvcr
arizona
television
steve rushingwind
oasis of mara
southwest
dennis avery
desert travel
travel show
accidental artist
real desert
la casa del zorro
lake havasu
dvd
london bridge
college street
spa resort casino
sally wong avery
dianna lindsay
john richen
linda haddock
liesel paris
armand vallee
travel video