Advertise
---
---
The Sun Runner, The Journal of the Real Desert, is a terrific way to reach desert locals and a travel oriented audience in print and online. We're now offering integrated media packages to help you tell your story and join the conversation here online.
PRINT:
The Sun Runner has been a popular California desert publication for many years. The magazine is expanding across the Southwest in support of our new PBS television show, The Real Desert, as we enter our 20th year in 2014. We cover desert life, culture, history, and issues six times a year in print, reaching more than a quarter million readers annually.
Advertising in the print edition puts your business or organization in front of those quarter million readers, who often keep issues of the magazine for years (we have readers who proudly proclaim they have every issue). Your advertisement will be working on your behalf long after newspapers are in the recycling and radio spots are forgotten. In fact, one of the best things you can do if you advertise on TV, radio, or the Internet, is to reinforce your campaign with regular print advertising. Print remains one of your best advertising choices, but we don't stop there...
DIGITAL EDITIONS:
Our print advertisers automatically are included in our enhanced digital editions sold internationally by Magzter.com. Now readers will interact with your message in print, on computers, tablets, and smart phones, worldwide, clicking on your ad to visit your website directly. This is provided for our print advertisers at no additional charge.
WEB ADVERTISING, SOCIAL MEDIA PROMOTION, DIGITAL/PRINT PROGRAMS:
To learn more about our integrated media packages and get a free digital advertising consultation complete the form below. Also, don't forget to add your business listing to our directory where you can collect customer reviews - with the widget and Facebook app you can show off those reviews on your website or your Facebook page.
Don't have a Facebook page or need to get more out of it? We can help there too!
We don't just offer banner ads through our website either. Want to drive traffic to your business? Host a sweepstakes giveaway along with your print advertising and we'll put the power of the Internet, social media, and digital promotion to work to bring customers to your door. Looking for something with even more impact? Sponsor a contest tied to one of our upcoming issues relating to travel, art, the environment, culture, and more! Be one of our partner sponsors for our annual trip to the LA Travel & Adventure Show - the biggest travel show in the country. Don't have the thousands and thousands of dollars it takes to have a booth at the show yourself? Join us in print, online, through contests, prizes, giveaways, and much more.
GET IN TOUCH:
Call 760-820-1222 or e-mail us at advertising@thesunrunner.com to find out about advertising in The Sun Runner, The Journal of the Real Desert.
TAKE UP TO 6 MONTHS TO PAY:
Now you can take up to six months to pay using Pay Pal's Bill Me Later! Just pay for your advertising using the Pay Pal link below and select Bill Me Later for your payment option (you must be approved for this option via Bill Me Later - The Sun Runner does not review your credit information). Using Bill Me Later allows you to purchase advertising now and enjoy six months to pay - making our advertising programs even easier to budget for all levels of business!
EDITORIAL CALENDAR:
December 2013/January 2014: Desert Road Trips Issue
Deadline to reserve space: November 25, Art deadline: November 29
February/March 2014: The Best of the Southwest: 2014 Desert Travel Issue
Deadline to reserve space: January 22, Art deadline: January 27
April/May 2014: Annual Desert Ecology Issue: Water
Deadline to reserve space: March 21, Art deadline: March 24
Want to see where The Sun Runner is distributed in the desert and beyond?
Find the Magazine to see an always growing list of locations where you can pick up a copy of The Sun Runner Magazine.
New 2014 Real Route 62 Guide to the Joshua Tree Gateway Communities: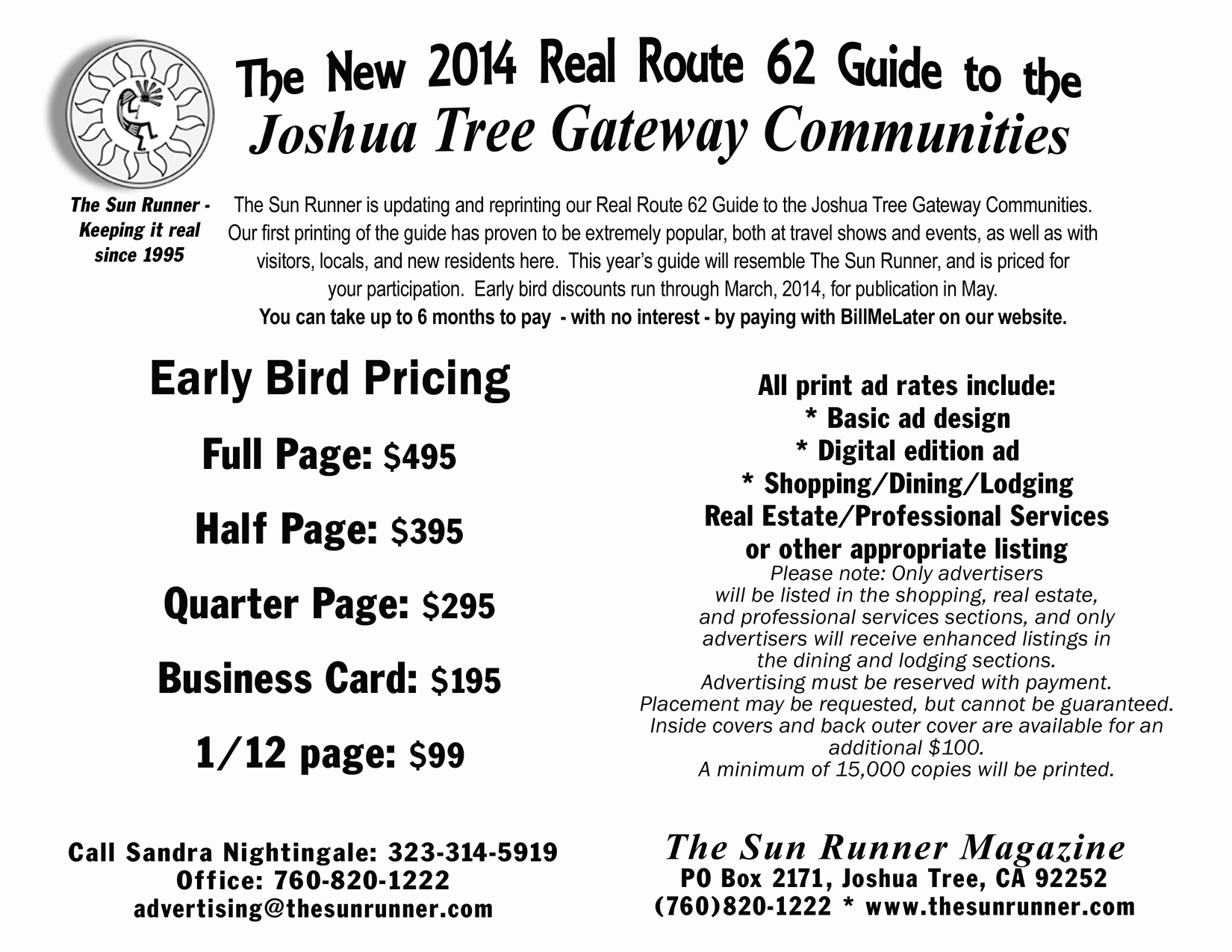 Current advertising specials: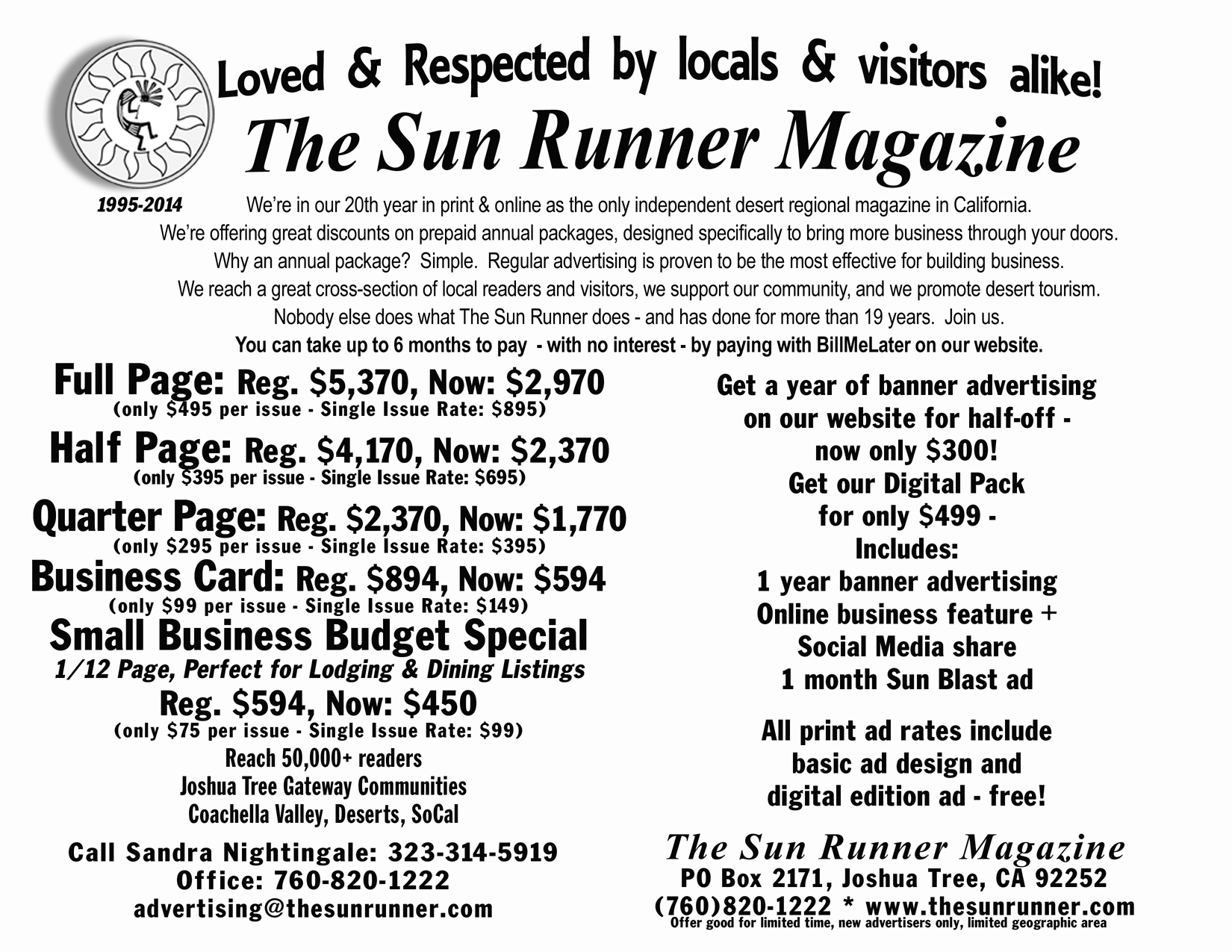 ---
* Required Field
---
Advertisers - pay for your invoice with a credit card here
2013 Advertising Rate Card
Fall 2013 Advertising Specials - Desert Arts, Desert Road Trips & Best of the Southwest Issues